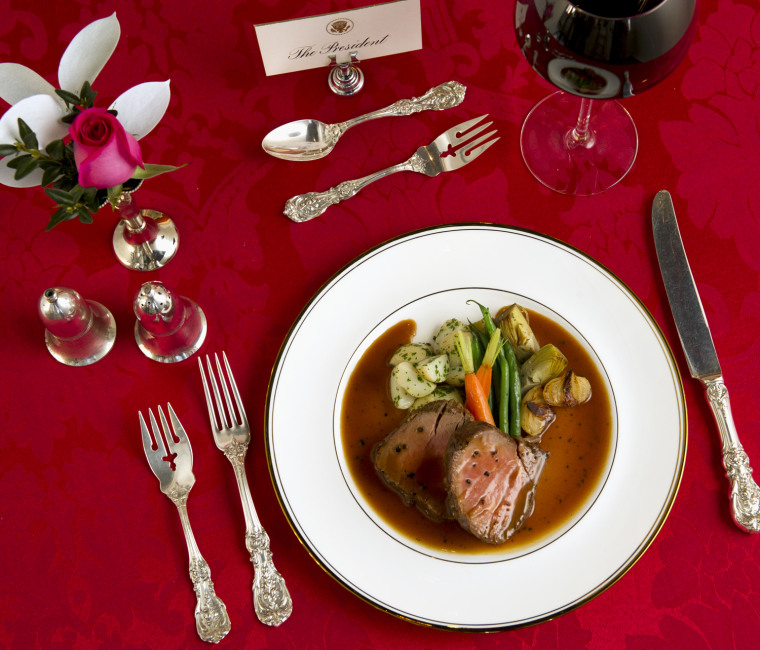 More than 70,000 people will make their way through the White House this holiday season, treading through a wonderland of pine-draped doorways and twinkling trees. Fourteen thousand of those guests — a special group that includes Congress members and foreign dignitaries — are expected to attend the many parties and receptions the White House hosts every year.
Food is part of the spectacle: Guests will dine on smoked salmon and crab from Maine, oysters from Fisher's Island in New York, and tomatoes and peppers from the first lady's garden. And there will be shrimp — lots of it. Former White House chef John Moeller remembers those crustacean-filled meals well.
"We served an average of 20,000 people in that three-week span," he told TODAY.com. "That's thousands of shrimp a day."
But shrimp is the easy part. Preparing new menus for the White House's one or two daily parties was the more pressing challenge.
"The toughest part was writing all these menus," Moeller said. "You're constantly looking for inspiration everywhere — while watching something on TV, having dinner, looking in a magazine. I was always on the hunt for a different way to cut a vegetable or find an interesting combination of flavor."
In his new book "Dining at the White House – From the President's Table to Yours," Moeller chronicled his 13 years at 1600 Pennsylvania Ave., cooking first as sous chef and then as head chef during the terms of Presidents George H.W. Bush, Bill Clinton and George W. Bush. As the nation went through great changes during that decade, so too did Moeller's kitchen.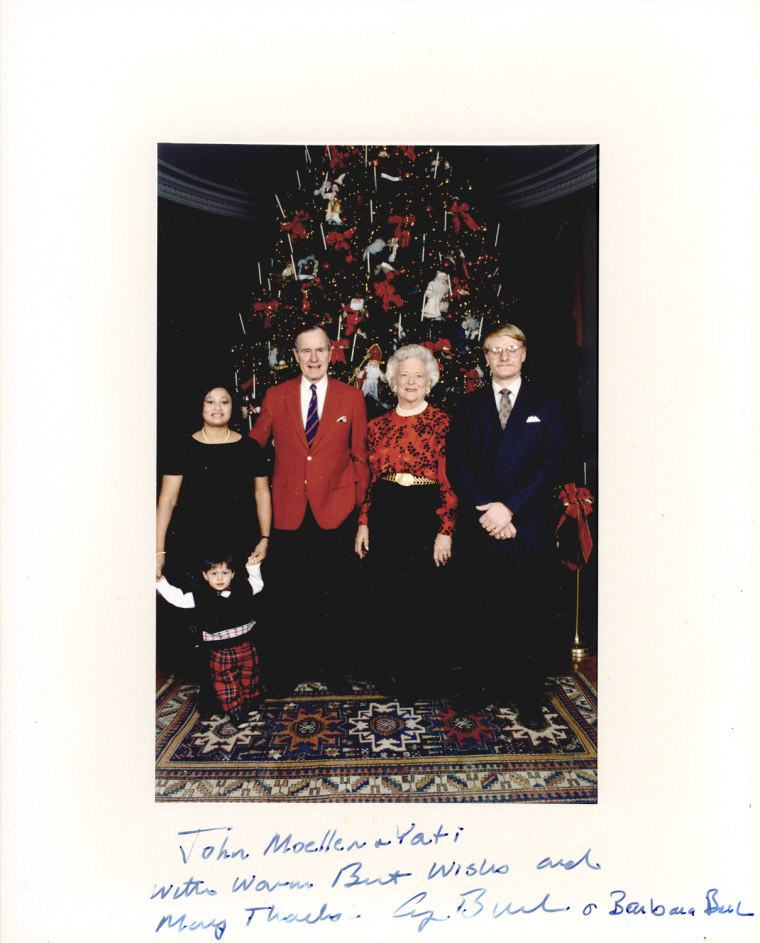 The Bushes favored platters of sliced filet mignon and fresh-made biscuits for holiday parties, while the Clintons were more of a canapé kind of couple, preferring smoked salmon on toasted brioche and California rolls with ginger marinated vegetables and wasabi rice.
"We went from an older couple to a younger couple with a 12-year-old," Moeller said. "It changed dramatically when the Clintons were in office; they wanted to see something different."
And when George W. Bush took office, things changed again, this time reverting back to his father's old ways. At one Christmas party, Moeller served up crab cakes, penne pasta with lobster and grilled rack of lamb with an olive and crimini mushroom ragout.
The Bushes remember that food fondly. When Laura was asked what she'd miss most about the White House during a conversation recorded for StoryCorps, she responded: "I'll be frank, I'll miss the chef."
"So will I," Bush chimed in with a laugh. 
Though the first family does take an interest in the holiday cooking, and all menus must be approved by the first lady, the White House parties weren't necessarily a reflection of the first family's personal tastes.
"There are two types of cooking: Cooking for families and then cooking for official functions," Moeller explained. "You don't necessarily see anything from their personal side when it comes to functions."
While both Bush presidents retreated to Camp David for their Christmas dinners, where the navy takes care of their food service, the Clintons stayed at the White House and brought a little taste of the South with them.
"They sent over some recipes from their homeland, Arkansas," Moeller said. "Pepper-crusted ham was a big favorite — and sweet potato casserole. One of Chelsea's favorites was plain sweet potato."
Moeller served up a side of Bing cherry jello salad, a "favorite of theirs too but only for Christmas day."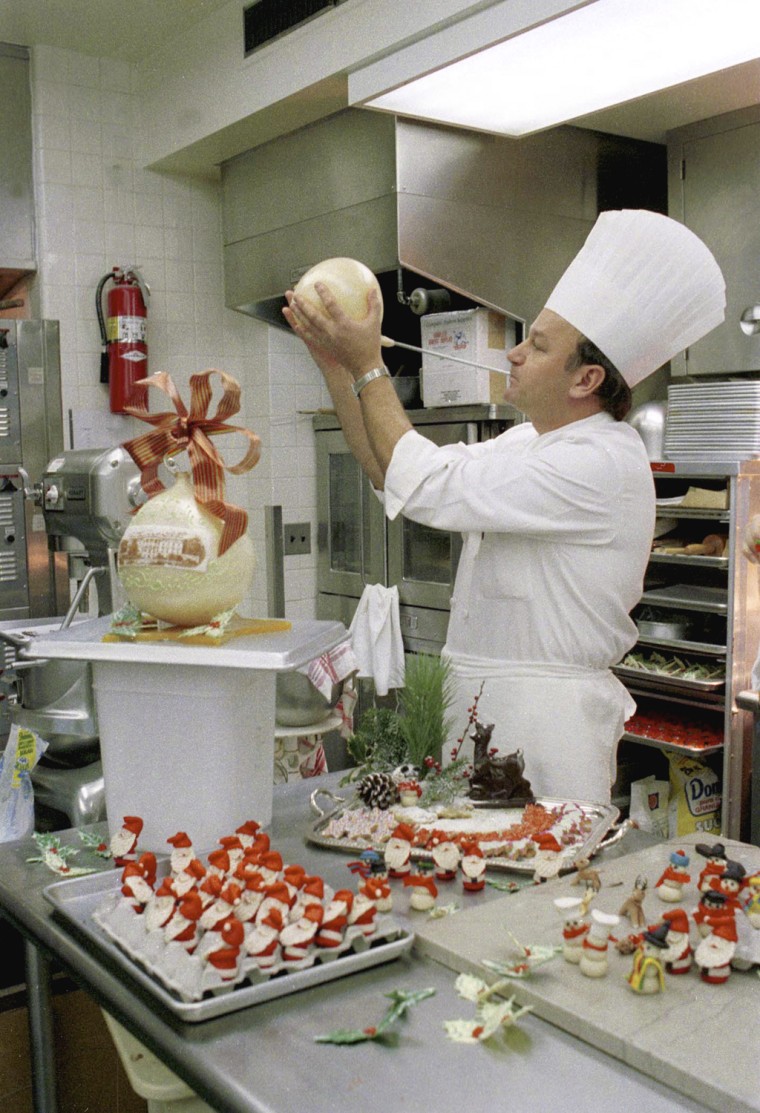 Throughout his time in the White House, Moeller became acquainted with many of the first family's favorites — even the little things.
"You need to pay attention to what their needs are," he said. "We were there to serve and make their time in that White House as peaceful as possible."
H.W. notoriously despised broccoli (though Barbara loved it). Hilary had a thing for hot sauce, which gave rise to the "hot sauce zone" in the White House kitchen's pantry. And G.W.'s family only ate corn tortillas — a tradition they took very seriously.
Moeller found this out about a month into G.W.'s term, when he chatted with Laura about making fajitas for dinner.
"I was wondering if they wanted any special ingredients," Moeller said. "She said one thing: We do not eat flour tortillas. We're from Texas."
Laura then pointed to their housekeeper, Maria, whom the family had brought to the White House from Texas, indicating that "she will show you how to make them."
"We went over to a Latino neighborhood in D.C. and grabbed a tortilla press and ingredients," Moeller said. "She gave me a demo on how to make fresh corn tortillas. They're all I ever eat now!"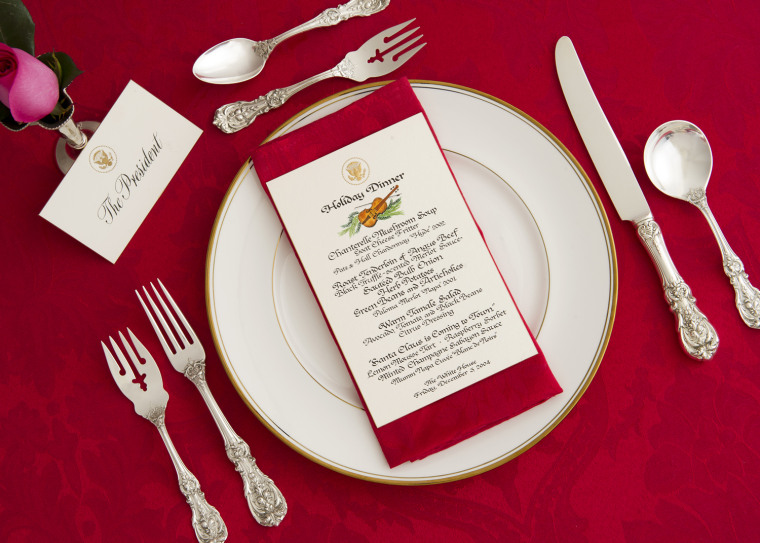 Though you might not be entertaining any foreign dignitaries this holiday season, Moeller has a few helpful tips for throwing your own party. His main mantra: Prepare what you can ahead of time. That means blanch those green beans, sauté your mushrooms and peel and dice the morning before.
"At the last minute your stress level picks up, and you feel like you've never completed anything," Moeller said. "When you have to go through all of the process, that's where it becomes a large task. Preparing ahead of time means you'll actually be able to enjoy it."
Roast tenderloin of Angus beef
Chef's notes: Beef filet is always popular at the holidays, so I made this for the holiday dinner. It was also a favorite of President George W. Bush.
¼ cup canola oil
4 pounds center-cut beef filet
3 tablespoons unsalted butter, room temperature
1 teaspoon chopped fresh thyme
⅛ teaspoon sea salt
¼ teaspoon fresh-milled black pepper

Heat oil in large skillet over medium-high heat. Sear filet on all sides, untilnicely browned. Remove from skillet, place on baking sheet, and cool in refrigerator for at least 2 hours.
In small bowl, mix butter, thyme, salt, and pepper, until well incorporated. Remove filet from refrigerator, and liberally coat with butter mixture. Let stand at room temperature for 1 hour.
Preheat oven to 350°F.
Place filet on roasting rack on sheet pan, and roast 45 to 60 minutes, or to an internal temperature of 130°F to 135°F for medium rare.
Remove from oven, and rest for 20 minutes before carving.

Black truffle-scented merlot sauce
Chef 's note: Fresh or frozen black truffles are very expensive and difficult to find. I suggest using canned or jarred truffles for home use. Truffle butter is also available and will give the black truffle essence, if you whisk a bit into the sauce at the last moment.
1 tablespoon plus 1 teaspoon unsalted butter
2 shallots, peeled and thinly sliced
6 black peppercorns
1 sprig fresh thyme
½ cup merlot wine
1 cup prepared demi-glace
1 teaspoon cornstarch, dissolved in 1 tablespoon water
1 tablespoon black truffle, chopped
Salt and fresh-milled black pepper
In a small saucepan over medium heat, melt 1 tablespoon butter. Sauté shallots for 2 minutes, add peppercorns and thyme, and sauté an additional 3 minutes. Add wine, and reduce by ¾. Add demi-glace, and simmer over medium-lowheat for 5 minutes. Season with salt and pepper. 
Gradually add cornstarch mixture, and return to boil over medium heat, stirring constantly until sauce coats the back of a spoon. Remove from heat, and strain into another small saucepan.
Heat strained sauce over medium heat, and stir in truffles and remaining butter. Remove from heat, and cover until ready to serve.