As humanity wrestles with who we are, why we're here and what our purpose is on this earth, we can now add another inquiry to the list of life's great questions.
What in the world does "covfefe" mean?
While many of us were sleeping early Wednesday, President Trump was busy inventing a word on Twitter that had a waking nation entering a post-"covfefe" world.
Shortly after midnight, Trump sent out a tweet reading, "Despite the constant negative press covfefe."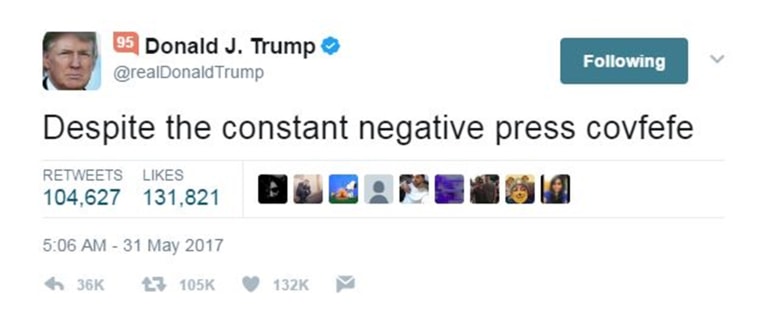 The message stayed up for five hours, eventually becoming a trending topic on Twitter before it was deleted.
It appeared to be a typo for the word "coverage," but, of course, people had some other ideas.
Even the folks who define words for a living were overwhelmed.
Maybe it's Trump's secret identity, like Keyser Soze.
Later on Wednesday, Trump himself got in on the joke, asking people if they knew the meaning of the word.
For centuries A.C. (After Covfefe), mothers and fathers will gather their children by the fire to explain what the world was like in that innocent time before a simple invented word changed everything.
Or they'll just remember that it gave people something to laugh at for a few hours on a Wednesday.
RELATED:
America the beauteful? See the most commonly misspelled words in each state
Trump stands by Jared Kushner amid Russia allegations
Follow TODAY.com writer Scott Stump on Twitter.