Wellesley College students voted in favor of a referendum calling for the school to change its policy and admit transgender men and nonbinary people at a school that has defined itself as a women's college for nearly 150 years.
The student-run initiative, which passed on March 14, is nonbinding and will not result in any formal changes. The university said in a statement after the referendum passed that "there is no plan to revisit its mission as a women's college or its admissions policy."
However, college officials said the school will also "continue to engage all students, including transgender male and nonbinary students, in the important work of building an inclusive academic community where everyone feels they belong."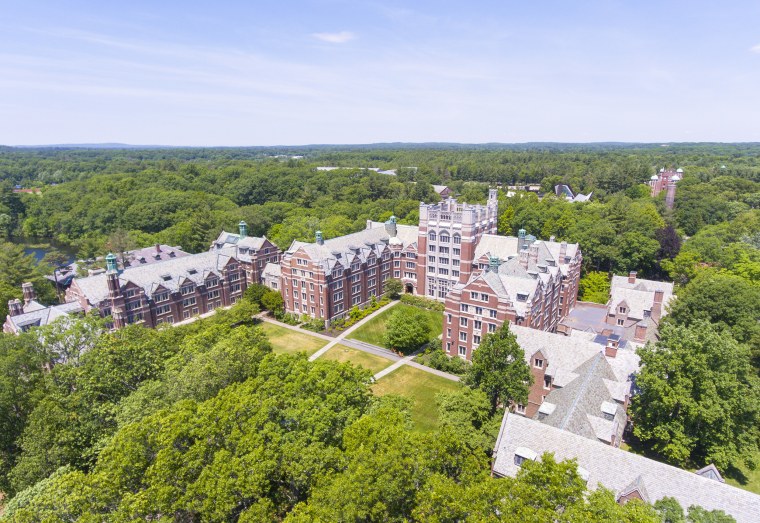 The school of about 2,500 students outside Boston boasts Hillary Clinton and Madeleine Albright among its distinguished graduates. It did not release a vote count or percentages of those for and against the referendum, according to school policy.
The initiative calls for a change to the admissions rules to allow transgender men and nonbinary people to apply. The current policy admits applicants who "identify and live consistently as women, regardless of the gender they were assigned at birth," according to an email message sent to the school community on March 6 by Wellesley President Dr. Paula Johnson.
"We're just asking the administration to put on paper what's already true of the student body," student body president Alexandra Brooks told The New York Times. "Trans men go to Wellesley, nonbinary people go to Wellesley, and they kind of always have."
Johnson's message said the referendum strikes at issues that are "central to Wellesley's mission and identity." She wrote that some transgender male and nonbinary students whose identities "have evolved" while at Wellesley have said they feel excluded by the college's use of the words "women" and "alumnae."
Those opposing the referendum have argued that if nonbinary students and transgender men are admitted, the school would no longer be a women's college and should be considered co-ed.
Johnson acknowledged the tension between Wellesley's stated mission of being a women's college and the need to be an inclusive community that embraces students of "diverse gender identities."
"I believe the two ways of seeing Wellesley are not mutually exclusive," she wrote. "Rather, this is who we are: a women's college and a diverse community."
Her message drew criticism from the editorial board of The Wellesley News, the college's student newspaper.
"The Wellesley News Editorial Board is once again stating that transgender and nonbinary students have always belonged and will continue to belong at Wellesley, a historically women's college," it wrote. "We disapprove of and entirely disagree with President Johnson's email."
Johnson wrote that the school will work to provide "greater clarity" in the admissions process regarding who is eligible to apply. Language has been deleted from the school website that said students who transition while at Wellesley will be supported if they feel a women's college is no longer the right fit for them.
"We have removed this language to make clear that every student who is admitted to Wellesley belongs here," Johnson wrote.
The college will also offer students the ability to upload their preferred pronouns to class lists and the school directory to avoid being misgendered, according to Johnson. She also outlined changes to support trans students, including expanding the number of all-gender bathrooms on campus and appointing a new director for the school's Office of LGBTQ+ Programs and Services.
Transgender women first began attending Wellesley in 2017, with the school joining at least seven other women's colleges that started allowing trans women to apply since 2014.
"I think it's a step forward, one that's long overdue," Genny Beemyn, director of the Stonewall Center at the University of Massachusetts at Amherst, told The Associated Press in 2017. "If they say they're women, then saying that they can't attend is denying their identities and marginalizing them."