A defiant Anthony Weiner, whose political career has been repeatedly crippled by personal disgrace, dismissed the role his wife's response to his latest scandal has played in his New York mayoral campaign.
"Let's dial down this whole, 'She was a big part of' thing," he told Savannah Guthrie Monday on TODAY. "This thing was always about me, always about the issues in the campaign and frankly, it was also a lot about the mistakes I made in my personal life."
A day before the New York primary election in which polls place the Democrat in fourth place among voters, Weiner expressed confidence in his chances at winning.
However, he said that if he does lose, he has no plans to return to Congress, where he resigned from office two years ago after accidentally posting a lewd picture of himself on Twitter.
"Congress is not that good a job anymore. Frankly, there's such a center of gravity around stopping from anything from happening," he said. "It's not a great place if you want to go and solve problems. Being mayor of the city of New York is a better place. I hope to be the mayor of New York and I see no reason to go to Congress after that."
Weiner's mayoral campaign had been viewed as his chance to climb back into politics. In May 2011, he accidentally posted a groin shot of himself wearing gray boxer briefs on Twitter, thinking he had sent it privately to a young college student. He initially claimed his account had been hacked but came clean once it emerged that he sent similarly lewd images and messages online to other women he had not met.
He was viewed as a frontrunner in the mayoral race until news broke earlier this year that he continued to send lewd messages, to another woman, long after most thought he stopped the behavior.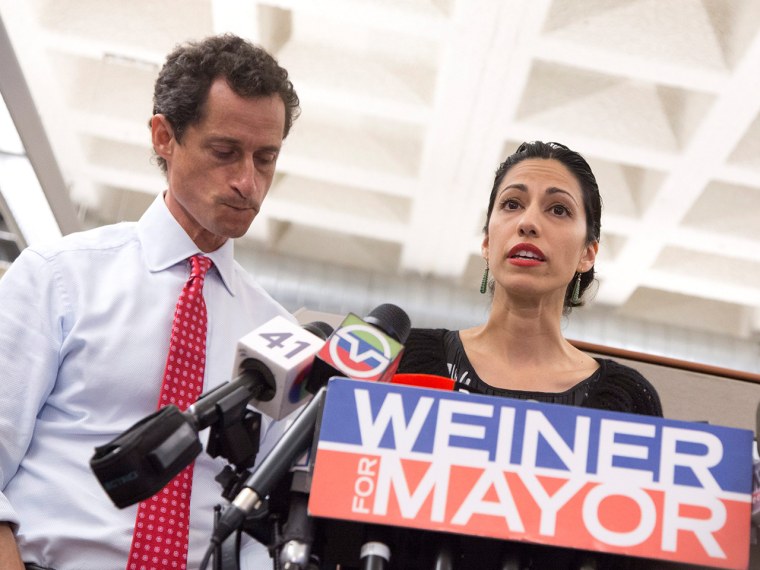 Weiner's wife, Huma Abedin, a key aide to Hillary Clinton, publicly came out in support of her husband after the revelation, and was criticized by many for the stance.
Weiner said he was tired of having the media play up his wife's role, which he insisted was minimal.
"I know you have this fascination about making this a soap opera but for citizens of the city of New York, a lot of them wanted this to about the issues of the campaign," he told TODAY's Savannah Guthrie.
"She is my wife, I love her deeply, but I'm the candidate," he said. "I know there might be somewhere out there in Davenport, Iowa, someone who cares about my wife, but citizens of New York want to talk about their future, and so do I."
Weiner said he had at least 13 campaign events Monday where he will continue to hone in on his plans to improve health care, education, housing and other issues in the city.
"I've fought for these things my entire life. I'm not going to just stop because it got a little tough," he said.