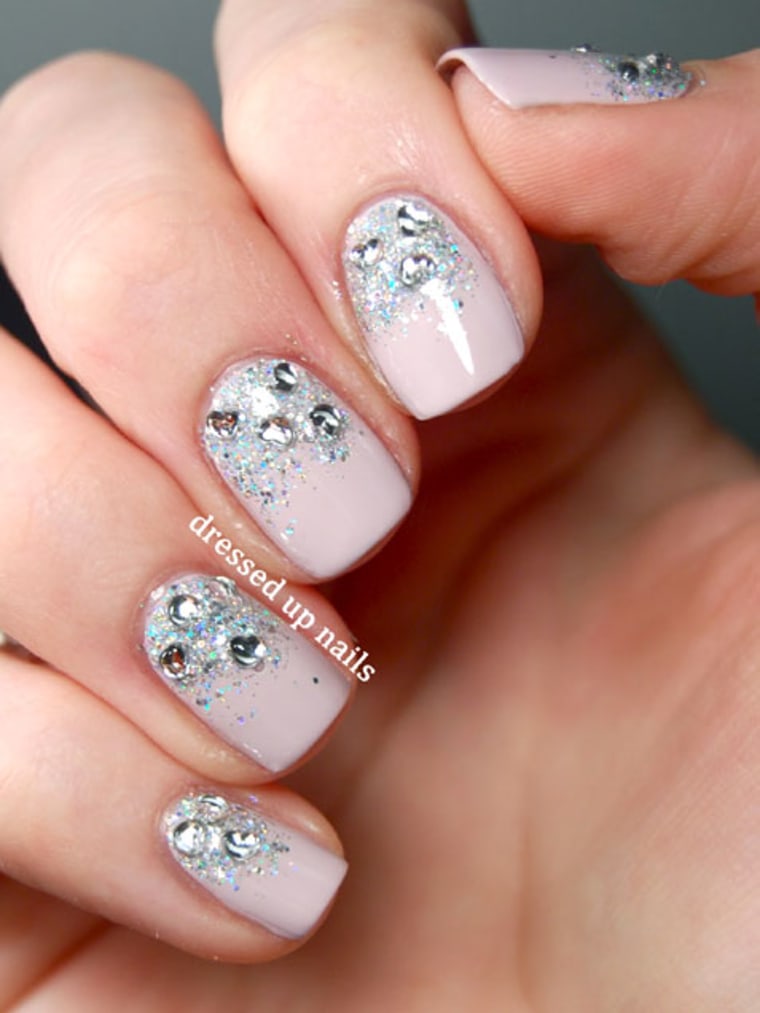 Rhinestone Heart Gradient Wedding Nails
dressedupnails.com
Think glitter and rhinestones might be too much for a wedding nail art design? Not in the deft hands of Dressed Up Nails, who used both types of bling on these beautifully gradient nails.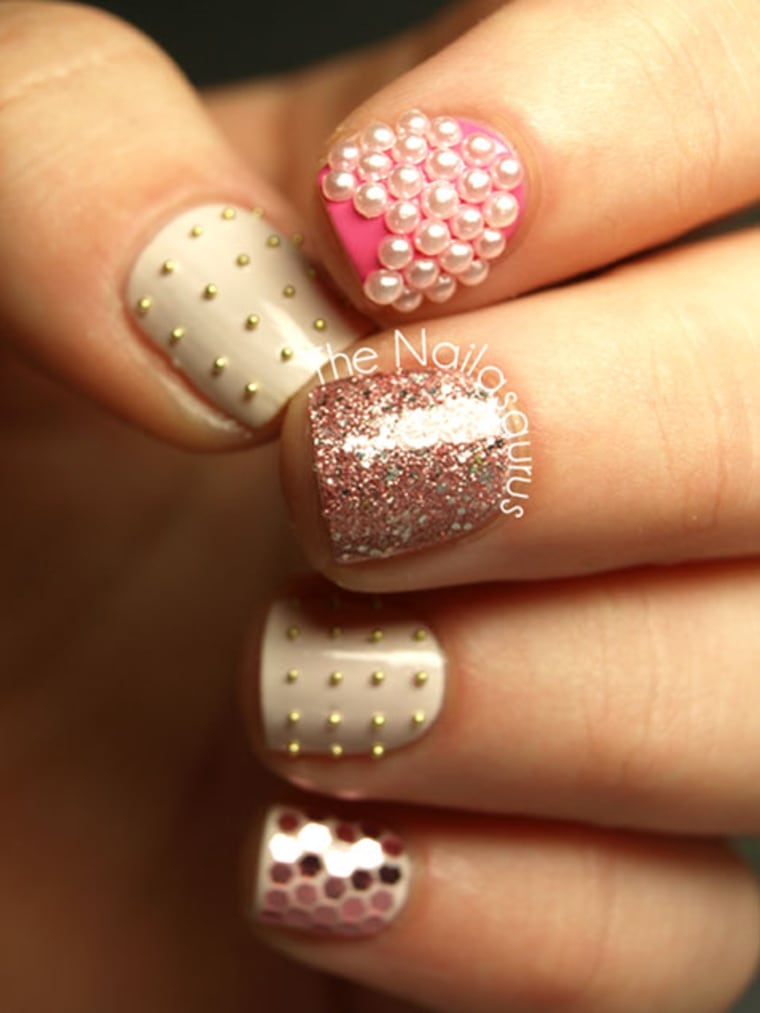 Pearl, Stud and Sparkle Bridal Nails
thenailasaurus.com
Show off several types of nail embellishment—including pearls, rose gold glitter, teeny studs and "glequins"—in one harmoniously bridal color palette, in this mani from The Nailasaurus.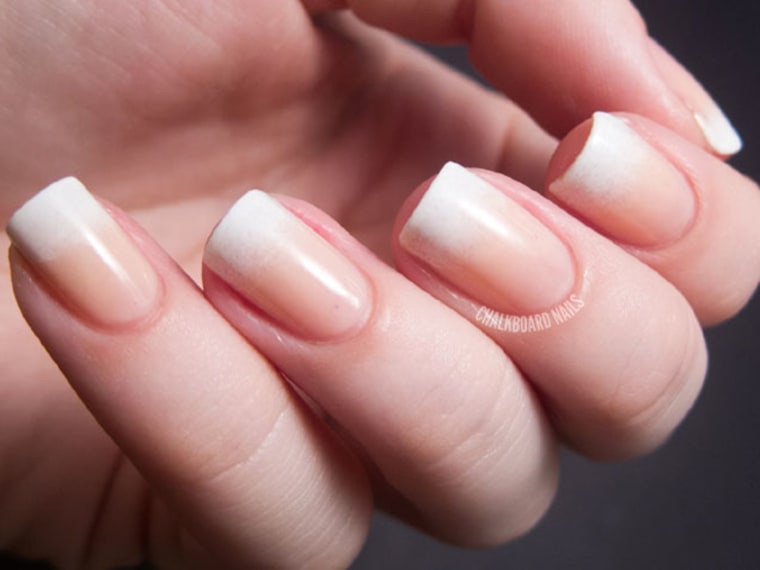 Ombre French Manicure for a Wedding
chalkboardnails.com
Now here's a way to be classic and current at the same time, courtesy of Chalkboard Nails. Paint nails a peachy-nude and gradually fade to creamy white tips.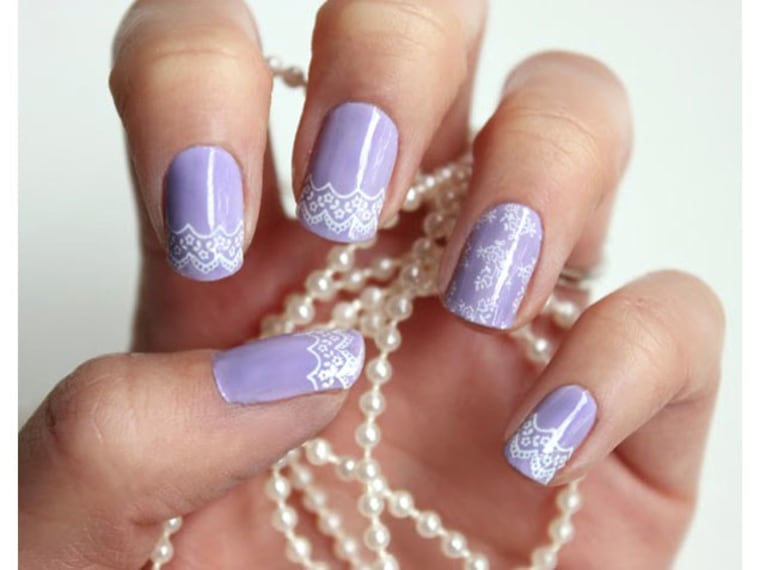 Lavender Lace Wedding Nail Art Design
sylandsam.com
Few fabrics are as synonymous with love as lace. Attaching the real thing to nails is best left up to the professionals, but anyone can replicate this stamping technique developed by beauty geniuses Syl and Sam.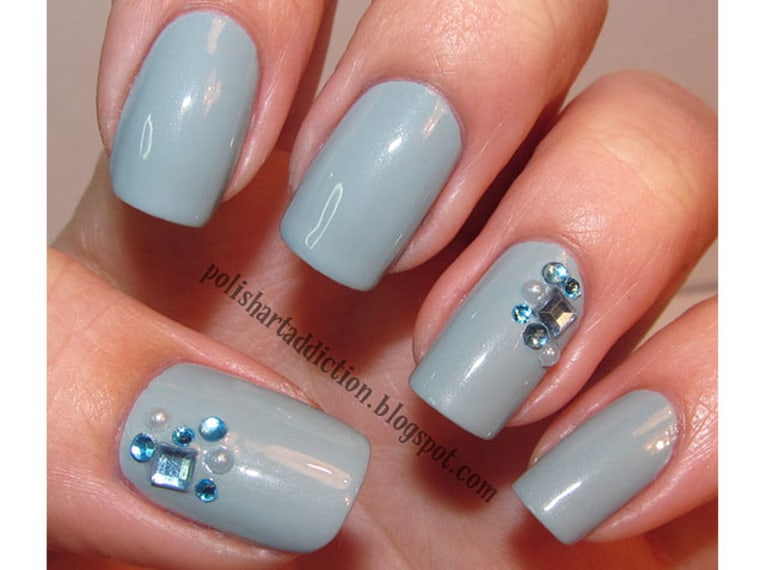 Your Something Blue as Wedding Nail Art
polishartaddiction.blogspot.com
Accessorize your lovely tulle bridal gown with these baby blue nails from Polish Art Addiction. A smattering of tonal accents adds just enough wedding day dazzle.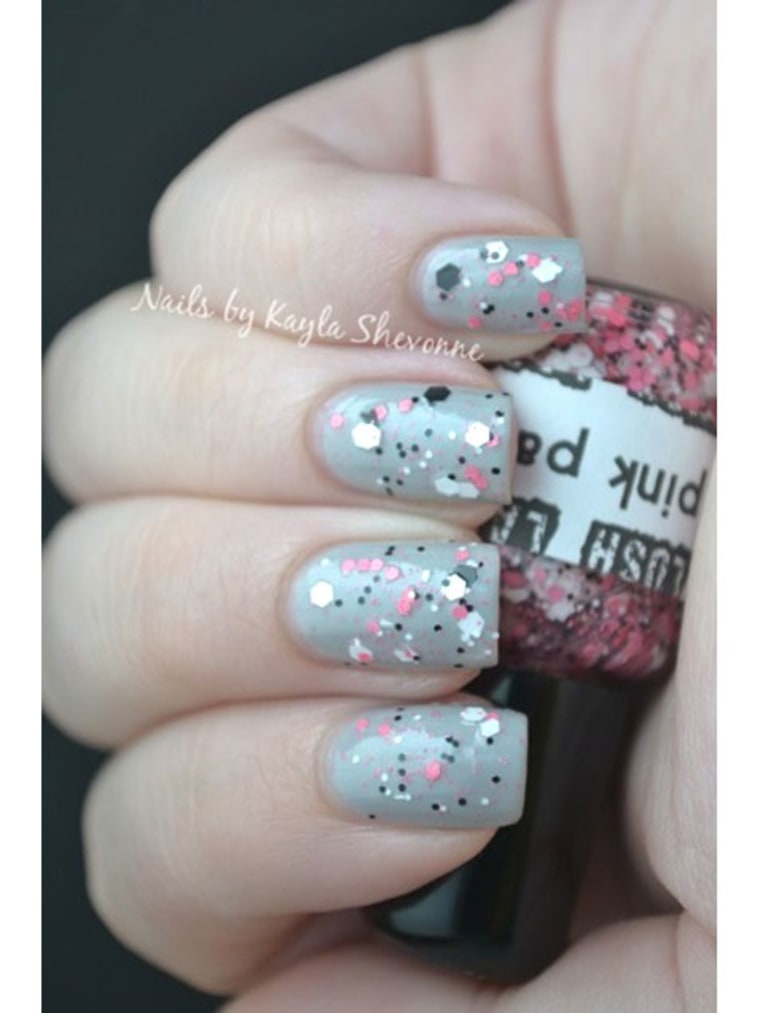 Parisian Palette Wedding Nail Art
kaylashevonne.com
Three of the chichest colors out there—oyster gray, pink and black—combine in this easy-to-execute nail art from Nails by Kayla Shevonne.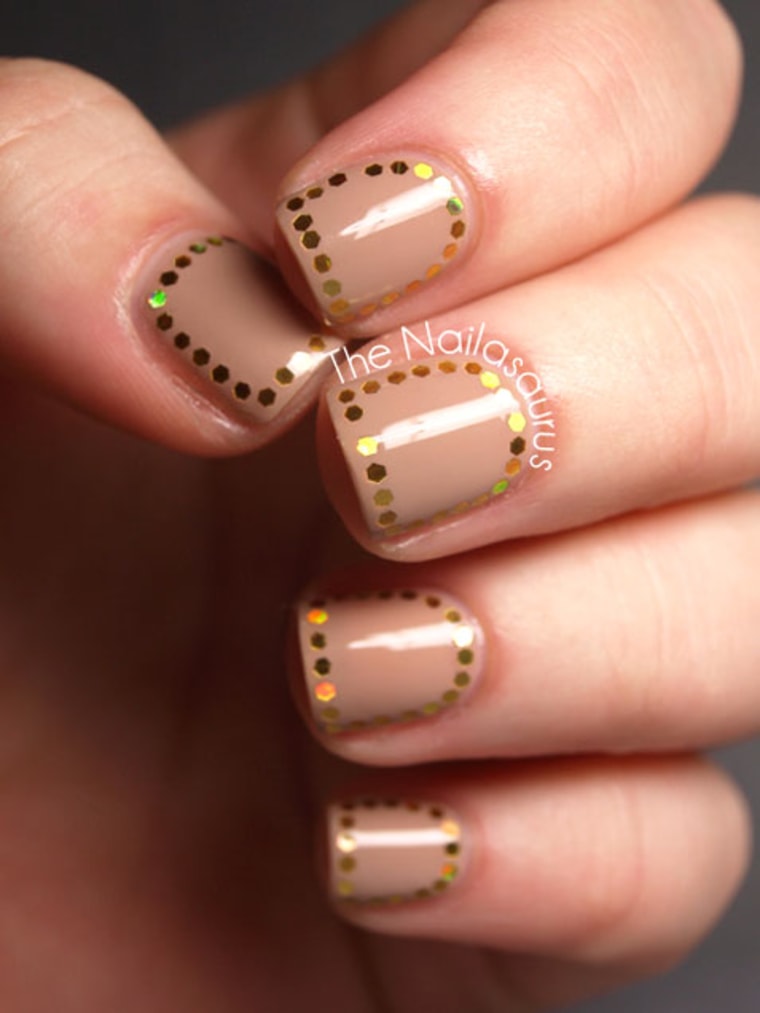 Holographic Glequins as Wedding Nail Art
thenailasaurus.com
Planning glamorous nighttime nuptials? This outline design from The Nailasaurus shows you can't wait to hit the dance floor—and be the most adorable bride ever!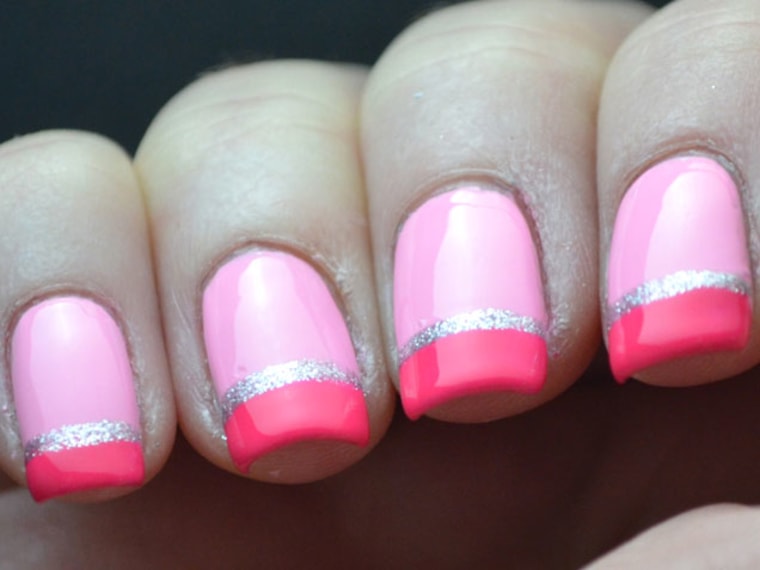 Mixed Pink Wedding Nail Art Design
pinkandpolishednails.blogspot.com
The colors in this graphic mani from Pink and Polished aren't shy, but there's something about the clean proportions that gives it a classic, and beautifully bridal, look.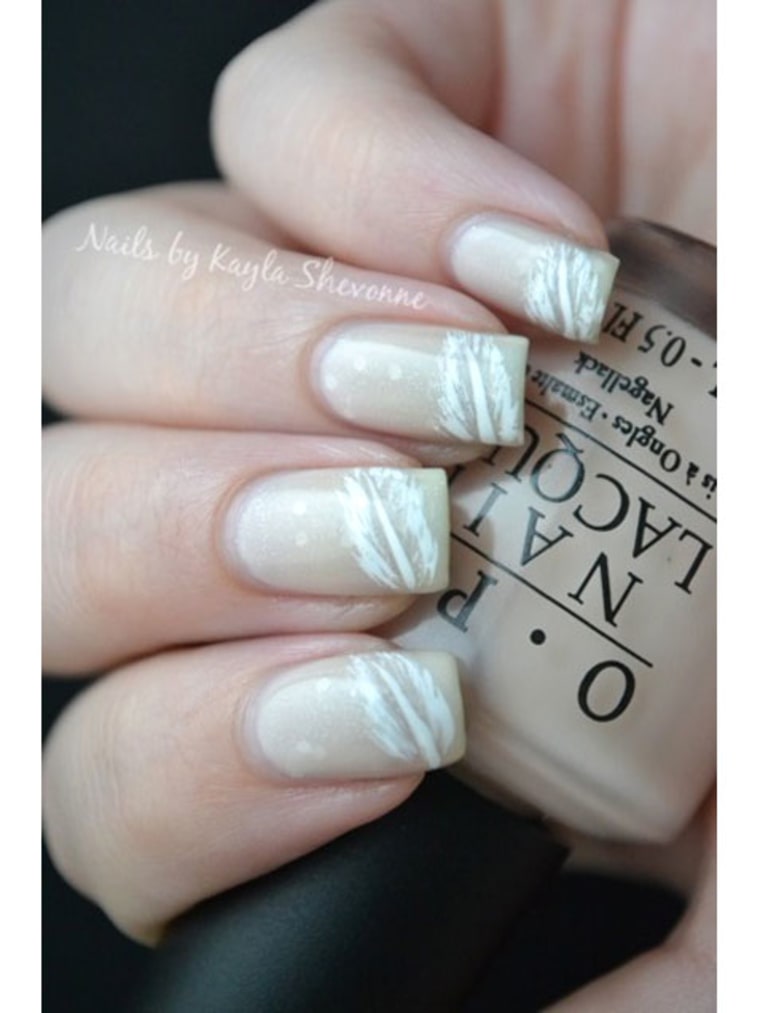 Bohemian Feather Wedding Nails
kaylashevonne.com
The nail art equivalent of a daisy chain headband or peasant-skirted gown, these feathery tips from Nails by Kayla Shevonne let everyone know you're a boho bride at heart. And they aren't as tricky to do as they look—the key is gently flicking a brush with only a bit of polish on it to create the avian effect.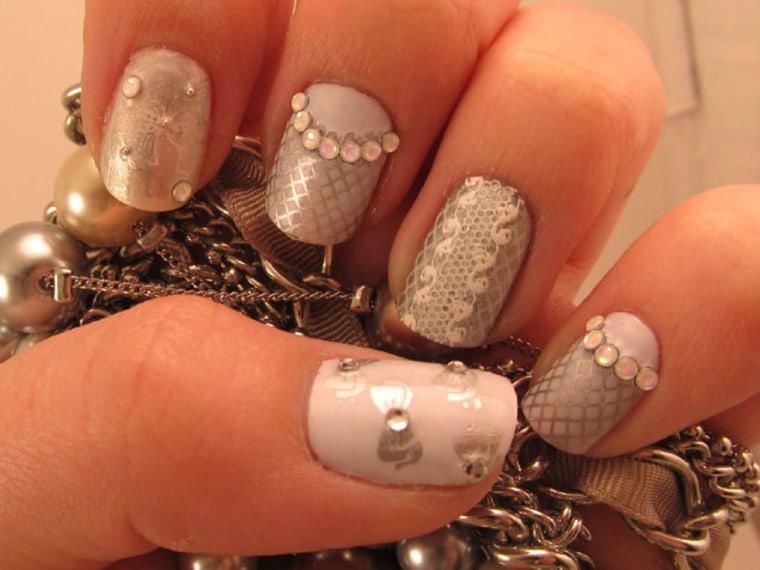 Lace Wedding Nail Art Design
polishartaddiction.blogspot.com
Choose to recreate just one of these lacy effects from Polish Art Addiction—or try 'em all at once.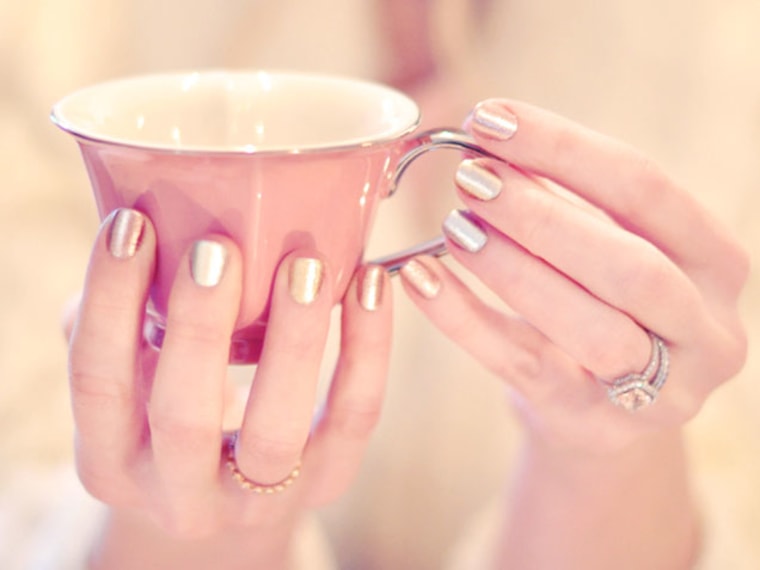 Mixed Metal Wedding Manicure Design
lovemaegan.com
So many beautiful wedding bands mix white, rose and yellow golds—and so does this romantic mani from Love Maegan.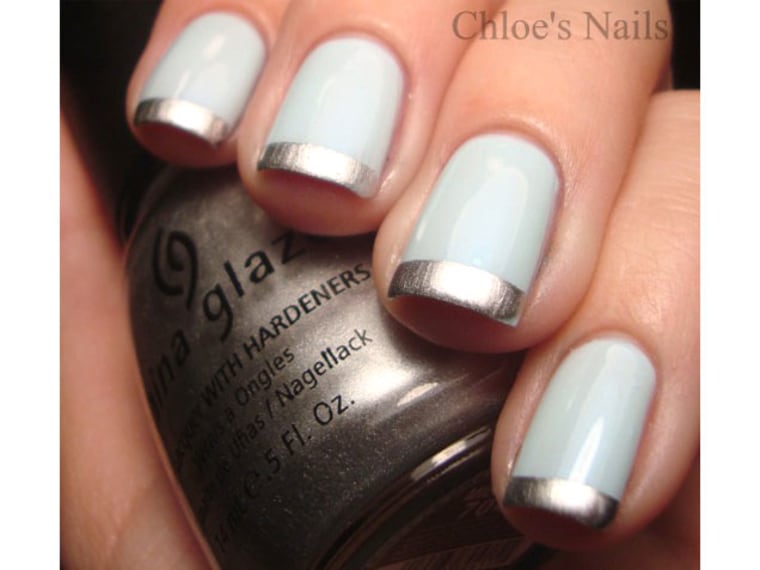 Baby Blue Tips Wedding Nail Art
chloesnails.blogspot.com
Whether the ring on your finger hails from Tiffany's or not, you can sport the irresistible shade of blue on your nails. The design, from Chloe's Nails, starts with two coats of opaque baby blue polish and finishes with perfect tips in reflective pewter.
A version of this story originally appeared on iVillage