/ Source: The Associated Press
Jim Arrighi last saw Petey, his 4-year-old Jack Russell terrier, in the backyard of his Erin, Tenn., home.
That was in July, and the 73-year-old retired electrician had nearly given up on seeing his pet again when he learned the dog turned up safe about 500 miles away in suburban Detroit.
Thursday Petey was finally reunited with his owner. Arrighi's daughter, Tyanne Morrison, said Petey arrived in the care of a Michigan Humane Society volunteer who set out Wednesday from suburban Detroit.
Jack the cat found alive at JFK
"This is just a little town and everybody is buzzing about it," said Arrighi's daughter.
Most of Erin's roughly 7,000 residents know one another, and many of them would recognize Petey, which is why Arrighi, Morrison and their friends suspect he was pooch-napped by an out-of-towner.
Morrison believes Petey left his yard "and somebody picked him up."
"We searched. We knew someone had gotten him," she told The Associated Press by phone on Wednesday. "We got on 4-wheelers and went all over the area. There had been some more dogs over the last few months that were missing."
From Colorado to NYC: Willow the cat reunited with family after 5-year odyssey
While struggling with the loss of his dog, Arrighi also lost his wife, Juanita, who suffered from pulmonary disease and died Oct. 12.
"Since my mother passed away, even I told him 'why don't we go to the pound to give a home to a puppy that don't have a home,'" Morrison said.
"A lot of people are inquiring about it."
Last week, a homeowner in Rochester Hills, about 20 miles north of Detroit, saw Petey in his backyard and took him to a Humane Society animal care center.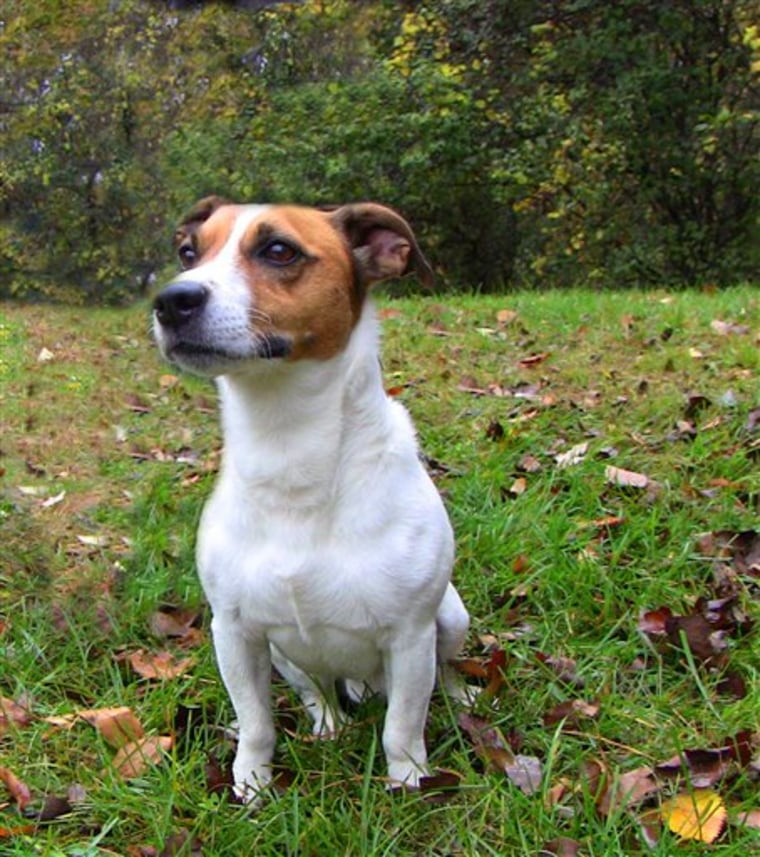 As it does with every recovered dog and cat, the Michigan Humane Society scanned Petey for an implanted microchip, which led the organization to its owner, spokesman Kevin Hatman said.
Arrighi, who has been staying at Morrison's home since his wife died, was thrilled to receive the call, she said.
"He thinks my mother, who is in heaven, sent the dog back to him," Morrison said.
She said their local veterinarian likely recommended Petey get a microchip.
Is their dog a lost cause? Internet cries: No!
"It was only about $70 total," Morrison said. "Now, a lot of people are inquiring about it."
The Michigan Humane Society recommends that all pet dogs and cats get microchips implanted, in addition to making sure they have collars and identification tags.
"It's wonderful when we see microchip reunions, including those that seem like miracles," said Marcelena Mace, shelter manager at the Rochester Hills Center for Animal Care. "It really proves that no matter how far your pet may travel, a microchip can help him find his way home."
Microchips, which also are implanted in pet cats, are about the size of a grain of rice and typically injected near the animal's shoulder blade, said Adam Goldfarb, director of pet care issues with the Washington, D.C.-based Humane Society of the United States.
More interest in microchips thanks to Colorado cat
The chips do not have their own power sources and only can be found and read with a scanner.
"In the last few years there has been a real jump in microchip usage, especially in animal shelters," Goldfarb said. "There are not nearly as many that should be microchipped. Sometimes owners are not great in registering their animals with microchip companies or updating their home information."