It was just like a scene from the movies.
New Yorker Rimma Muchnik was in her Queens apartment on Saturday when she heard a band playing outside, and looked out the window to see a man standing on the sidewalk in the snow, serenading a woman in the building across the street.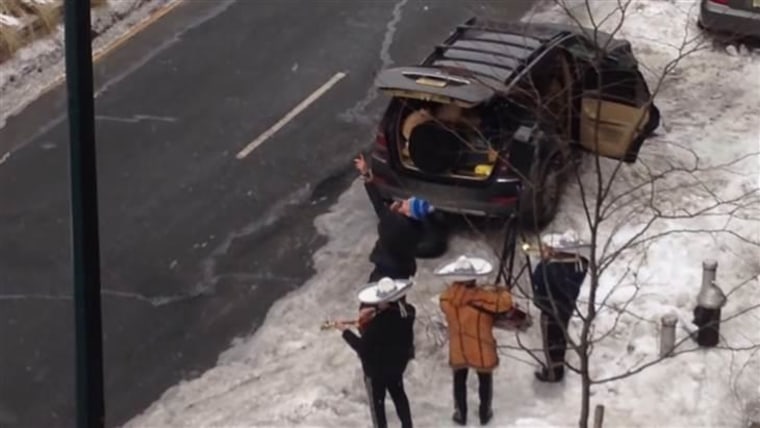 "You know, you see things like that in the movies, and you never think you would see that in real life," she told TODAY.com. "I saw him singing, and I was like, 'Oh my God, this is awesome.' It was very romantic. And grand gestures really do exist, even in cynical New York City."
The mysterious Romeo sang Frankie Valli's "Can't Take My Eyes Off You" and the Mexican classic "Bésame Mucho," with help from a mariachi band. Muchnik filmed the scene on her smartphone and later posted it on YouTube, where it was spotted by blogs like Gothamist.
"It was adorable," she said. "And you know, in the movies it's rehearsed. Here, he stumbled a couple of times but that was even better. When was the last time you saw something like that?"
"I'm crying in the background of the video!" she added.
As sweet as it was, Muchnik said she has no idea who the man in the video is, and she couldn't get a good glimpse at the brunette woman he was singing to across the street.
After the song, he ran into the building with a bouquet of roses, she said.
"I have no idea … she didn't come out of the building, and I couldn't really catch her face [in the window]," Muchnik said.
So until the modern-day John Cusack comes forward, we'll just let this video be a reminder for the rest of us — just days before Valentine's Day — of the power of love, and of sweet gestures like this one.
This article was originally published Feb. 9, 2015 at 1:57 p.m. ET.