Surrounded by family, friends and teachers, a senior from a class of only 14 students faced one of the most nerve-wracking moments of his life recently when he checked to see if he had been accepted to an Ivy League university.
Brendon Gauthier, 17, will never forget that feeling of pure joy when the room erupted after he learned he had been accepted to Cornell University out of tiny TM Landry College Prep in Breaux Bridge, Louisiana.
Gauthier was captured on video celebrating the euphoric moment as he is picked off the ground by Michael Landry, who owns the school of approximately 100 students from grades 1-12 with his wife, Tracey.
"My acceptance, for me, is so powerful in the sense that I want it to inspire other people,'' Gauthier told TODAY. "I want it to motivate and speak to other low-income kids who feel as if they can't reach a goal this high. I want it to show that, through education, anything is possible."
He also received congratulations from Cornell on his admission.
Gauthier is part of the school's largest graduating class of 14 students, who all have been accepted to four-year universities. He plans on studying to become a veterinarian at Cornell.
RELATED: Woman with Down syndrome celebrates college acceptance letter: 'I got in!'
"We keep a family-like atmosphere within our student body,'' he said. "We are always with each other throughout the positive or negative. Every senior here receives the same support."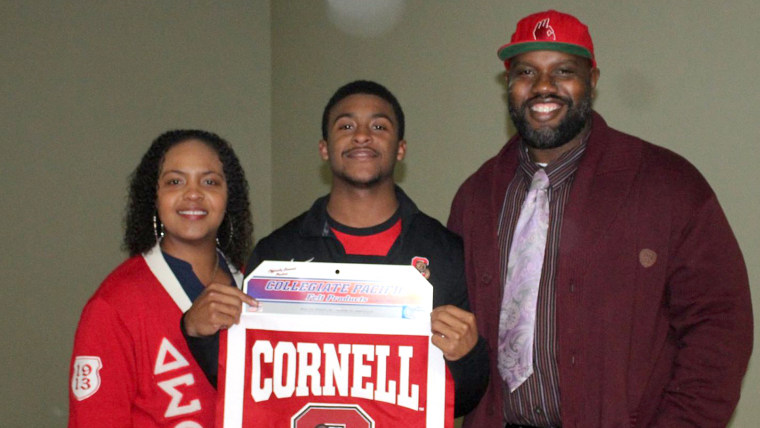 The senior from Opelousas credits the tireless efforts of his mother, who has worked long hours at multiple jobs, in inspiring him to reach his academic goals. He broke down in tears after the scene shown in the video.
RELATED: 'The best day of my life': An orphan's joy the day his schoolteacher became Mom
Students at the tight-knit school often gather around one another as they check to see if they have been accepted to their top schools. All eight seniors in last year's class went on to four-year universities, including Harvard, Yale, Columbia and Brown.
"It was an honor for me to be sitting in that chair this year after being one of the supporting backbones for every senior who opened their decisions (last year),'' he said. "Even if the moment had taken a different direction, TM Landry College Prep would have still been there. They are their brother's keeper!"
Follow TODAY.com writer Scott Stump on Twitter.