On this Valentine's Day, instead of giving chocolates, roses or a text to your sweetheart, take it from some old pros: Send a love letter instead.
Former President George H.W. Bush and his bride of 72 years, Barbara Bush, spent decades sending love letters back-and-forth to each other.
"I love you, precious, with all my heart, and to know that you love me means my life," Bush said, reading from one of the letters he wrote to his wife in this 2011 interview brought back in honor of Valentine's Day.
As the couple told their granddaughter, Jenna Bush Hager on TODAY, the loves notes were part of their early courtship, and they took on deeper meaning when Bush head off overseas with the Navy during World War II.
"Letters were everything," the former president recounted. "You wait for mail call. A guy would come on the deck and say, 'mail,' and then, 'Bush.' It was wonderful."
Unlike the instant gratification of today's tweets or texts, or the Internet at all, part of the joy of love letters came from the anticipation of waiting to read words of "romance, longing and promise."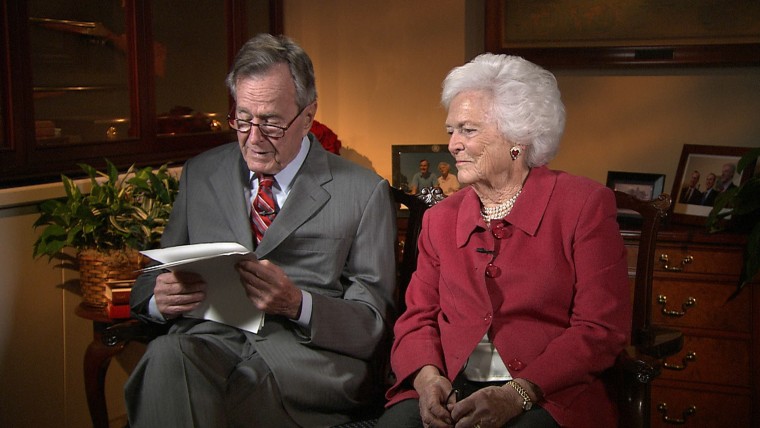 But even after decades of marriage, the Bushes continued to write each other letters, including the one the former president wrote on Jan. 6, 1994.
RELATED: George H.W. Bush, Barbara Bush thank Americans for well wishes with sweet photo
"Will you marry me? Oops, I forgot you did that 49 years ago today. I was very happy on that day in 1945. I'm even happier today,'" Bush said, reading from the note. "You've given me joy that few men know. I've climbed perhaps the highest mountain in the world, but even that cannot hold a candle to being Barbara's husband."
The former first lady said it's easy to think she wouldn't hesitate writing the same words today that she did years ago.
"I love him that much," she said.