For breast cancer patient Jen Dentz, her bedroom is where she can find refuge from her chemotherapy sessions.
"It's a chance for me to have a place to go and relax, read and get away," she told TODAY.com.
Dentz was diagnosed with breast cancer in late 2012 and has been receiving chemotherapy almost continuously since then. While getting treatment at University Hospitals' Seidman Cancer Center, her counselor told her about a unique opportunity. In partnership with the Karen E. Mumford Cancer Foundation and Virginia Marti College of Art and Design, the center offered Dentz a bedroom makeover as part of a project called "Healthy Spaces."
"[When you're fighting cancer,] it just seems like it's all going to be bad, and you can't catch a break. But then stuff like this happens."
The space originally was dark, gray and a space Dentz said felt like a prison.
"I like bright colors, but couldn't think of a color that would make [my husband] happy," she said. And besides a few pieces of art, including one she received from one of her fundraisers, the room wasn't really decorated. "It was just a place for a bed."
The design students chose a cheerful light green color for the walls, a royal blue and gold headboard, and beautiful accents to make the room feel more vibrant and cozy at the same time.
"From the picture frames to the flowers, the style of it is just so elegant and artsy," Dentz said of the new look. "It's really peaceful."
One of her favorite parts is the new furniture. "It reminds me of a bedroom at my grandparents' house, and it's weird because [the students] didn't even know that when they chose it," she said.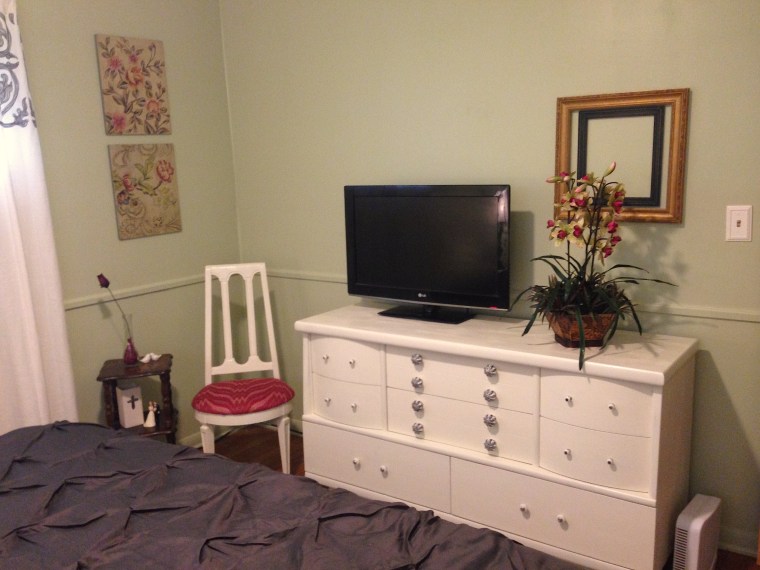 Dentz loves her new room. "It's a place to be comfortable and happy," she said. "I just try to relax and just enjoy the surroundings. I try to keep negativity out of this room."
She's also made new friends in the process. "This whole experience reminds me that there are good people who want to do good things for you."