"We are in touch with the world. We'll tell you what's happening, today."
It was a promise made in the initial moments of the very first TODAY broadcast on January 14, 1952. For 65 years, we've has stayed in touch with the world, and kept that promise to tell the audience what is happening. Through peacetime and wartime, tragedies and triumphs, TODAY has been there.
Want to know more about those 65 moments from TODAY history?
1952: Dave Garroway begins the very first broadcast of TODAY on January 14, 1952.
1953: TODAY Girl Estelle Parsons on the set.
1954: TODAY anchor Jack Lescoulie works at the desk, while Dave Garroway attends to the weather map.
1955: Crowds gather in front of the studio window in Rockefeller Center to watch TODAY.
1956: Dave Garroway reporting outside the TODAY studio.
1957: Dave Garroway and J. Fred Muggs the chimpanzee celebrate TODAY's 5th anniversary.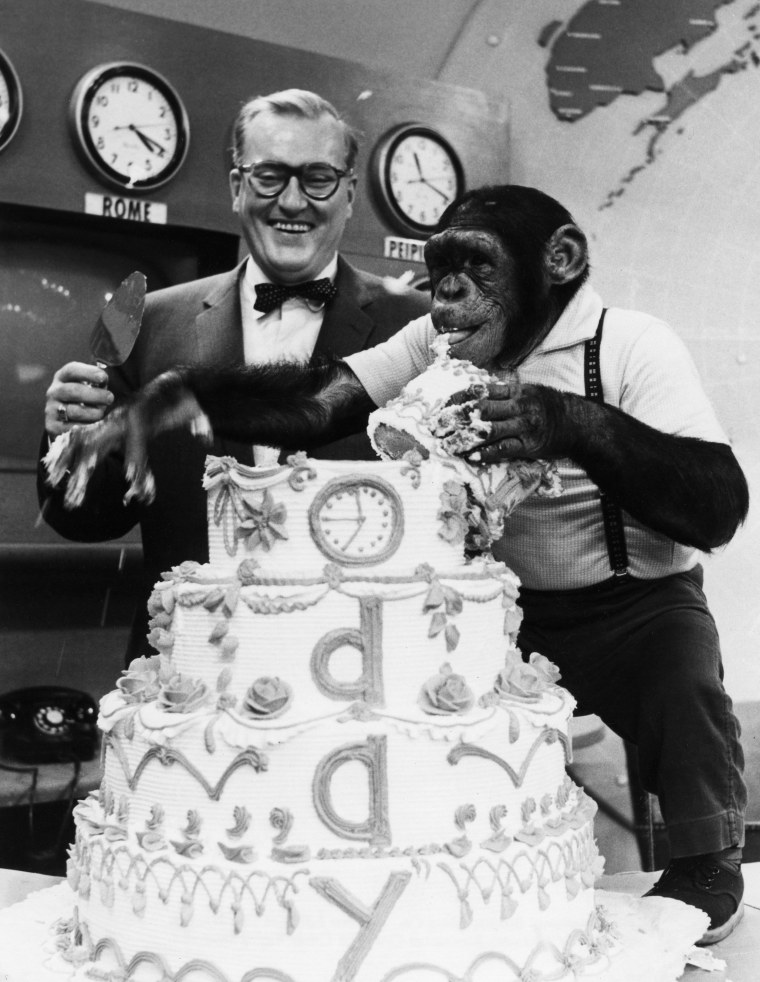 1958: Jack Lescoulie, Charles Van Doren, Betsy Palmer, Frank Blair, and Dave Garroway pose on the TODAY set.
1959: TODAY girl (and future 'Brady Bunch' mom) Florence Henderson celebrates her first day on the show.
1960: Dave Garroway discusses the 1960 U.S. presidential election results with NBC News anchors Chet Huntley and David Brinkley.
1961: TODAY broadcasts from the US Capitol Rotunda during the John F. Kennedy Pre-Inauguration Special.
1962: Barbara Walters dons a bunny costume as she goes behind the scenes at the Playboy Club.
1963: The funeral of President John F. Kennedy.
1964: Duke Ellington and his band perform.
1965: Hugh Downs hams it up with legendary actress Bette Davis at her home in California.
1966: Hugh Downs interviews Dr. Martin Luther King, Jr.
1967: Jack Lescoulie dresses up as Superman, to the delight of Barbara Walters and Hugh Downs.
1968: U.S. troops in Vietnam.
1969: Neil Armstrong lands on the moon.
1970: The TODAY team of Joe Garagiola, Barbara Walters, Hugh Downs, and Frank Blair.
1971: Barbara Walters reports on Iran's Crown Jewels.
1972: Barbara Walters interviews presidential candidate, Senator George McGovern.
1973: Joe Garagiola, Barbara Walters, and Frank McGee take TODAY to Ireland.
1974: Richard Nixon departs the White House after resigning the presidency.
1975: Jim Hartz, Barbara Walters, and Joe Garagiola broadcast from the Iolani Palace in Hawaii.
1976: Dr. Samuel Lee Kountz performs the first-ever live on television kidney transplant.
1977: Tom Brokaw and Jane Pauley cover the inauguration of President Jimmy Carter.
1978: Egyptian president Anwar Sadat, U.S. president Jimmy Carter, and Israeli prime minister Menachem Begin shake hands after signing the Camp David Accords.
1979: Actress Carol Channing entertains Gene Shalit and Tom Brokaw.
1980: Tom Brokaw reports on the death of John Lennon.
1981: The royal wedding of Prince Charles and Lady Diana Spencer.
1982: The TODAY team of Jane Pauley, Willard Scott, Bryant Gumbel, Gene Shalit, and John Palmer.
1983: Willard Scott dresses up as entertainer Carmen Miranda.
1984: Bryant Gumbel reports from Moscow.
1985: Jane Pauley and Bryant Gumbel visit the Vatican and receive a blessing from Pope John Paul II.
1986: The aftermath of the Challenger explosion.
1987: Bryant Gumbel and Jane Pauley broadcast from the Great Wall of China.
1988: Bryant Gumbel and Jane Pauley prepare to depart on the Orient Express.
1989: Tom Brokaw reports on the fall of the Berlin Wall.
1990: Nelson Mandela greets well-wishers after his release from prison.
1991: Katie Couric's first day as anchor of TODAY.
1992: Bryant Gumbel gives David Garroway's signature "Peace" sign-off, as TODAY completes a week of broadcasts from Africa.
1993: Barney the dinosaur pays a visit to Bryant Gumbel and Katie Couric.
1994: TODAY begins broadcasting from its signature Studio 1A in Rockefeller Plaza.
1995: Bryant Gumbel reports on the Oklahoma City bombing.
1996: Bela Karolyi carries Kerri Strug after her gold-medal winning vault landing at the Atlanta Olympics.
1997: The funeral of Princess Diana.
1998: Matt Lauer broadcasts from Cairo, Egypt as he kicks off his globe-trotting series, "Where in the World is Matt Lauer?"
1999: Katie Couric shares a moving moment with two family members from the Columbine massacre.
2000: Katie Couric gets a colonoscopy live on air.
2001: The twin towers of the World Trade Center are attacked.
2002: The TODAY anchor team of Katie Couric and Matt Lauer.
2003: The statue of Saddam Hussein in Firdos Square in Baghdad is toppled.
2004: Matt Lauer and Al Roker dress up as Paris Hilton and Oprah Winfrey for TODAY's annual Halloween extravaganza.
2005: Matt Lauer's heated interview with Tom Cruise.
2006: Matt Lauer and Al Roker try the double luge at the Olympics in Torino, Italy.
2007: Bruce Springsteen performs on the TODAY Plaza.
2008: TODAY goes to the 'Ends of the Earth,' reporting from Belize, Australia, Iceland, and Mount Kilimanjaro.
2009: TODAY broadcasts from the crown of the Statue of Liberty
2010: Hoda Kotb gets the surprise of her life when Beyonce emerges as a model in a style segment.
2011: Prince William and Kate Middleton kiss after their royal wedding.
2012: The sign at the Sandy Hook Elementary School in Newtown after the deadly mass shooting.
2013: Al Roker shakes hands with Vice President Joe Biden during the inaugural parade.
2014: Al Roker forecasts the weather for 34 hours straight during Rokerthon.
2015: Matt Lauer and Savannah Guthrie meet Pope Francis during his trip to New York.
2016: TODAY broadcasts from the White House.
2017: The TODAY family celebrates Matt Lauer's 20th anniversary on the show.
Happy 65th anniversary, TODAY! Here's to 65 more years!