Members of the Queen's Guard are famous for their unwavering blank expressions, no matter how hard passing tourists try to get them to break rank. 
But according to reports, one soldier may have failed to read his job description.

A video showing what appears to be a guard sticking out his tongue, shaking his head and making faces while on duty outside London's Buckingham Palace is under investigation by Army officials. 

Tamron, Dylan, Willie and Al questioned what the video actually captured.

"There's some debate over whether or not he is making a face or if he's actually trying to adjust his helmet or chin strap as it slides up in the rainy weather," Willie noted.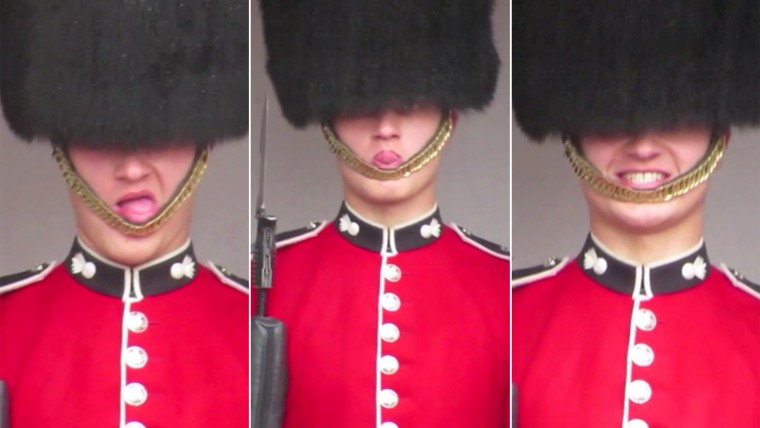 "I think it's an adjustment," Dylan said, while Al expressed doubt about the subject of the video.
"Are we sure it's actually a guard? It's a very close shot," he said. 

At the moment, officials can't say for certain. 
"We are aware of the video and will investigate its authenticity," they said in statement Wednesday. "Should any member of personnel be found to have fallen below expected standards of behaviour, they may be subject to disciplinary action."
The Queen's Guard, renowned for rarely breaking from their stony expression and stiff posture, provide sentry outside palace gates. The soldiers are a popular subject for photo-taking tourists, many of whom go to great lengths to get them to crack a smile.
Follow TODAY.com writer Eun Kyung Kim on Google+ or on Twitter.