Walmart shoppers may notice something missing in the checkout aisle.
The retail giant is pulling Cosmopolitan magazine from its checkout stands in response to an organization's complaints about the content on its covers. The glossy will still be available in Walmart's magazine section, but the publication will lose out on that prime real estate at the checkout.
"The concerns raised were heard," Walmart said in a statement to NBC News, though it called the move "primarily a business decision."
Walmart had already placed blinders on Cosmo to hide what it considered inappropriate content, but some activists wanted Walmart to go even further.
The National Center on Sexual Exploitation (NCOSE) had long been urging the retailer to remove the magazine from its checkout stands, where covers can be viewed by children. The group worked with Walmart over several months to implement its new policy.
"Cosmo absolutely targets young girls with its advertising," Haley Halverson, a spokesperson for NCOSE, told NBC News. "It's a bubblegum pink cover, there's Disney stars on the covers, but when you open it up, it's filled with extremely explicit articles detailing sex acts and encouraging its young viewership to do things like sext, watch pornography and engage in other risky behaviors that many young women are being pressured into in today's society."
NCOSE has called Cosmopolitan's content "hypersexualized and degrading," and praised Walmart's recent decision as a victory for the #MeToo movement.
"Walmart's removal of Cosmo from checkout lines is an incremental but significant step toward creating a culture where women and girls are valued as whole persons, rather than as sexual objects," NCOSE executive director Dawn Hawkins said in a press statement. "We are grateful for Walmart's cooperation and for Walmart leadership's recognition that corporations must do their part to change #MeToo culture."
While Cosmo has not directly addressed Walmart's new policy, the magazine stands behind its editorial mission.
"With our focus on empowerment, we are proud of all that the brand has achieved for women around the world in the areas of equality, health, relationships, career, politics and social issues," the publication told NBC News in a statement.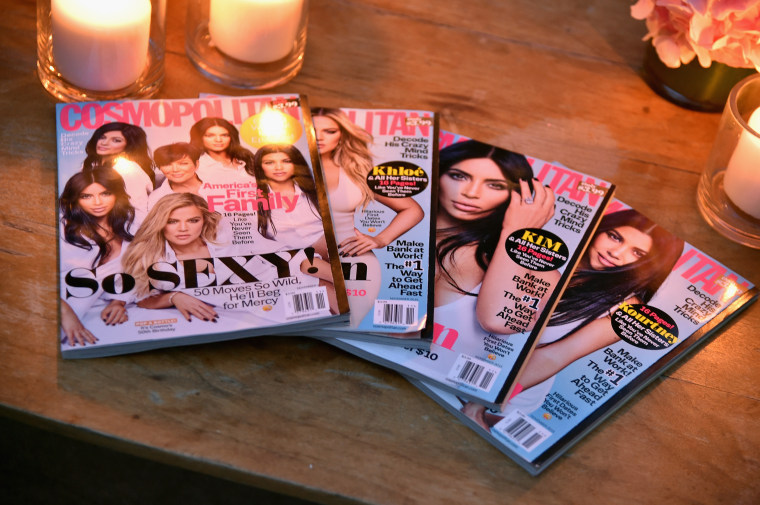 While some shoppers praised Walmart's decision, others argued that the move was a step backwards for women's liberation.
"With #MeToo, I feel like women should be able to express themselves how they would like to," one reader told NBC News.
"If you don't want to see those magazines or don't want to contribute, then you don't pick it up," another said.
NCOSE said it has also reached out to Target and Walgreens, urging them to follow Walmart's example, but hasn't yet heard back.