An 82-year-old pilot who's been trying to go to outer space for more than half a century will join Jeff Bezos on his Blue Origin spaceflight later this month.
Wally Funk is a member of the so-called Mercury 13, a group of pioneering women who were testing to become astronauts in the 1960s before their training program was canceled. (Their story was the subject of a Netflix documentary in 2018.)
"No one has waited longer," Bezos wrote in an Instagram post announcing that Funk will join him on July 20 as an "honored guest."
In a video he shared, Funk said that she's been "flying forever," and has 19,600 flying hours.
"I have taught over 3,000 people to fly — private, commercial, instrument, flight engineer, airline transport, gliding — everything the FAA has, I've got the license for," she said. "And I can outrun you."
She also talked about the famously canceled training program, which had been created by a NASA physician but wasn't officially run by NASA, that she participated in decades ago.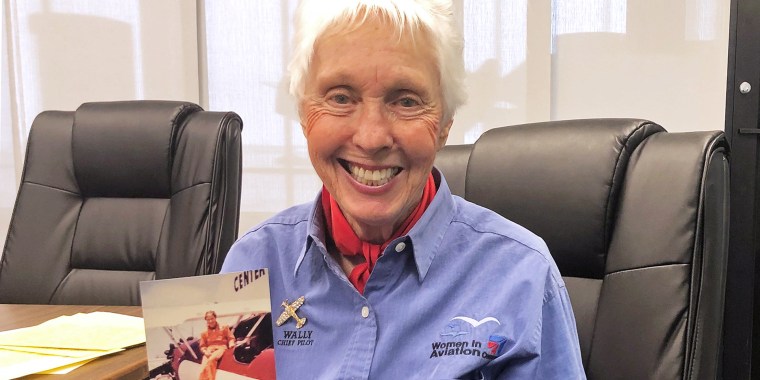 "They told me that I had done better and completed the work faster than any of the guys," Funk said in the video. "So I got a hold of NASA four times. I said, 'I want to become an astronaut.' But nobody would take me. I didn't think that I would ever get to go up."
While her dream of being an astronaut was dashed, Funk still went on to become a seasoned aviator and the first female Federal Aviation Administration inspector.
"Nothing has ever gotten in my way," she said. "They said, 'Wally you're a girl, you can't do that!' I said, 'Guess what? Doesn't matter what you are, you can still do it if you want to do it.' And I like to do things that no one has ever done."
That's exactly what she'll do when she becomes the oldest person to travel into space on July 20. (The late astronaut Sen. John Glenn, who was 77 during his final spaceflight, currently holds that honor, according to NASA.)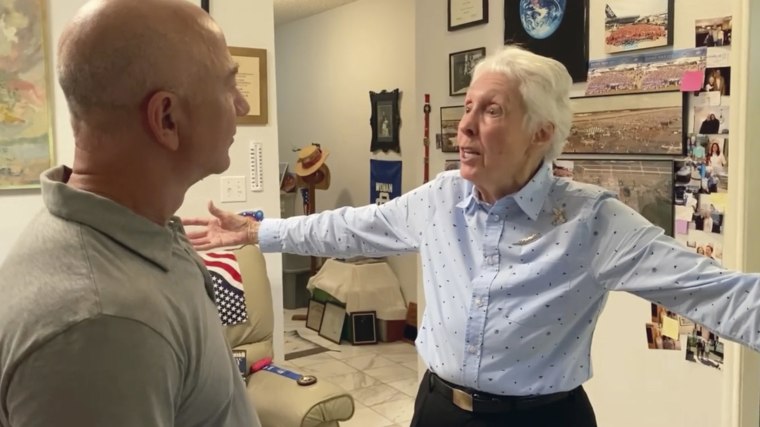 Funk will join Bezos, his brother and an auction winner who paid $28 million for a seat on the flight, which will launch from Texas.
Blue Origin is the Amazon founder's rocket company, and the flight aboard its New Shepard rocket will be its first human flight.
Yet Funk has no hesitations: "I'll love every second of it," she said. "I can hardly wait."