Wal-Mart is defending a Thanksgiving food drive that an Ohio store set up for its employees, saying workers there are "outraged" that their act of generosity is being twisted out of context.
Signs attached to storage containers lined up in an employee-only area ask workers to "donate food items here so associates in need can enjoy Thanksgiving dinner." An employee at the Canton, Ohio, Wal-Mart store snapped photos of the backroom bins and sent them to the union-backed group Organization United for Respect at Wal-Mart, or OUR Walmart, that has since circulated them online.
The photos were picked up by a number of news outlets, such as the Cleveland Plain Dealer, which questioned whether Wal-Mart holding a food drive for its own employees was "proof of low wages".
On Monday, a Wal-Mart spokesman denied that accusation, and said the Canton, Ohio, store has held similar food drives for the past several years.
"What these associates are doing is making sure if there's someone out there with a special, critical, unforeseen need, that they're being taken care of," Kory Lundberg told TODAY.com. "They're getting what they need and they're getting support."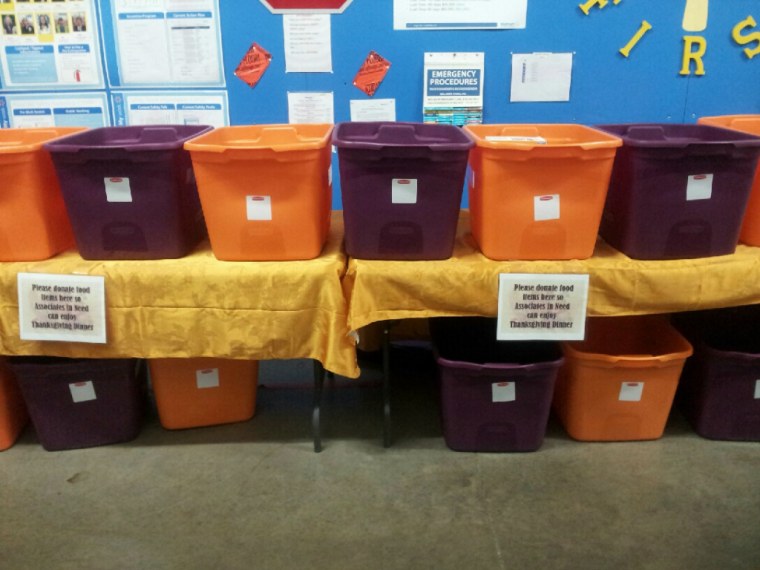 Workers in need may have lost their home to fire or had a spouse who lost a job, or be dealing with "something else you can't plan for," Lundberg said. Last year, 12 associates out of the roughly 300 employees at the store received help from the food drive.
"It underscores what the culture of this company is — it's to take care of each other," he said. "That Canton, Ohio, store is an example of it."
But the employee who snapped the photos saw the food drive as proof the company has failed to pay its employees substantial wages, said a representative for OUR Walmart.
"As Wal-Mart workers, we do come together and support each other, but we shouldn't have to collect food from or for each other when our employer is making $17 billion in profits. Wal-Mart should publicly commit to pay us $25,000 a year," said OUR Walmart's Tiffany Beroid. "We don't want handouts, we want an employer that pays us enough to cover Thanksgiving dinner for our families."
OUR Walmart also is organizing labor strikes against the company, pushing for higher wages. The group has organized protests throughout the country, including protests in Cincinnati and Dayton, but not in Canton.
But Lundberg said he spoke on Monday to numerous Canton Wal-Mart employees, "from management to hourly," all of whom are "expressing the same outrage" over efforts they say are misunderstood.
"They're telling me they are angry, frustrated and disappointed to see something they do like this, in terms of taking care of people, being twisted and misrepresented into something that it's not," he said, "by people who have nothing to do with their store."