A waiter at a Wichita, Kansas diner has a good reason to smile these days.
After years of painful dental problems, Brian Maixner is getting thousands of dollars of work done on his teeth—all without paying a penny, thanks to a generous diner who wanted to help.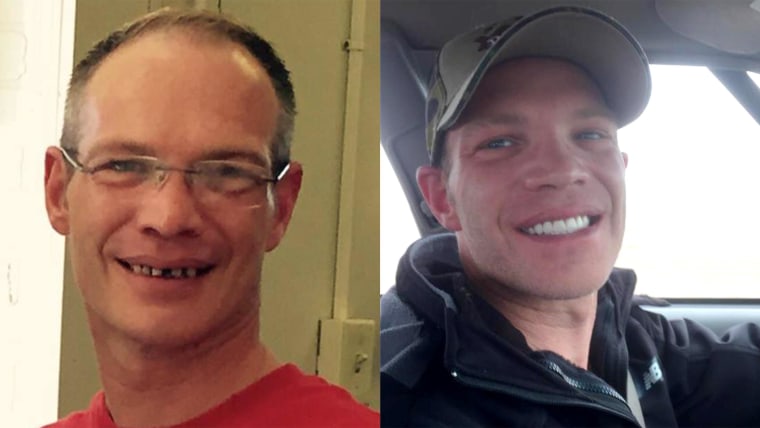 Timirie Shibley, who owns the Doo-Dah Diner in Wichita with her husband, told TODAY.com that no one is more deserving of the grand gesture than Maixner.
"He's one of those employees you wish you had six of," Shibley said. "His whole mission is to please people as quickly as possible and he laughs along the way. He's a very hard worker."
Attorney Fred Boettcher is the man paying for Maixner's new smile. They met when Boettcher and his family ate breakfast at the diner one Saturday in January, and Maixner was their server.
"He was just so gregarious—it was unusual, even for a waiter," said Boettcher, who lives about 70 miles away in Ponca City, Oklahoma, but was visiting his daughter in Wichita.
"He has a smile that was from ear to ear. But you should have seen his teeth, they were horrible," Boettcher told TODAY.com. "It just struck me."
As soon as Maixner took the family's drink order, Boettcher approached Shibley at the hostess stand.
"He said he could tell Brian was a very special person and he wanted to know if Brian would be offended if he offered to pay for his dental issues," Shibley said. "Needless to say, I was floored. I immediately accepted on Brian's behalf."
She pulled Maixner aside and told him and "we shed a couple of tears, and he continued waiting on them," Shibley said.
Maixner told TODAY.com he's so grateful to Boettcher.
"I was in shock. I was trying to wait on their table, but I was crying a bit," he said.
As for his new smile, he still can't believe it.
"Oh my gosh, I just keep staring in the mirror and going, 'Wow,'" Maixner said. "It just makes such a huge difference. Before, I was conscious about my smile, not that I could stop it. Even when my teeth were bad, I still smiled."
Maixner is seeing Boettcher's dentist and still has more procedures to go. Boettcher said he doesn't know how much the total bill will be, but guesses it will be between $10,000 and $15,000.
This isn't the first time Boettcher, who struggled with his own teeth problems when he was younger, has covered someone else's dental bill. "I'm blessed with the ability to help," he said. "If I see it, I usually try to help, it just makes me feel better."
Jessica Sommer, a legal assistant for Boettcher, said her boss is known for generous gestures like this one, which was first spotted by news outlets like BuzzFeed after the restaurant posted about it on Facebook.
"He's an incredible, incredible person," she said. "He always does this for people and never wants any credit."
This story was originally published on March 9 at 5:19 p.m