Abigail Zwerner, the first-grade teacher from Virginia who was shot in January by one of her students, spoke for the first time to TODAY about what happened that day, and how she's doing now.
In her exclusive interview with Savannah Guthrie, which aired on Tuesday, March 21, Zwerner spoke of the defensive move that likely saved her life during the shooting.
"It could've been fatal," Zwerner said of the shooting. "We believe — with my hand being up, with it going through my hand first — we believe that, by the bullet going through the hand first, that it most likely saved my life."
Zwerner said she raised her left hand before her 6-year-old student fired, sending a bullet through the hand and then her chest in her Richneck Elementary School classroom in Newport News, Virginia, on Jan. 6.
Zwerner said Jan. 6 began as a regular school day, but she started hearing things "that made my fear grow" before her student pulled out a firearm.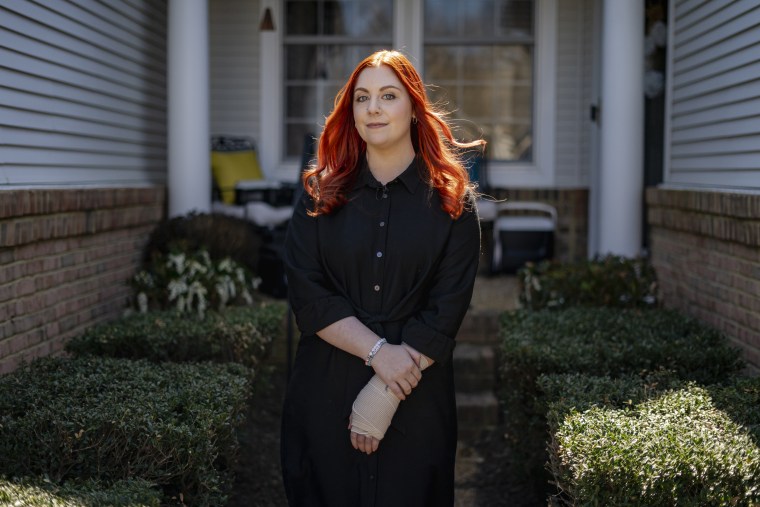 "I remember him pointing the gun at me," Zwerner said. "I remember the look on his face. I remember the gun going off. I remember feeling something. It was a pretty scary day."
"There's some things that I'll never forget. And I just will never forget the look on his face that he gave me while he pointed the gun directly at me," she added. "That's something that I will never forget. It's changed me. It's changed my life."
In a press conference days after the shooting, Steve Drew, the chief of police at Newport News Police Department, said that Zwerner had a classroom full of first graders when one of the students took out a handgun, which his mother had legally obtained.
Despite Zwerner's injuries, she was able to evacuate her classroom before seeking help.
"In that moment, my initial reaction was, 'Your kids need to get out of here ... and then you need to go find help for yourself.' That was pretty shocking itself," she said of the shooting. "But I just wanted to get my babies out of there."
She said what happened next is "still kind of a blur." She recalled heading to an office in the school, where she felt herself start to fade into unconsciousness.
"I didn't know at the time that my lung had collapsed, but I started not being able to breathe, very raspy breaths, and my vision started going out," Zwerner said. "I remember I went to the office and I just passed out. I thought I had died."
Zwerner also shared an update on her recovery, saying some days have been grueling but she's tried to keep a positive perspective.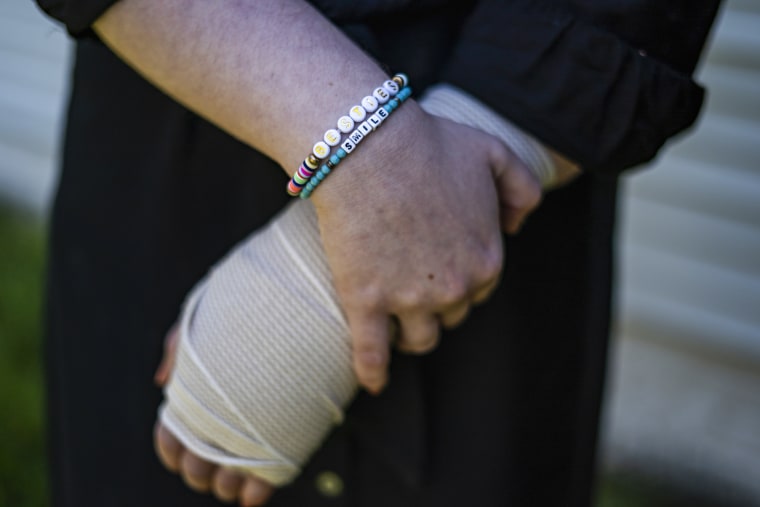 "I've been doing okay. You know, it's been challenging," she said. "I've gone through a lot of obstacles and challenges. Some days are not so good days, where I can't get up out of bed. Some days are better than others, where I'm able to get out of bed and make it to my appointments.
"But, you know, for going through what I've gone through, I try to stay positive," she continued. "You know, try to have a positive outlook on what's happened and where my future's heading."
The city prosecutor in Newport News, Virginia, has since said that he will not be pressing charges against the child.
Zwerner's attorney, Diane Toscano, said in a news conference and in a letter of intent to file a lawsuit sent to the Newport News School Board that three teachers had gone to school authorities on Jan. 6 with concerns around the student's behavior.
Zwerner says she first sought an administrator's help that morning after the child threatened to beat up another student. According to Zwerner, a second teacher later went to an administrator and searched the boy's backpack.
She says another teacher then reported that the boy had shown another student the gun during recess. The school's principal at the time of the shooting, Briana Foster Newton, has since been removed from her position, district spokesperson Michelle Price said in January.
Toscano tells Guthrie that she intends to file a lawsuit on Zwerner's behalf.
"I can tell you there were failures on multiple levels in this case, and there were adults that were in positions of authority that could have prevented this tragedy from happening and did not," Toscano said, adding that she intends to file a complaint in two weeks.
"I've met with the attorneys for both the school board and the city of Newport News, and they're gonna have to respond in court," Toscano said.
TODAY reached out to the attorney for the Newport News School District but had not heard back by the time of this story's publication.
In January, Newport News Public Schools spokesperson Michelle Price told NBC News that "anything that has been reported to our school leadership team in regards to concerns at Richneck from teachers and staff members is part of the investigation. It's being thoroughly investigated."
TODAY also reached out to James Ellenson, the attorney for the 6-year-old's family, who responded Monday evening.
"We welcome the prosecutor's decision and continue to pray for Ms Zwerner's complete recovery," Ellenson said.