Almost three months after Virginia teacher Abigail Zwerner was shot by a 6-year-old student, the injured educator filed a $40 million lawsuit Monday alleging school administrators shrugged off multiple warnings from staff and students who believed the boy had a gun and posed an imminent threat on the day of the shooting, and did so knowing the child "had a history of random violence."
The Jan. 6 shooting of Zwerner at Richneck Elementary School in Newport News stunned the country as police announced the child's actions were intentional. The student shot Zwerner with a 9mm handgun while she sat at a reading table in their first-grade classroom, according to officials.
The complaint, filed in the Circuit Court for the city of Newport News, says Richneck assistant principal Ebony Parker chose to "breach her assumed duty" to protect Zwerner, "despite multiple reports that a firearm was on school property and likely in possession of a violent individual."
Parker resigned in the wake of the shooting. She could not immediately be reached for comment Monday.
Also named as defendants are the Newport News School Board, former schools Superintendent George Parker III, whom the board voted to remove "without cause," and Richneck principal Briana Foster Newton, who was transferred to a different role within the district.
Zwerner, 25, is seeking a jury trial, noting in her suit that she suffers from "physical pain and mental anguish."
Newport News police praised Zwerner for still managing to escort her class of about 20 students to safety even after she was seriously wounded in the hand and her chest.
Lawyers for Zwerner said Monday on TODAY that school leadership knew of at least three separate warnings that the boy was believed to have a gun and was told by another student they saw it.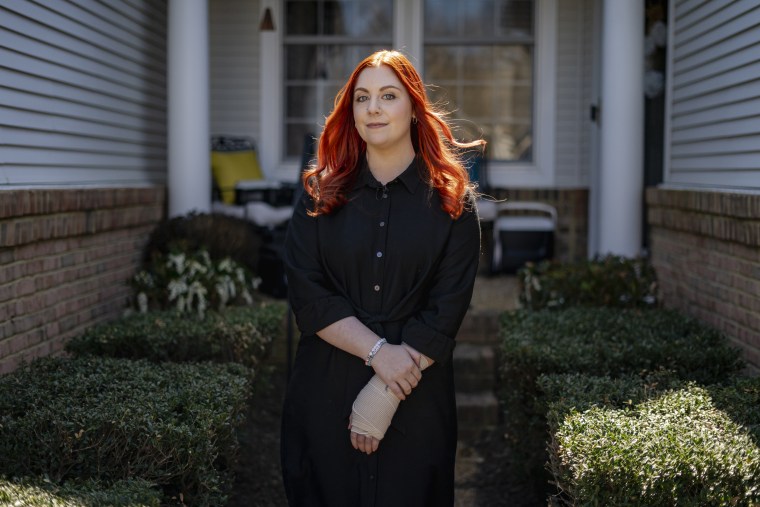 Lawyer Jeffrey Breit disagreed with the idea that Zwerner's negligence suit should be a workers' compensation claim under Virginia law since theoretically, workers can't sue their own employers.
But, he said, the shooting is "an exception" because "no 6-year-old student is going to be a risk of shooting their teacher. It's not part of their job. It's not a night 7-Eleven worker."
School knew of boy's behavioral issues
The lawsuit mentions new details about the 6-year-old boy, who is identified as John Doe, and an alleged pattern of troubling behavior.
While in kindergarten at Richneck in the 2021-22 school year, the boy strangled and choked a teacher and was removed from the school, according to the complaint.
That same school year, the boy also pulled up the dress of a female student who had fallen on the playground, the complaint says, and "began to touch the child inappropriately until reprimanded by a teacher."
The boy was transferred out of Richneck and placed in a different institution within the district, but was allowed to return for the 2022-23 school year when he was enrolled in Zwerner's class.
He was placed on a modified schedule last fall after "chasing students around the playground with a belt in an effort to whip them with it, as well as cursing at staff and teachers," according to the complaint. At least one parent was also required to attend school with him daily "because of his violent tendencies."
"Teachers' concerns with John Doe's behavior was regularly brought to the attention of Richneck Elementary School administration, and the concerns were always dismissed," the suit says. "Often when he was taken to the school office to address his behavior, he would return to the classroom shortly thereafter with some type of reward, such as a piece of candy."
Warnings were allegedly ignored
On Jan. 4, two days before the shooting, the boy took Zwerner's cell phone and slammed it to the ground, shattering the device, according to the complaint. The boy was given a one-day suspension for the following day.
On Jan. 6, the boy returned to Richneck, but his mother did not stay with him during the school day as required, and the complaint says the school did not assign him a "one-on-one companion."
Between 11:15 and 11:30 a.m., Zwerner went to assistant principal Parker and said the student appeared in a "violent mood" and had threatened to physically assault a classmate. According to the complaint, Parker "had no response," and another teacher observed that the administrator "essentially ignored Plaintiff's concerns."
Meanwhile, another teacher was informed by two students that the boy had a gun in his backpack, the suit says. The teacher later informed Parker that she believed the boy had a gun and thought she might have seen him place an object in his sweatshirt pocket during recess and also searched his backpack, but found no weapon. Parker responded that the boy's "pockets were too small to hold a handgun and did nothing," the complaint says.
Then, a third teacher told Parker after 1 p.m. that the boy showed another student the gun at recess, and that student told another teacher the boy "would hurt him if he told anyone," according to the complaint.
A fourth employee had asked Parker for permission to search the boy, but she "forbade" him, according to the suit, saying that the boy's backpack had already been searched and the boy's mother would be arriving to pick him up.
At 1:59 p.m., while Zwerner sat in her classroom at a reading table, the boy pulled out a gun and opened fire.
More on the Virginia teacher who was shot
Potential criminal charges pending
A spokeswoman for the Newport News Public Schools could not immediately be reached for comment Monday about Zwerner's lawsuit. Neither the former schools superintendent nor a lawyer for Newton, the former Richneck principal, could also immediately be reached for comment.
A lawyer for Newton previously said "the fact of the matter is those who were aware the student had a gun on the premises that day did not report it to Ms. Newton."
The school district previously said it cannot comment about allegations against school officials in an ongoing internal investigation nor share any information in the student's educational record, citing the criminal investigation.
The district also said in a previous statement that the safety and well-being of students and staff members are its most important priorities.
"We will continue to do whatever it takes to ensure a safe and secure teaching and learning environment across all our schools," the statement said.
Newport News Commonwealth's Attorney Howard Gwynn told NBC News last month that he would not seek charges against the 6-year-old boy, citing his age and inability to adequately understand the legal system, but said he was still weighing whether he might hold any adults criminally liable.
The family of the 6-year-old boy said in a statement in January that the weapon was "secured" in the home and that they have "always been committed to responsible gun ownership and keeping firearms out of the reach of children."
The family also said the boy has an acute disability and was receiving the "treatment he needs" under a court-ordered temporary detention at a medical facility.
The family's lawyer, James Ellenson, said last month that they "welcome the prosecutor's decision" not to seek charges against the boy and that they "continue to pray for Ms. Zwerner's complete recovery."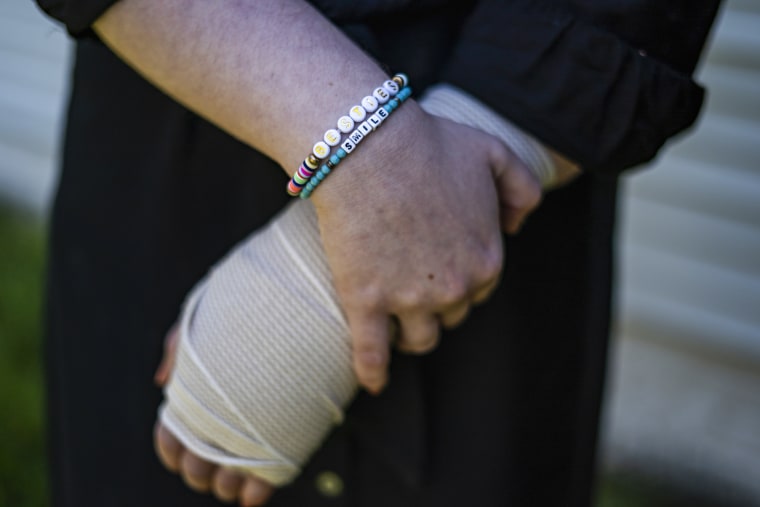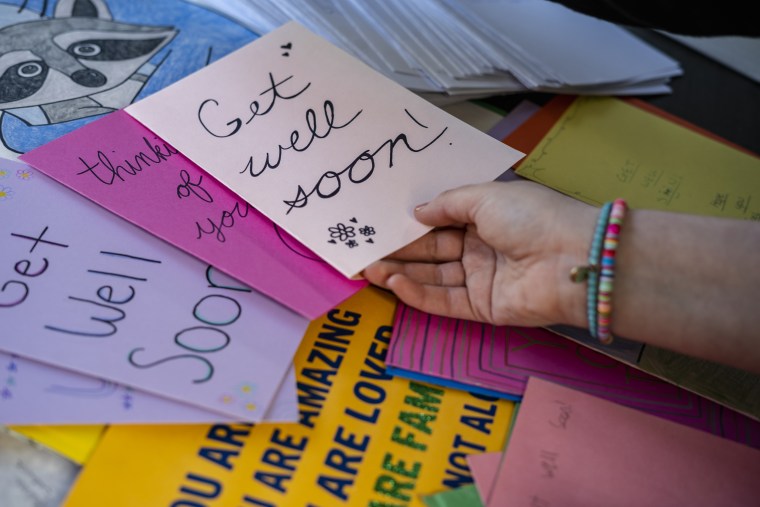 The incident at Richneck — a rare example of a shooting perpetrated by a child under 10 at a U.S. school — came after two other shootings in Newport News schools in the past 18 months.
Overall, the number of school shootings reached its highest number in two decades during the 2020-21 school year, according to a federal report in June 2022. A week ago, a private Christian school in Nashville, Tennessee, saw six people killed, including a substitute teacher and three young children, at the hands of a 28-year-old former student armed with two AR-style weapons and a handgun.
Diane Toscano, another lawyer representing Zwerner, said Monday it is "outrageous" that a first-grade teacher such as her client should have to assume that being shot is part of the job.
"Her future is uncertain," Toscano said. "She loved being a teacher, loved teaching children, but the emotional trauma she sustained is just unbelievable."
Zwerner, during an interview on TODAY two weeks ago, said she is still in pain and has had to undergo multiple surgeries and grueling physical therapy. The bullet and bullet fragments are still lodged in her chest, she added.
While she declined to speak in detail about a motive for the attack, the memory of that moment remains etched in her mind.
"I just will never forget the look on his face that he gave me while he pointed the gun directly at me," Zwerner said.
The injury to her left hand still makes the most simple tasks, such as making a fist, opening a water bottle and getting dressed, extremely difficult, and she said that doctors are still uncertain about whether the function will be fully restored.
"I'm not sure when the shock will ever go away because of just how surreal it was and, you know, the vivid memories that I have of that day," Zwerner said. "I think about it daily. Sometimes I have nightmares."
This story first appeared on NBCNews.com.
Related: