Viola Davis has moved fans with passionate performances on the big and small screens, but a recent speech in which opened up about her embattled sister's suffering is the one of the most haunting and emotional moments she's ever shared.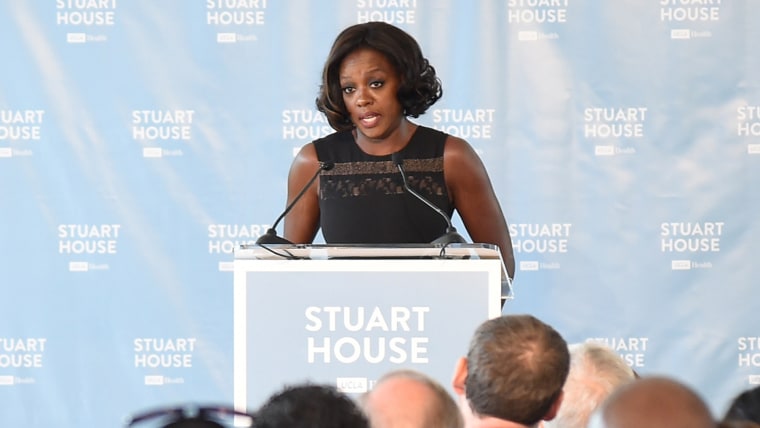 "I have a sister, who, when she was 8 years old, put on some roller skates with her friend, went down to the corner store at 1 o'clock in the afternoon, went into the store and was sexually assaulted in the store," Davis revealed during a Tuesday benefit for Stuart House, a program created by The Rape Foundation to help children and families in the wake of sexual abuse.
Davis described the events that followed, including her devastated mother's quick actions to have the assailant arrested. But that was far from the end of her sister's suffering.
"From there, a precocious, very intelligent, very creative child grew up to be frail, angry, [and] a drug addict by the time she was 20," Davis explained. "Six children, all of which have been taken by social services. A prostitute. An IV drug user."
MORE: Lena Dunham talks 'victim blaming' after revealing sexual assault
Then the "How To Get Away With Murder" star added a powerful message, which her sister's story perfectly illustrates: "You know, memories demand attention, because memories have teeth."
Her sister's memories are still taking their toll now at the age of 39.
"You pray that she finds peace and love and happiness, she gets off drugs," Davis said. "And then of course you open your eyes, and you're like, 'She's still on the streets.'"
It's because of her sister's painful past and present that Davis is so supportive of Stuart House, which she believes could have offered her sibling a different life. She said she's sharing the story now for all of her "sisters in the world."
"This is a day the lord has made, and I'm going to rejoice and be glad in it," she said, adding, "Because I wish I could tell my sister that she's not dirty, and that she should not feel any shame for something that she literally was not responsible for. I wish I could save her life."
Follow Ree Hines on Twitter.