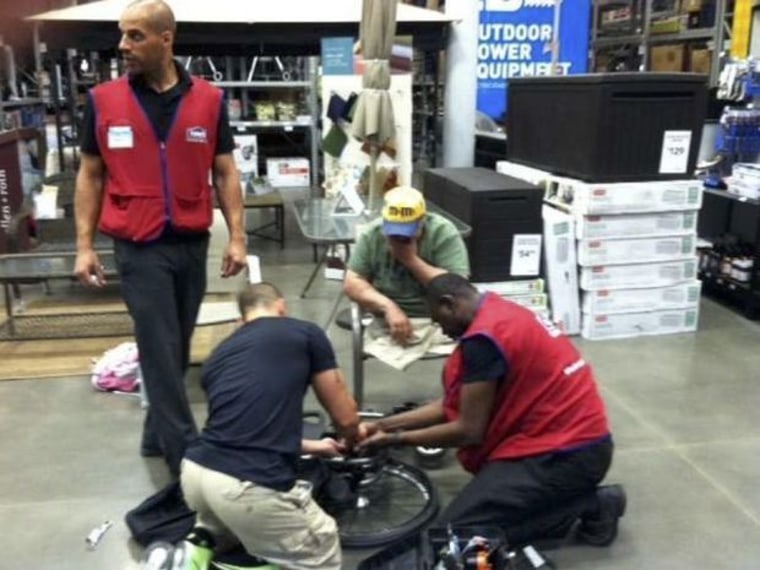 Michael Sulsona had no idea a trip to Lowe's would end up changing his life.  

The Marine Corps veteran, who lost both legs after stepping on a landmine in Vietnam in 1971, says he'd waited two years for the Department of Veterans Affairs to send him a new wheelchair. It finally arrived at his New York City home yesterday after the 62-year-old's story went viral following a random act of kindness.
Sulsona was shopping at a Lowe's on Staten Island when a bolt snapped on his old wheelchair last week.
Three employees stepped forward to repair the broken wheelchair. A photo was snapped of the legless Sulsona watching from a nearby chair. The story then caught fire on the Internet after he wrote a letter to a local paper. Days later, Sulsona opened his door to discover that the VA finally had delivered a new wheelchair.
The VA did not immediately respond to requests from TODAY.com for comment. Buzzfeed cited a spokesman for the New York Veterans' Association as confirming that the VA had delivered Sulsona a new wheelchair and would service it.
Sulsona, who blames "red tape" for his two-year wait, says he doesn't know if his story prompted the swift delivery.
"This isn't about bashing the VA," he told TODAY.com. "They're full of wonderful people but are overloaded because we fought too many wars and can't afford to take care of all the guys when they come back."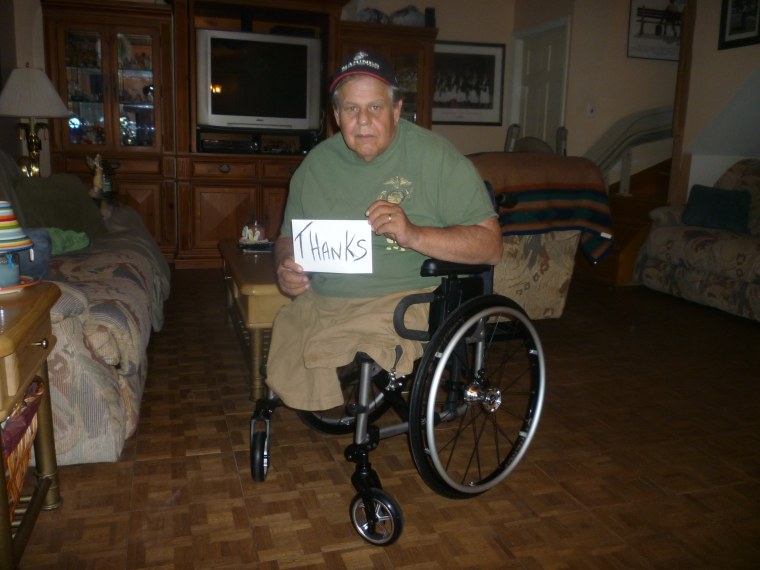 He added, "This is about these three guys who helped me — David, Marcus and Souleyman, and Sal, who called them over," he said. "The lesson is if someone's in trouble, you help them. As a society, we've gone so far from that that it's become newsworthy when someone is nice."

Sulsona says it took about 45 minutes to repair his wheelchair, which he will keep as a spare. By the time they finished, the store was closed and half the lights were out.
"I thank the guys and they look at me and say, 'It was our honor,'" he said.
In a photo in his new wheelchair, which is tailor-made for him with ultra-lightweight titanium, Sulsona holds up a piece of paper on which is hand-written one word: "Thanks."