After a long sandwich search, TODAY has narrowed it down and picked a winner... Vesuvio's cheesesteak BLT. This Philadelphia classic with a twist has taken the crown, stomach and taste buds of our viewers. Check out more of our information on the winning sandwich, and the runners-up from our scrumptious series:


Vesuvio's cheesesteak BLT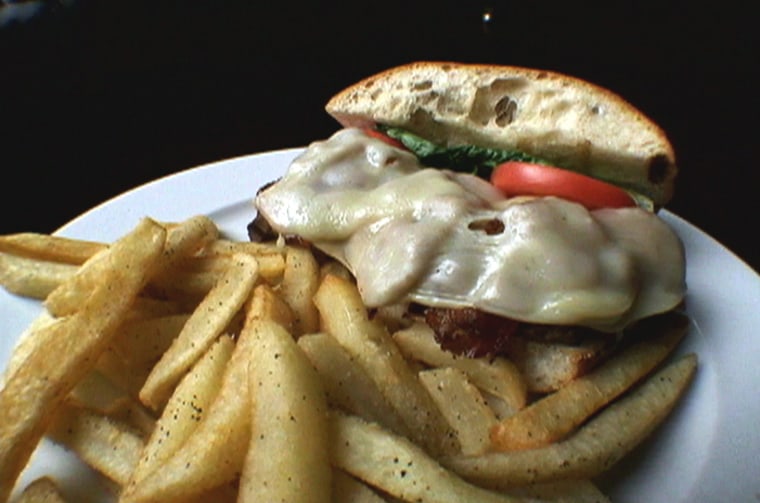 Price: $11
Location: Vesuvio's
736 S. 8th St @ Fitzwater
Philadelphia, PA 19147
             
Ingredients:
Sliced filet mignon topped with provolone, sautéed onions, bacon, lettuce and tomato, finished with a sriracha mayonnaise and served on a ciabatta roll.
Directions:

1. Saute a 4-6 oz. filet mignon cooked to your liking in extra-virgin olive oil or on a grill with salt and pepper rub.
2. Prepare bacon, lettuce and tomato for a sandwich, as well as sriracha mayonnaise. If sriracha, a spicy Asian ketchup, is not available, you can divert and be creative. Use what is in the kitchen ... spice up the mayo with hot sauce and ketchup; use horseradish, Old Bay seasoning, Worcestershire, etc.
3. After slicing the filet mignon, place a slice of provolone, mozzarella, or any cheese that pleases your palate. Place this in a preheated 350-degree oven for 1 minute
4. Finally, prepare the sandwich on a roll, ciabatta or the classic BLT style, on toasted American bread slices. 

Philly is known for its cheesesteaks and its love of sports. Good thing its cheesesteaks are phenomenal. Vesuvio's adds a little twist to the conventional cheesesteak by using the highest-quality ingredients, and is a great place to catch a game.


Click here for Phil Lempert's take on this new twist of an American classic