/ Source: TODAY contributor
Most brides spend countless hours making the thousand tiny decisions that go into planning a wedding. Which flowers should we choose? What music should we play? What should the dress look like?
But for Abigail Kirk, there were far fewer choices to make after she and her fiancé Andy Weeks decided to plan a wedding inspired by the film "Breaking Dawn: Part 1," based on the "Twilight" saga by Stephenie Meyer.
Abigail Kirk and Andy Weeks relied on some stunning onscreen nuptials to plan their big day. Take a look at their celebration.
For anyone who hasn't read the four books or seen the movies — (is there anyone??) — Meyer's tale revolves around Edward Cullen, a telepathic vampire born in 1901 who never ages, and Bella Swan, a human teenager who moves to Forks, Wash., to live with her father. The pair meet in high school and, throughout the saga, battle the many forces that work to keep them apart.
Die-hard fans were most excited about the last installment, "Breaking Dawn," in which Bella and Edward get married. Before the movie was released last November, speculation about the onscreen wedding, and the Carolina Herrera-designed dress in particular, reached a fever pitch.
Abigail, 30, who has read the books about six times each and has watched all the films, knew at once that she wanted to incorporate elements from the movie wedding into her February wedding after she finally got to see "Breaking Dawn: Part 1." She and Weeks wound up doing just that — in big ways, in subtle ways and in one exceptionally long-lasting way.
In the course of planning their nuptials, the couple decided to change their last names legally to Cullen.
"It started out as a joke," said Abigail, who lives in southern England. "I never liked Andy's last name ... and wasn't excited about taking it on, but he felt strongly that we share the same last name.
"One evening as we were planning the big day, he said, 'Let's change it to Cullen,' and it sort of stuck. We know plenty of people who have blended their surnames together, and although it's kind of off the wall, it suits us."
Since Abigail had to change her last name anyway, the couple went through the relatively easy process together, applying online, signing papers with witnesses and then changing the names on their bank accounts and other personal documents.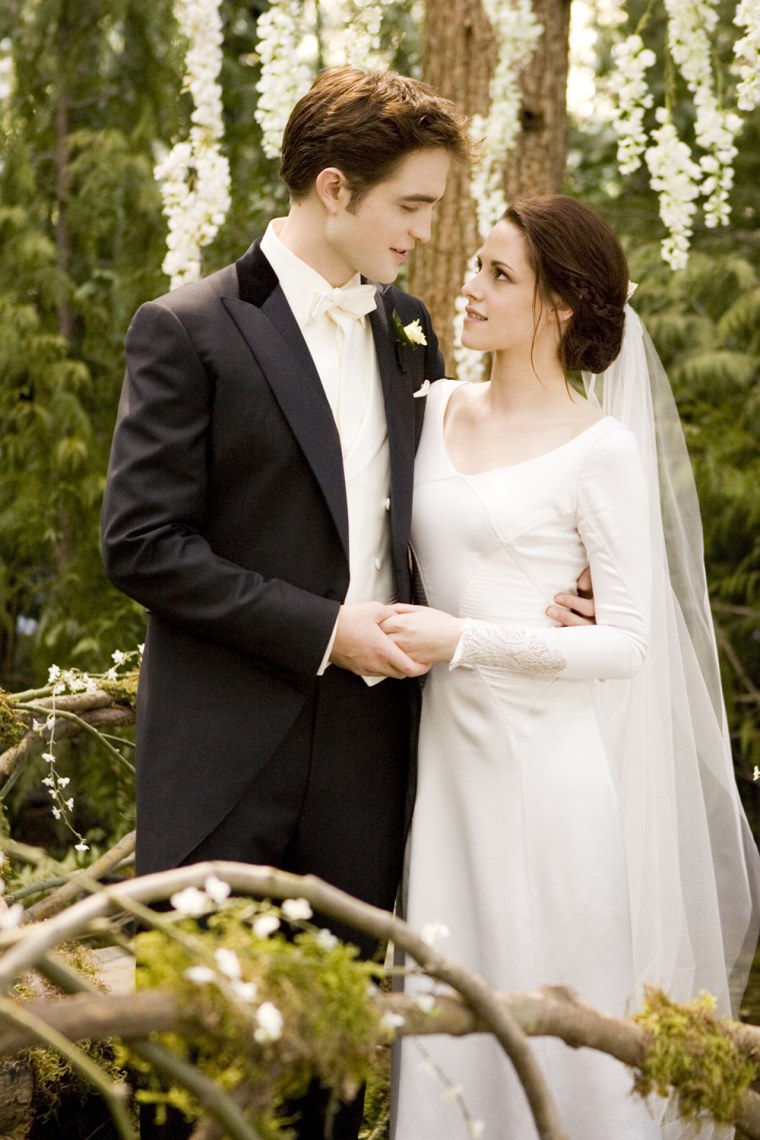 Abigail told her mother several weeks ago, but her new husband, who still has yet to read the "Twilight" saga, was a little reluctant to tell his family that he had changed his name.
"My mother wasn't surprised at all but Andy's sister wasn't very happy when she found out last week," Abigail said. "I made him call his parents last night to finally tell them, and although they were surprised, his dad was pretty OK about it."
An 'incredibly personal' ceremonyOther details about the couple's "Breaking Dawn" wedding were chosen with great care. Abigail collaborated with her florist to design bouquets as similar as possible to the flowers featured in the movie. The tables at the real-life wedding reception were named after vampire covens in the series, with the head table called "The Cullens." Even the Cullen crest was printed on the menu.
Abigail was most excited about the music for the wedding, which featured many songs from the "Breaking Dawn" soundtrack. But she initially gave up trying to wear a dress similar to Bella's when she found out that designer wasn't shipping until after her wedding.
Then, as the wedding date neared, Abigail simply couldn't get Bella's dress out of her mind. She called Alfred Angelo in Florida, where she had lived for some time, and found out that although the dress wasn't yet available to the public, a store not far from her home in Dorset had a sample that they were willing to sell.
On the big day, Cullen walked down the aisle wearing the first dress she had bought, and then changed into her long-sleeved "Breaking Dawn" dress for the reception. The groom had much less trouble finding a wedding suit to match Edward Cullen's movie wedding attire.
"Although we used the movie as inspiration, our wedding was still incredibly personal to us," Abigail said. "Looking back, there's not one part of it that I would change."