Tired of smacking into people who abruptly stop walking while texting? Just change lanes.
Utah Valley University, a school of 31,000 students in Orem, Utah, has added a "texting lane" next to ones for walking and running on a staircase in its Student Life and Wellness Center.
"The walls were bare, and we wanted to speak the language of the students," Melinda Colton, director of public relations at UVU, told TODAY.com. "So the idea started as a design element."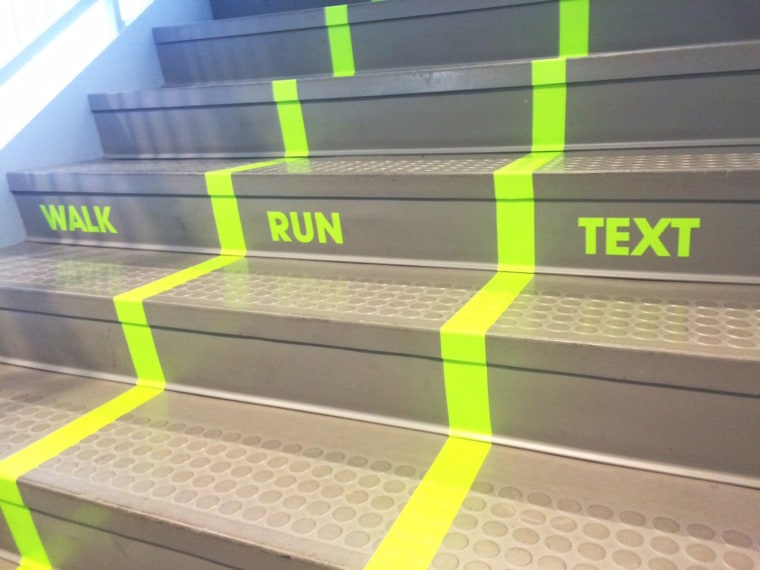 "When you have 18- to 24-year-olds walking on campus glued to their smartphones, you're almost bound to run into someone somewhere; it's the nature of the world we live in," Matt Bambrough, UVU's creative director, said in a news release. "But that isn't the reason we did it — we used that fact to engage our students, to catch their attention and to let them know we are aware of who they are and where they're coming from. The design was meant for people to laugh at rather than a real attempt to direct traffic flow."
Colton said the students are not expected to obey the texting lane, but the photo has been a hit on social media.
"One student was walking upstairs to work out, and took a picture of it," Colton said. "He posted it on social media and it went viral."
The idea of separating the texting crowd from the walking crowd first surfaced in September of 2014, when the Chinese city of Chongqing divided a sidewalk into lanes for people on their cellphones and pedestrians without them. That was inspired by a National Geographic experiment in July of 2014 in which it created a "no texting lane" on a street in Washington D.C. to study behavior of cell phone users.
The "zombie walk" of texters can also be dangerous, as there were an estimated 11,101 reported injuries between 2000 and 2011 as a result of distracted walking, according to a report issued Wednesday by the National Safety Council.