A University of Southern California football player said on Wednesday that he lied when he claimed to have hurt his ankles while jumping off a second-floor balcony to save his drowning 7-year-old nephew, university officials said.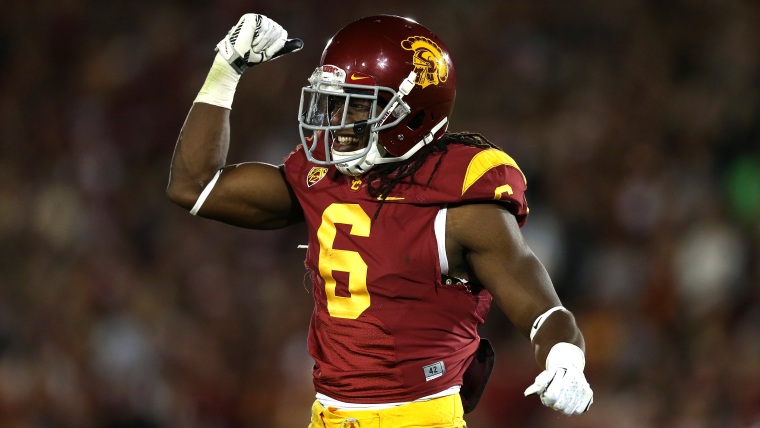 On Wednesday afternoon, USC senior Josh Shaw opened up and said the story was "a complete fabrication" and apologized for misleading his coach, team and the public, according to a USC athletics statement.
"We are extremely disappointed in Josh," USC head football coach Steve Sarkisian said in the statement. "He let us all down. As I have said, nothing in his background led us to doubt him when he told us of his injuries, nor did anything after our initial vetting of his story.
"I appreciate that Josh has now admitted that he lied and has apologized. Although this type of behavior is out of character for Josh, it is unacceptable. Honesty and integrity must be at the center of our program. I believe Josh will learn from this. I hope that he will not be defined by this incident, and that the Trojan Family will accept his apology and support him."
Shaw has been suspended indefinitely from all team activities, the statement said. Shaw's lawyer, Donald Etra, issued this statement on Shaw's behalf on Wednesday afternoon:
"On Saturday, August 23, 2014, I injured myself in a fall. I made up a story about this fall that was untrue. I was wrong to not tell the truth. I apologize to USC for this action on my part.
"My USC coaches, the USC Athletic Department, and especially coach Sarkisian have all been supportive of me during my college career and for that, I am very grateful."
The standout football player initially had been lauded after he claimed he saved his nephew when he saw him fall into a pool and struggle to swim during a social gathering on Saturday night. However, Sarkisian told the media on Tuesday that the school received phone calls claiming the story was untrue. Sarkisian said he had no reason to doubt Shaw's account, but said the school was investigating his story.
The Los Angeles Police Department did file a report Saturday night that mentions a man named Josh Shaw, but it involved a burglary investigation at an apartment complex located 60 miles from the apartment complex where Shaw claimed he rescued his nephew. Witnesses told police they heard screaming coming from the apartment where Shaw's girlfriend lives and reported seeing a man who looks like Shaw scaling down the apartment balcony before running away. Police have not named Shaw a suspect but sources close to the investigation told NBC News that detectives want to speak with him, Jacob Rascon reported on TODAY Wednesday. 

The Los Angeles County Fire Department announced it did not receive any calls on Saturday night about Shaw or his nephew. 
Shaw claimed he was at a cousin's apartment in Palmdale, California when he saw his young nephew in trouble. Knowing the boy couldn't swim, Shaw said he leaped off a second-floor balcony to the concrete below, spraining both ankles. He then crawled to the pool, grabbed his nephew and swam him to safety. 

Shaw said the boy did not suffer any injuries, while Shaw was diagnosed with two high ankle sprains at a nearby hospital, putting him out indefinitely with the Trojans' season set to open on Saturday. Shaw is a starting cornerback on USC's defense. 

"I would do it again for whatever kid it was; it did not have to be my nephew," Shaw told the school for a blog post that has since been removed from the Trojans' website. "My ankles really hurt, but I am lucky to be surrounded by the best trainers and doctors in the world. I am taking my rehab one day at a time, and I hope to be back on the field as soon as possible." 
"That was a heroic act by Josh, putting his personal safety aside,'' Sarkisian told the school's website on Monday, before the conflicting reports emerged. "But that's the kind of person he is. It is unfortunate that he'll be sidelined for a while and we will miss his leadership and play, but I know he'll be working hard to get back on the field as soon as possible."
This story has been updated since it was first published at 8:37 a.m. ET on Wednesday.