/ Source: The Associated Press
U.S. Olympic track and field athletes will wear uniforms at the London Summer Olympics that Nike says could shave up to 0.023 seconds off 100-meter sprint times — a difference that could have elevated Walter Dix from bronze to the silver medal at the Beijing Olympics.
Dix still wouldn't have caught the fastest man in the world that day. Usain Bolt of Jamaica simply ran away from the field in the final, setting a world record that he would later break again.
But maybe these uniforms, with dimples that mimic a golf ball, could help the Americans close the gap on Bolt and his training partner, Yohan Blake.
The company said its tests showed an unexpectedly big difference in the 100-, 200- and 400-meter races. The outfits were unveiled Thursday evening in New York.
"We couldn't believe the numbers," said Martin Lotti, Nike's Olympics creative director. "That's not just the difference between first and second place, it's about making the podium."
The added texture might seem counterintuitive, but the company studied the aerodynamics of golf balls and found the textures and dimples make it more efficient. Patterned patches are on the forearm and leg, the fastest-moving parts of the body.
"The logical thing would have been to make it smoother or use lighter materials, but we challenged ourselves to think differently," Lotti said.
Spyder made a similar claim with speed suits in Vancouver for skiers — and the Americans had one of their best showings in Alpine. The Speedo LZR Racer that Michael Phelps and teammates donned for the 2008 Beijing Olympics made a mockery of world records.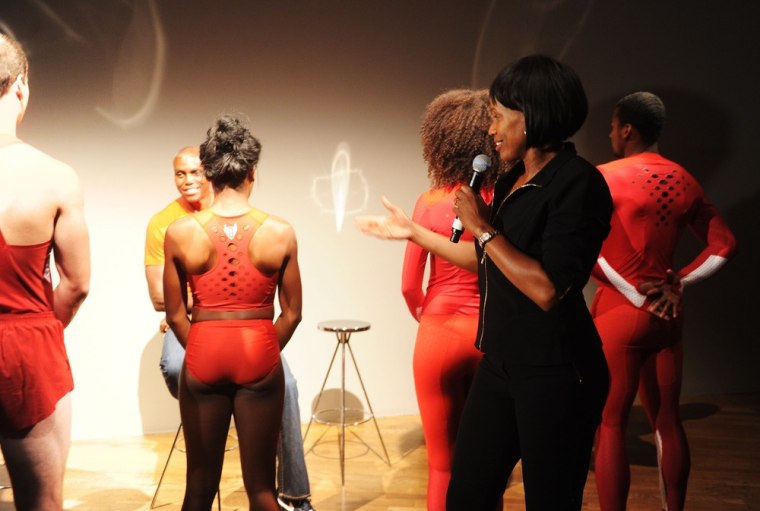 "It's a sport of hundredths and thousandths — there has been no great leap forward in track and field, like the suits swimming had," said Jill Geer, chief communications officer for USA Track and Field. "But if there is a possible benefit of shaving some amount of time off of a performance, that's fantastic."
Geer said Nike includes USA Track and Field athletes in the process and is serious about helping athletes perform at their best, but she said the athletes are just as focused on "having the letters U-S-A across their chests and representing their country."
"For an athlete who puts on the uniform, maybe the knowledge it might make them two-hundredths of a second faster, that information alone might be enough to make them run faster," she said.
The shoe worn by marathon runners will also save about 19 percent of its old marathon shoe weight — or about the weight of a car over the 40,000 steps typically taken in a marathon, Lotti said.
The shoe comes from a complete shift in the manufacturing process, which results in a single, seamless knit upper. A traditional sneaker is put together more like a puzzle piece, with multiple patches glued or stitched together. The glue or stitching adds weight, he says.
Nike also wanted to create greener uniforms — the speedsuit's material comes from the nylon from 13 recycled water bottles. The basketball uniform is made from 22 bottles.
Nike also revealed three medal-stand uniforms for different athletes for the Olympics, which start next month. Track cyclists, sailors and synchronized swimmers are among those who would wear a silver jacket and pant; basketball players and soccer players, as well as handballers and water polo players, would be in a navy, satiny tracksuit; and archers, equestrians and wrestlers would be in a bomber-style jacket that's designed as a nod to a varsity letterman jacket.
"The outfits should be celebratory," said Lotti. "You don't want it to be a standard training outfit. ... It's an opportunity for athletes to shine."
After soliciting input from athletes and getting to know their personal stories, Lotti said a one-size-fits-all approach wasn't going to cut it for him and his design team for the London Games this summer. "It not how things are anymore," he said.
Of course, the commonality among all Team USA members is their home country, so Americana also was to have a starring role. The flag is on the same spot on the arm for all of the athletes' clothes, not just the winners' jackets but on the uniforms, too. And "United States of America" is written on the back.
But there is no cliche red, white and blue. "We wanted to elevate it. I think of it more like a Corvette, a pickup truck and a Cadillac. They're all different and have different looks, but they are all distinctly American."
Designers also drew inspiration from another point of American pride: the image of astronauts as they walk as a "team" just before embarking on a mission. "It's a moment when you are proud of your country and at the pinnacle of human potential," Lotti says.
Consumer versions of Olympic apparel and accessories will be available this summer.
Ralph Lauren is designing Team USA's opening and closing ceremony uniforms, as well as the casual clothes they'll wear in the Olympic Village.