With just over a month to go before the Winter Olympics get underway in Russia, a top U.S. Olympic official addressed the pair of deadly attacks during a 24-hour period this week in the Russian city of Volgograd. 
"We're concerned,'' Scott Blackmun, CEO of the U.S. Olympic Committee, told Matt Lauer Tuesday on TODAY. "I think this is the first time that we've had an incident so close to the Games both in terms of geography and in terms of time. The reality is that there are different challenges at every Games. In this case we got a preview of what could happen, but we're very hopeful that the Russians' commitment to security, which is frankly one of the highest levels of commitment we've ever seen from a government and an organizing committee, will serve us well."
He added: "The truth is that our interests are probably more aligned with Russia's on this issue than any other, and so we have a fairly high degree of confidence that they are super focused on the issue right now."
On Sunday a bomber set off a blast in Volgograd's railway station, resulting in 18 deaths to date, and a trolley bus bombing on Monday killed 15 others. The attacks in the southern Russian city have raised fears heading into the Olympics, which will be held in proximity to Chechnya, a sworn enemy of Russia where insurgents regularly generate violence.
Russian president Vladimir Putin spoke out against the attacks on Tuesday, vowing to take action against those who had committed the bombings. "I am certain that we will fiercely and consistently continue the fight against terrorists until their complete annihilation," Putin said, according to Reuters, which cited Russian news agencies. "Dear friends, we bow our heads before the victims of cruel terrorist acts."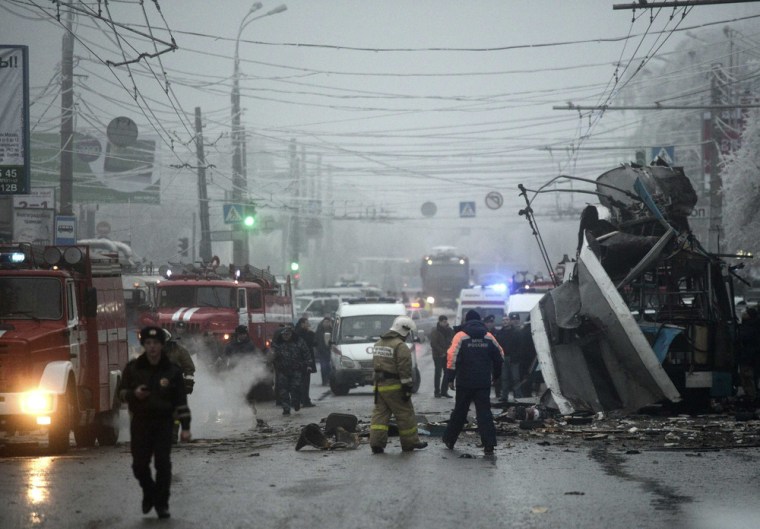 Chechen warlord Doku Umarov has vowed to disrupt the Sochi Games and has claimed responsibility for similar terrorist attacks in the name of Islam. No one has claimed responsibility for the attacks in Volgograd, according to regional governor Sergei Bazhenov.
"There's no question that it's heightened everyone's awareness,'' Blackmun said of the attacks. "We take security very seriously. Each Games presents a different kind of challenge for us. The events of the last 48 hours have definitely gotten our attention."
Seth Wescott, a two-time gold medalist in the snowboard cross event, recently said that he may skip the Opening Ceremony if he qualifies for the team because of safety concerns. Sochi faces a challenge of trying to hold an athletic competition and maintaining security while not making it seem like an armed camp.
"Balance is exactly the right word,'' Blackmun said. "It's funny; a few weeks ago we were talking about the fact that it was going to be difficult to get in and out of the park, and I suspect that people will be a lot more tolerant of that today than they would have been two or three weeks ago."
Should an incident occur in Sochi, Blackmun said the U.S. delegation will be prepared.
"We have contingency plans at every Games,'' he told Lauer. "We have plans for injuries and plans for incidents, so yes, we always have contingency plans in place, and obviously we hope that they never come into being."