The U.S. women's gymnastics team — who swept last night's all-around competition on their way to the gold — has revealed the inspiration behind their "Final Five" nickname, and it's as endearing as you'd expect.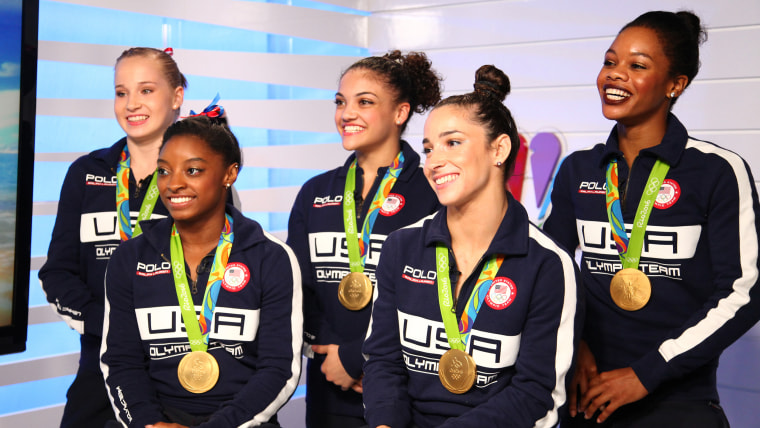 "We're the 'Final Five' because this is Marta (Karolyi's) last Olympics and without her none of this would've been possible," Aly Raisman told TODAY's Hoda Kotb in the hours following their victory.
RELATED: Watch Hoda's interview with the 'Final Five' on NBCOlympics.com
"We wanted to do it for her just because she's there with us every single day," Raisman explained.
Raisman, the team captain, also reminded Americans this Olympics will mark the end of an era.
"This is the last Olympics where there's a five girl team. The next Olympics is only gonna be a four- person team."
Winning gold for the team competition was especially meaningful for a group that has formed into a special kind of family.
"It's so amazing, especially to share it with these girls. They are like my older sisters. It's kind of like I won a gold medal with my family," Laurie Hernandez said.
WATCH ON NBCOlympics.com: Family provides strong support team for 'Final Five'
Standing nearby in the stands, however, were members of their real family.
"I thought I was going to faint a couple of times," Anthony Hernandez said about his experience of watching daughter, Laurie, below on the floor. "Other than that, it's just incredible."
Raisman's parents are perhaps the best known among this group because of the way they've been captured famously leaning and twisting their bodies, in time with their daughter's flips and turns.
"They think that they are doing gymnastics," Raisman said. "They swerve around. I don't even know what they are doing."
All of them agreed they couldn't imagine getting this far in the field without the support of their family.
"To be at the biggest competition of my life, I think that's such an amazing thing because I feel like we went through it together," Laurie Hernandez said.
Simone Biles said she knows she has her family nearby, always, including a brother who has been carrying around a cardboard cutout of her face as a good luck charm – one that's been working pretty well so far.
But Biles did ask that her parents try to keep in mind that there are always being watched by cameras. On Tuesday, after watching their daughter nail one of her routines, the pair gave each other a celebratory kiss.
"Yeah, parents – no PDA. Please stop that. No PDA," she said, but quickly admitted, "It's cute. It's very cute."