While the "Simone Show" rolled through the Gymnastics World Championships in Scotland on Sunday, U.S. gymnast Simone Biles is hoping to unveil the sequel in less than a year at the Summer Olympics in Rio de Janeiro.
The 18-year-old from Texas has racked up a record 10 World Championship gold medals after becoming the first woman to ever win three all-around world titles in a row in Glasgow. Biles took home four gold medals in total at the championships, also winning in the balance beam and floor exercise while being part of the victorious American squad in the team competition.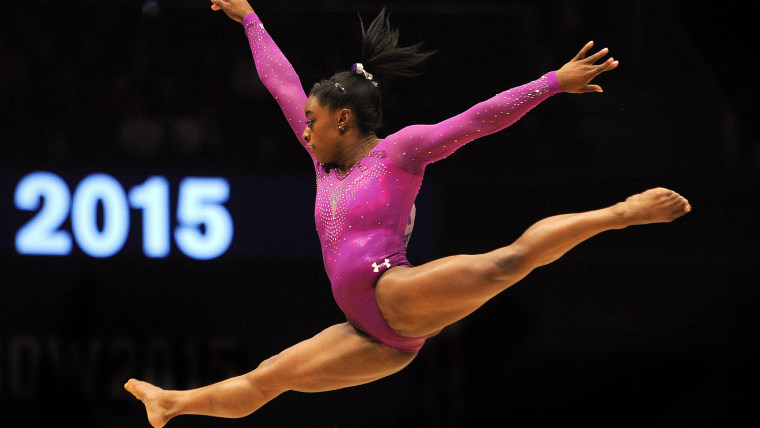 Biles, who has never competed in the Olympics, is now an overwhelming favorite to bring home the gold in Rio.
"It feels amazing, and it feels an honor to be put in this position that I've been in,'' Biles told Tamron Hall on TODAY Wednesday. "I think it would be so fun to go out there and represent if I get chosen for that team next year."
It has been an incredible rise for Biles since she started competing at the highest level in 2013, as she has already passed the record of nine world gold medals shared by Russia's Svetlana Khorkina, Romania's Gina Gogean and former Soviet gymnast Larisa Latynina. Her coach believes she is poised to be a star on the big stage in Brazil next year.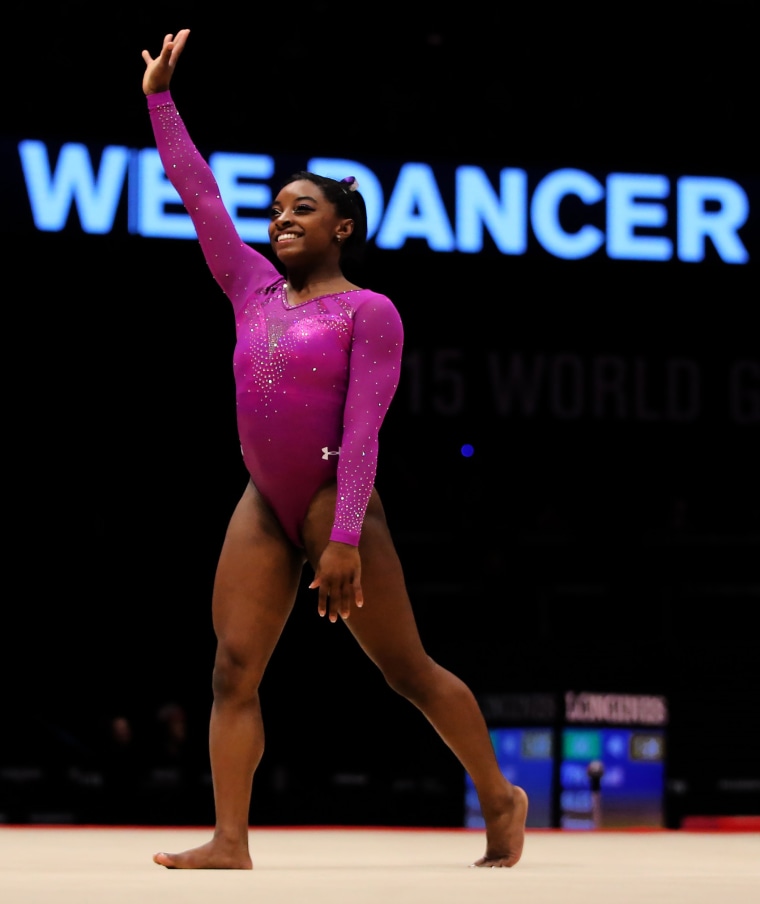 "The light that they see coming out of her is genuine in all aspects,'' coach Aimee Boorman told Hall. "Her talent, her energy, her personality, it's all genuine."
The 4-foot-9 dynamo trains six days a week for at least 32 hours. It has paid off in the form of a combined eight gold medals at the world championships in the last two years. She also won a bronze in the vault on Sunday to give her 14 total medals, which is tied for the third-most in history. With her family behind her, Biles is now gunning for the Olympic all-around title currently held by her U.S. teammate, Gabby Douglas, who took second behind Biles on Sunday.
"It means the world to me to have them by my side, and I think it would just be one of my dreams come true,'' Biles said about winning gold. "I think for them to see that happen to me, I think they would just be so happy."
Biles may be a dominant gymnast, but she's still a teenager who loves candy, Zac Efron and hanging out with her sister. She also knows what it's like to deal with self-doubt when competing at the highest level.
"I would just say to never give up because I've had periods where I didn't think I would accomplish all the things that I've accomplished,'' Biles said. "Once you set your mind to it, you have motivation, and I think you can achieve anything you put your mind to."
Follow TODAY.com writer Scott Stump on Twitter.