/ Source: TODAY contributor
A beagle named Uno taught an old dog show new tricks when he won Best in Show at the Westminster Kennel Club Dog Show last year — and now some 2,500 competitive canines are seeking to follow in his famous paw tracks.
Uno, who pulled an upset for the ages in becoming the first beagle in the 132-year history of the Westminster show to claim top dog, visited TODAY Friday for a final victory lap before ceding his title in the 2009 competition, beginning Monday in New York City. He was accompanied on the show by three of his would-be successors — Digit, a Portuguese water dog; Buddy, a Skye terrier, and Magic, an Ibizan hound.
Longtime Westminster show announcer David Frei told TODAY's Al Roker and Natalie Morales that the dogs don't compete with each other per se, but rather against the standard for their particular breed.
Dogged competitors"You can't judge a Skye terrier against a wirehaired fox terrier," Frei explained. "They [the show judges] are comparing each dog to the written standard — a written description of the ideal specimen of that breed. They're comparing the perfect dog to the dog that is in front of them."
The Westminster show, a tried-and-true event that predates even the light bulb and the automobile, has picked up steam in recent years. The event had its first sellout at its home at Madison Square Garden in 2005, and it's filled every seat since.
Frei told Roker and Morales he believes dog lovers attend the event, or watch on television, to see a reflection of their own pet pooch — or at least the one they wish they had.
"I think the show itself has become more about a celebration of the dog in our life, not just about the purebred dogs and a great dog show," Frei said, adding that with 170 different breeds on display, "You can see a lot more than just your normal walk in the park."
He's numero UnoUno stole the hearts of the judges and crowd last year, barking and baying with what The Associated Press called the "ah-roo heard 'round the world" when he entered the winner's circle. It was declared a major surprise for a beagle to claim top dog in a competition where wirehaired fox terriers usually rule the day.
It was hard to blame Uno for nearly taking a catnap on the TODAY set when Frei ticked off his hectic year. Uno traveled to the White House; visited the governor's office in Texas; threw out first pitches at two major league baseball parks, and visited Ronald McDonald Houses around the country.
"He's going to be tough to replace, but I think we can find another great dog," Frei said.
Introducing the newest competitors, Frei trotted out Digit, a breed making news these days for making President Barack Obama's short list for First Dog. While Frei called Portuguese water dogs "wonderful, hard-working, athletic dogs," he cautioned that they may not be the perfect breed for a family new to dog ownership.
"They're a tough dog for the first dog-owning family," he said. "They need an alpha dog in charge. They will push you around a little bit."
While Morales cooed over the stately, elegant Magic, Frei ticked off the Ibizan hound's characteristics. "She's a sight hound that runs down her prey, normally chasing rabbits," he said. "They're very athletic, very fast. She's built for speed."
Skye's the limit
And while the smallest of the dogs on display Friday, Benny the Skye terrier represents a loyal protector of hearth and home. Frei noted that Skye terriers are actually heavier and tougher than they look under their fancy coats.
"They're bred to go find vermin and all the bad guys, and get them out of your house and away from whatever is causing the problem," he said.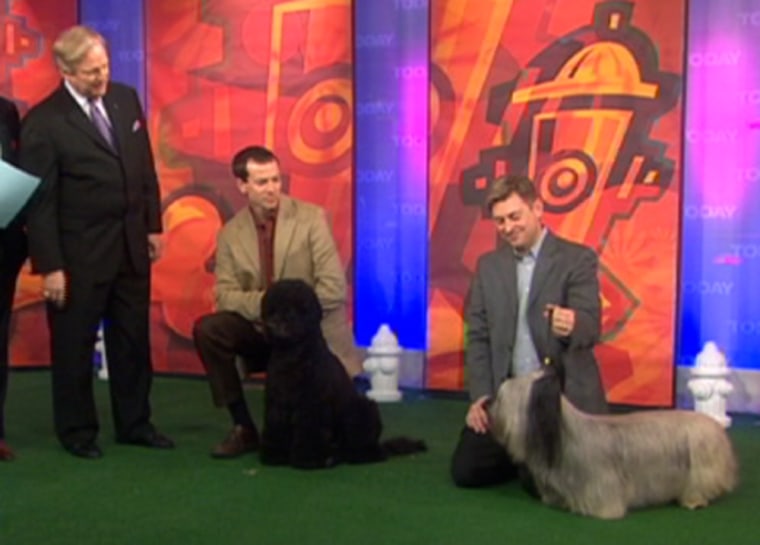 Frei, Westminster's director of communications and a 20-year veteran of announcing the show, says the competition is something breeders await all year long. But he hopes they don't foam at the mouth in trying to claim top prize.
"I want them to come here and enjoy the experience, and [not] get so hung up on the competition that you forget about the camaraderie and all the good things," he said.
The Westminster Kennel Club Dog Show will be televised live Monday from 8 to 9 p.m. and Tuesday from 8 to 11 p.m. on USA Network. CNBC will also air the show from 9 to 11 p.m. Monday.