An Iowa woman whose canceled flight caused her to miss her graduation ceremony got a huge surprise over the weekend.
When Carley Johnston arrived at the arena at the University of Northern Iowa, two hours after graduation had started on Saturday night, her peers in the school's graduate program had already gone home. But the university's president, provost and other administrators, plus Johnston's family, were there waiting, ready to perform a commencement ceremony for one.
"The fact that they would even think to do that — I wouldn't even think that was a possibility," Johnston, 24, told TODAY.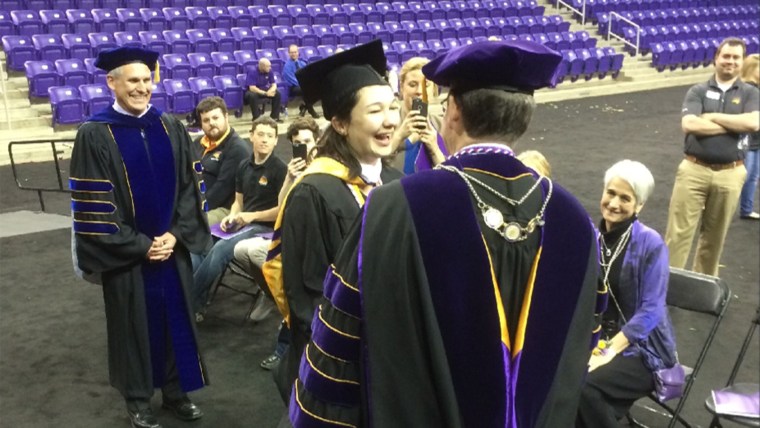 "I just couldn't believe what was happening," she added.
Johnston, who earned a Master of Arts degree in leisure, youth and human services, had been in Pennsylvania for a job interview and was supposed to fly home in time to get ready for the ceremony, but her flight out of Baltimore was delayed and then canceled because of a mechanical issue.
RELATED: How parents can help their college grad with the job hunt
"I worked with the airline to try to find any other route that would get me back in time, but it wasn't going to work," she said. "I called my family to let them know I wasn't going to make it."
She also sent a text message to someone she had been visiting in Baltimore, a mentor who used to work at the university.
Without Johnston's knowing, "she called the school and asked if there was anything they could do," Johnston said.
Sure enough, there was. Once word traveled to school administrators that a student was going to miss the graduation, they made a plan to stay late and give Johnston a private commencement ceremony.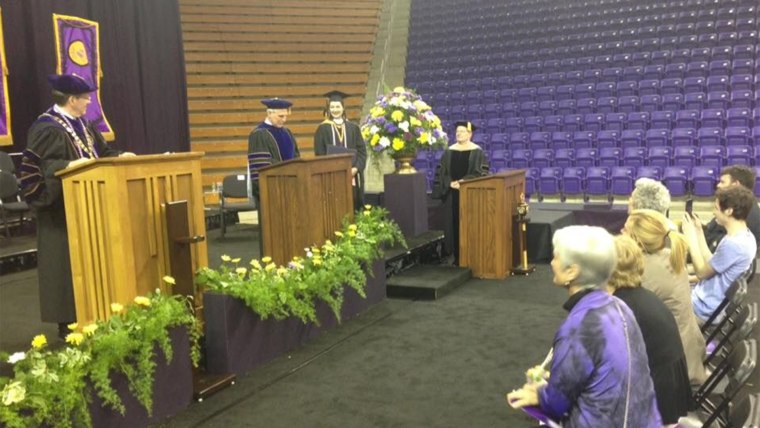 "It was instantaneous — everyone said, 'Yeah, I'm staying,'" Scott Ketelsen, the school's director of university relations, told TODAY.
Johnston landed in Cedar Rapids, Iowa, and drove straight to the school in Cedar Falls.
RELATED: Dad gives frank career advice to daughter ahead of graduation
"I was still in my jeans and flannel but they had all my stuff waiting for me," she said.
She was processed in the same way as the other students, on the same stage. One administrator even found the song that played during the ceremony on her iPhone, and played it while Johnston accepted her diploma, she said.
"There were a lot of tears," Ketelsen said. "It was just so much fun. And you know, she deserves it. All of our students work so hard, and to have something like a malfunctioning plane potentially mess up your graduation ceremony, that's just not right. So this was an easy decision for us and we were very happy to do it."
Johnston's story went viral after someone posted a photo of her crossing the stage in the empty arena on Reddit. As one commenter summed up the common sentiment in the thread, "There's nice and then there's Iowa nice."