Remember that wave of excitement and anticipation that struck you every September when you were a kid? Or perhaps you now have kids of your own and realize Labor Day is the new New Year's, and everything resets in September. Either way, why not get in on the act and recapture some of that feeling that anything is possible? 
The air is cooler and crisper, things move much more quickly than in the sluggish days of summer, and everything seems more important. Back then, you went shopping for new shoes and school supplies, you organized everything very carefully and felt the promise of a brand-new year. Feeling nostalgic can be practical. Such activities, modified for grown-ups, can still be part of the ritual, and will help you simplify your life and put a spring in your step. Here are some discoveries that will help even adults who are just headed back to the same old thing at the office (or the carpool!) feel like something wonderful is about to happen.
Clues in your coffee
It's like a simple mood computer that runs on coffee, or an easier, cooler (oops, hotter) way to show your colleagues and kids whether you're ready to deal with them or not each morning.  MoMA's mug says "Off" until you fill it with a hot drink, at which point it switches to read "On." Without a snarl from you, your officemates and loved ones know whether to give you a minute to reboot, so you'll seem much more friendly and patient. Which is a better way to start the day.
Medium as message
Next time you leave a colleague (or your spouse) an annoying message on a sticky note, you can soften the blow using the ancient art of origami. Don't worry, it's easier than you think.  You'll also be adding creativity to the mundane, as they (or you) will be able to recycle the note into something very cute! Each cube of sticky notes comes with step-by-step instructions to turn them into ten different adorable shapes such as squirrels, butterflies, and lilies. As long as the note doesn't read, "You're fired," the point should come across quite nicely.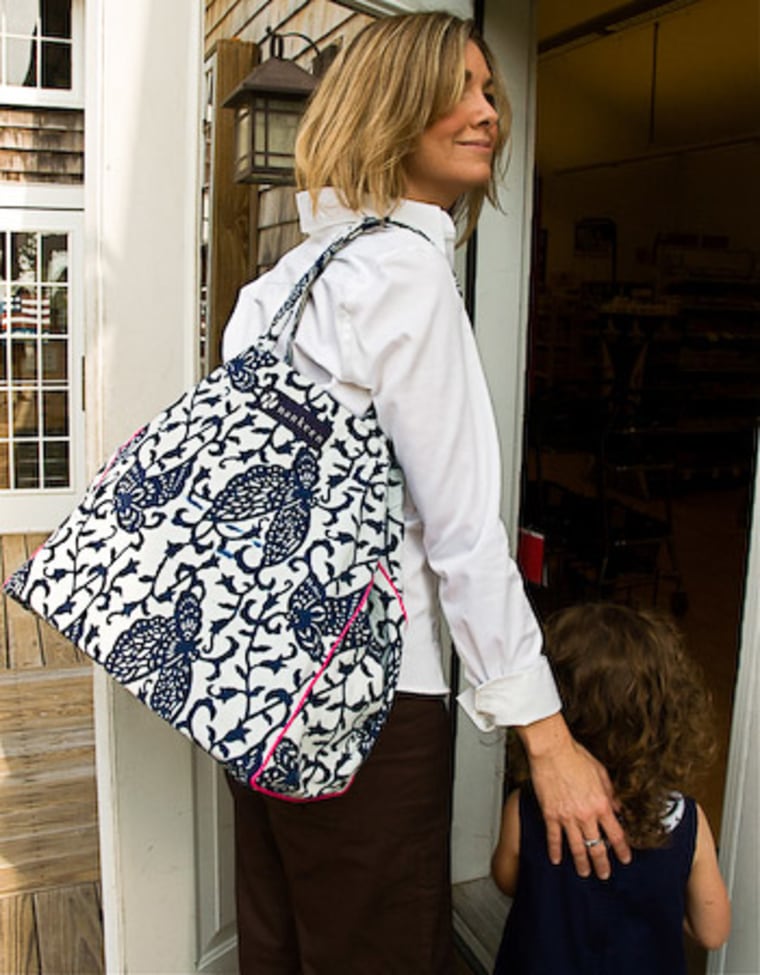 Chalk it up to awesomenessIf you were the teacher's pet whose hand shot up first to clean erasers, you can modernize that inclination in a way that's beautiful and useful to your life today with the majestic design of Wall Candy's rococo chalkboard decal. It's a big removable sticker with luxurious curls and swirls you can smooth onto any flat surface (kitchen wall, office divider), and actually a functioning, erasable chalkboard. 
Pencil us in
Just like in sixth grade, you'll feel so much better about being chained to your desk if your supplies are beautifully and neatly arranged. Charming design meets industrial stamped steel in See Jane Work's brocade pencil cup. The uber-chic 500 Pencils project will add impressive and unique color to all your back-of-envelope figuring and ideas, even the grocery list. Every month (for twenty months) you'll receive 25 pretty, extra-cool Japanese colored pencils in the mail in crazy hues like Pumpkin Pudding, Lobster Bisque, and Mermaid's Gown.
Do-good drawers
From your very first day of school ever, nothing said back-to-school like a brand new set of underwear. And these pants pay it forward. Proceeds from the sale of Pact skivvies promote literacy, conserve forests, and protect oceans. They come in three prints, each representing a charity. But most impressive is the brand's environmental and social responsibility. Pact pays fair wages to the farmers who grow the organic cotton in Turkey, uses low-impact dyes, and ships the final product in 100 percent compostable bags.
Smooth operator
Getting ready for your day goes much more smoothly with Portland General Store's old-fashioned, all-natural, Whiskey-scented shave jellyThe scent is masculine in a good-for-ladies-too way. It adds intoxicating and very luxurious touches of coolness and grandeur to your otherwise frantic morning. And don't worry, no one will think you were drinking before work.
Card-carrying memberImpress new acquaintances with your good taste and big heart. Both will be revealed when you offer one of your cards from this sweet silk case made by survivors of slavery and human trafficking as part of the Emancipation Network, which works to empower victims with better lives. Or, upgrade from a boring briefcase to a socially responsible tote such as Nankeen's hand-dyed, show-stopping shopper.
For the insider's guide to what's hot, new and undiscovered — from fashion and style to gadgets and travel — visit