United Nations Ambassador Nikki Haley defended President Trump's attempt to ban travel from majority-Muslim countries, saying his executive orders aren't the same as the Muslim ban he promised during his presidential campaign.
"It's not a Muslim ban. I will never support a Muslim ban. I don't think we should ever ban anyone based on their religion," said Haley, who firmly opposed the idea last year when she was the governor of South Carolina. "That is un-American. It is not good. What the president is doing, everybody needs to realize that what he's doing is saying, 'Let's take a step back. Let's temporarily pause.'"
In her first interview since she began working for the Trump administration, Haley spoke Wednesday with TODAY's Matt Lauer just hours before a federal judge in Hawaii blocked enforcement of the ban, right before the executive order was scheduled to go into effect Thursday.
Haley, the daughter of Indian immigrants, told TODAY that she does not believe the president's order discriminates or has anything to do with religion.
"He's saying let's temporarily pause, and you prove to me that the vetting is okay, that I can trust these people coming through for the American people," she said.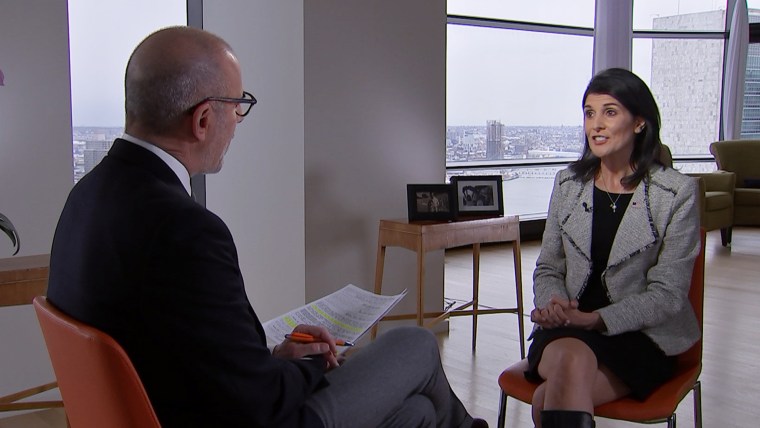 Haley also addressed her views on Russia, which U.S. authorities say hacked into Democratic email during the presidential campaign. Trump needs to take those threats "seriously," she said.
"We cannot trust Russia. We should never trust Russia," she said.
But Haley said she has no concerns about the relationship between Trump and the Russians, particularly their president.
"I think he's very open minded about working with everyone. He doesn't want to cut anyone off," she said.
"What he has allowed me to do is when I see something wrong, I call them out on it. I will always do that," she promised, later adding, "He's not once told me, 'Go and be nice to Russia.' He's letting me do my job."
Haley said she doesn't have major concerns over the fact that Trump's proposed budget includes dramatic funding cuts for the State Department, which could affect money for what she needs to do at the United Nations.
She said the cuts will force her to work with the U.N. secretary general "on the efficiencies that are needed in peacekeeping reform, which we spent a ton of money on." She also plans to make other nations step up to the plate.
"We need Russia to step up and pay more. We need to see other countries step up and pay more. We've carried the burden for a really long time," she said. "And it doesn't mean we're not going continue to pay our due. But at some point, other countries have to step in and start funding these missions, too."
Haley also was asked about the allegation Trump made in a tweet earlier this month that accused former President Obama of wiretapping his phones during the election campaign, and then failing to provide any evidence of the claim.
"I'm not going to comment on any of that," Haley said.
She went on to say, "He is our president, Matt. And so what he does, faults and all, he's our president. And so I want him to be successful. When these tweets come out, I mean, do I look at 'em and say, 'Okay, where did that come from?' Yes. But I don't pick up the phone and say what are you doing. I just know that's who he is."