Olympic swimming events are in high gear, with Katie Ledecky, Caeleb Dressel and more members of Team USA bringing home the gold.
And while we cheer them on, we are also faced with some nagging questions. For starters, why do they slap themselves?
TODAY talked to Matt Barbini, USA Swimming's director of performance, to get the rundown on some of your biggest questions, like how long it takes to suit up and why swimmers pour water on themselves and — yes — whether Olympic swimmers pee in the pool.
Why do swimmers slap themselves?
Barbini explained that there are two thought patterns behind the practice of slapping. "Some athletes and coaches believe that increases blood flow to the muscles that you slap. So you'll see people go up and down their arms and across their chest. And they consider it part of their warmup or activation, just making sure that there's sort of maximal blood flow going to those parts of the body before you swim."
Barbini continued, "What I believe to be the more predominant reasons are more psychological and routine based. So a lot of times, especially at major meets where they do an introduction, athletes have to stand behind the blocks for quite a while after they're out on the deck before the race actually starts and having a procedure and a routine that you go through during that time is really helpful mentally so you're not just standing there letting the nerves get to you, having a step-by-step process of how you get ready for your race.
"So I think athletes benefit more from the mental benefits of following a routine that involves that. It's like, you go up your left arm, you go up your right arm, go across your chest, like, anything that sort of kills those in-between moments before the race starts, I think helps keep athletes calm and it helps to distract them from the nerves. And then the fact that there's some sort of scientific backing behind it, I think, lends some credibility and makes people more likely to adopt it."
Why do swimmers pour water on themselves?
You've probably seen swimmers pour water on themselves in addition to shaking their limbs, jumping up and down or slapping themselves before getting in the water. But why do they do that? According to Barbini, "The pseudo-scientific answer would be: You're very warm, so after you warm up, you will put on a sweatshirt, maybe a hat or gloves. You want to retain as much of your body warmth as you can before you go to the blocks, so that you don't lose the effects of your warmup. However, you're diving into 80 degree water, which is fairly cool and so, the difference between your body temperature and the water is significant. Some athletes can find that to be a little bit of a shock to the system. So by splashing water on yourself, you're lessening the shock of diving into the water."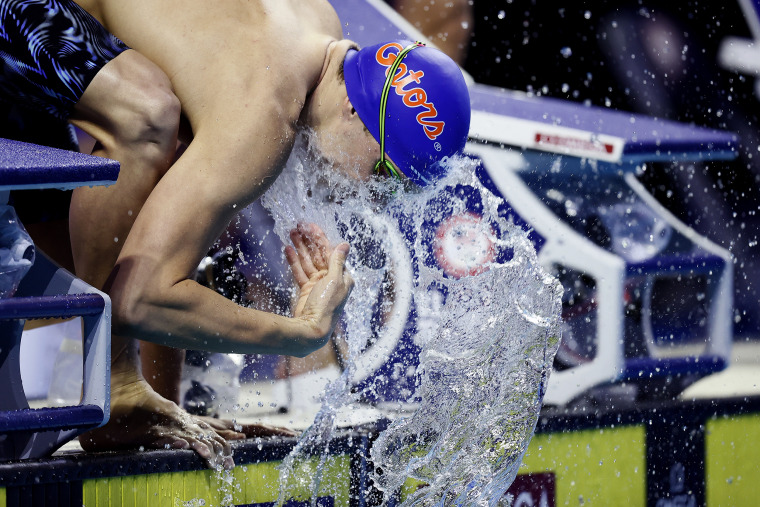 He added, "There's also kind of a school of thought that thinks that that helps to sort of lock your suit in place. They tend to move. Athletes always put their suit on dry. It's much easier to get it on when it's dry than when it's wet. So by getting it wet, some athletes think that it helps to sort of lock it in place. But I would also say that both of those things are legitimate. However, it's also part of the routine. So I don't know that the shock of landing in cold water necessarily makes you more likely to swim slowly for, say the first 50, but there is a benefit to just following your routine and if you believe that it lessens the shock, and it makes you faster at the beginning of your race, then that's a nice mental boost that you get before your race."
Do Olympic swimmers pee in the pool?
Barbini didn't hold back when asked this unexpected question. "Yes, very much so," he explained with a chuckle. "I don't have a great explanation as to why. There are lots of reasons why. One would be that you have to get out of the pool and go to the locker room, like interrupts whatever you're doing in the water, right? You're normally not just in the water floating around. So if you're in the water, you're probably trying to accomplish something. So I do believe that a lot of people see it as a time-saving mechanism.
"I would also say that peeing in the pool is not something that we endorse or encourage," he added. "It's something that we know that people do and is kind of part of the swimming universe. But it's not, it's definitely not recommended practice. But I am fairly confident that it's something that happens regularly."
How long does it take swimmers to suit up?
Suiting up isn't a speedy process but how long does it actually take? Barbini said, "That depends. ... It actually is something that people think about and that they integrate into their plan for a meet because it does take quite a long time.
"For a female athlete in particular, these suits are incredibly tight and they have to be able to get them up over their shoulders so it can take up to 20-30 minutes to get a racing suit on for a female athlete. A male athlete, it's a little bit less because you don't have to get anything up over your shoulders but it's still very, very tight, very difficult to get up and around your hips. So it kind of depends a little bit on how tight of a suit you like and what shape you are, but it is a part of the process. It's not like you just pop into the locker, throw a suit on and walk back out. It takes longer than that."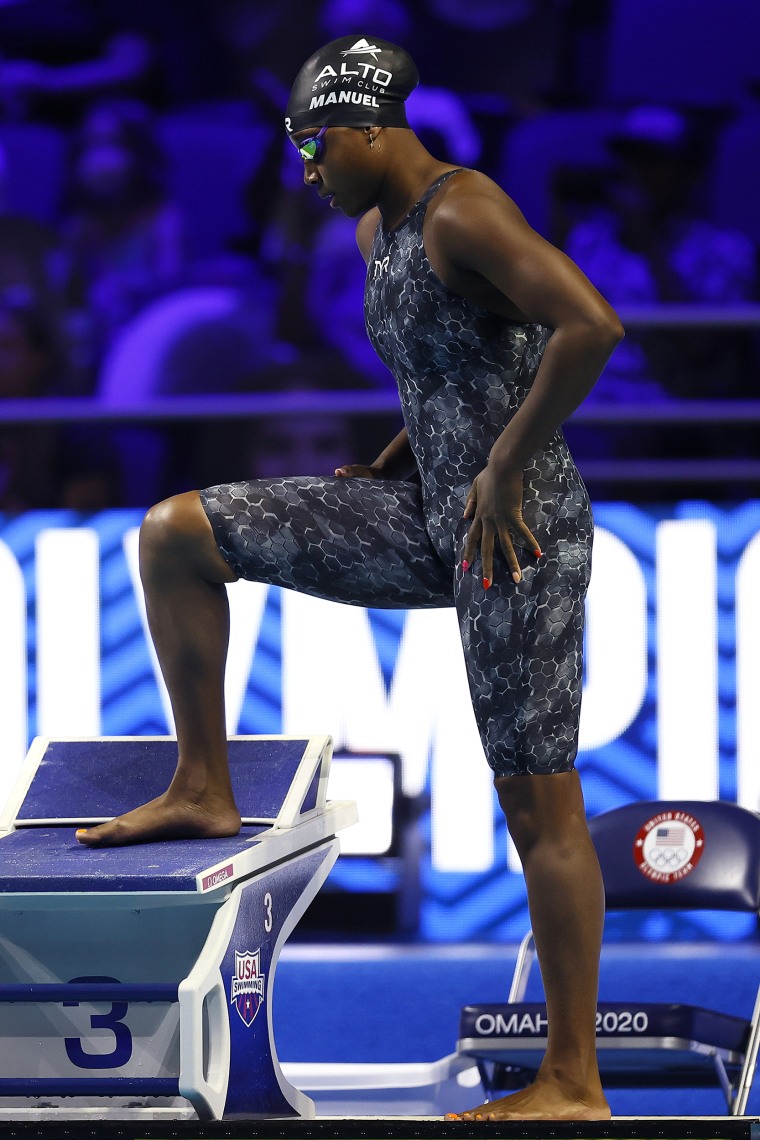 Which swimsuit was banned?
The International Swimming Federation, known by its French acronym, FINA, approves swimsuits worn by athletes at the Olympics. Over a decade ago, FINA banned high-tech suits made from polyurethane.
"There are an entire category of suits that has been banned since 2010. They are made of a material that drastically increases your ability to float in the water and those were very popular in 2008-2009," Barbini explained. "They've been banned since then. So there are, as far as I know, there are no new suits that are banned for this go around. But there definitely are suits that have been banned for the last couple cycles that remain banned."
Why do swimmers do cupping?
In addition to warming up, swimmers know that recovery is just as important in their routines and practice sessions. One such recovery method is known as cupping, which many might remember came into the forefront when Michael Phelps popularized it at the 2016 Rio Olympics.
"Cupping is ... another blood flow recovery method that (works) by the contraction that comes from the cup," Barbini said. "It's like a contraction and release method of recovery. It's not to have cool (or a) lot of circles on your back, as much as it may appear to be. It really is just to briefly constrict the blood flow to an area and then with the release, to allow blood to flow freely through there.
"It's not for everybody. Not everybody likes it. It's definitely uncomfortable to do it. But for those that enjoy it, I mean, it is definitely brought to the forefront by seeing Michael Phelps with the dots all over his back for the last couple of Olympics. But you know, those who believe in it, definitely believe in it. But some just kind of look at it and is like that's unnecessary pain that I don't want to go through."
Who is on the U.S. Olympic swim team? Meet Team USA
Of the USA Swimming roster of 53 swimmers — 28 women and 25 men — for Team USA, 35 are first-time Olympians and 11 are teenagers, with 15-year-old Katie Grimes becoming this year's youngest American swimmer to qualify for Team USA since Katie Ledecky qualified for the 2012 London Olympics.
The 53 swimmers of Team USA are:
Women's team:
Haley Anderson

Phoebe Bacon

Erika Brown

Claire Curzan

Catie DeLoof

Kate Douglass

Hali Flickinger

Brooke Forde

Katie Grimes

Natalie Hinds

Torri Huske

Lydia Jacoby

Lilly King

Annie Lazor

Katie Ledecky

Paige Madden

Simone Manuel

Katie McLaughlin

Allison Schmitt

Bella Sims

Regan Smith

Olivia Smoliga

Erica Sullivan

Ashley Twichell

Alex Walsh

Abbey Weitzeil

Emma Weyant

Rhyan White
Men's team:
Michael Andrew

Zach Apple

Hunter Armstrong

Bowe Becker

Gunnar Bentz

Michael Brinegar

Patrick Callan

Brooks Curry

Caeleb Dressel

Nic Fink

Bobby Finke

Townley Haas

Zach Harting

Chase Kalisz

Drew Kibler

Jay Litherland

Bryce Mefford

Jake Mitchell

Ryan Murphy

Blake Pieroni

Andrew Seliskar

Tom Shields

Kieran Smith

Jordan Wilimovsky

Andrew Wilson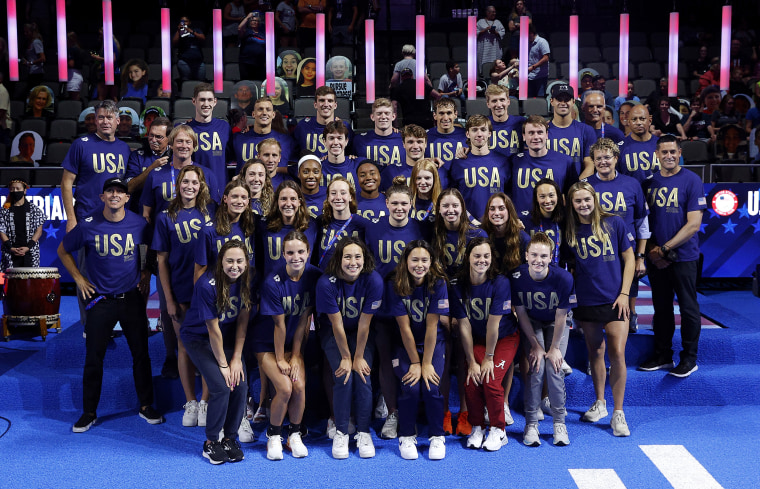 What is the Olympic swimming pool size?
An Olympic swimming pool is 50 meters long. At the Tokyo Olympics, swimming events will be held at the Tokyo Aquatics Center, a new venue that was built specifically for the games and completed in February 2020. In addition to Olympic swimming, the center will host Paralympic swimming and Olympic artistic swimming and diving events.