Two American women have been rescued after being lost at sea for five months after their boat veered off course during a trip from Hawaii to Tahiti.
Surviving off a water purifier and a year's worth of emergency supplies, Jennifer Appel and Tasha Fuiava are now heading back to port with help from the U.S. Navy. The pair had drifted 5,000 miles off course and found earlier this week between Guam and Japan.
"When I saw the grey boat on the edge of the horizon, my heart leapt because I knew that we were about to be saved, because I honestly believed we were going to die within the next 24 hours," Appel said while aboard the USS Ashland.
The two women and their two dogs set off from Honolulu in their 50-foot sailboat on May 3. Their destination was Tahiti, about 2,600 miles away and a common route for mariners that usually takes about a month to complete.
But the pair hit trouble just a few weeks into their journey. First, a part of their mast stopped working, limiting the boat's maneuverability. A storm then flooded the engine on May 30.
The women lost hope over the next few months, fearing they would never be found as their boat drifted along, often surrounded by sharks.
"I went downstairs with the boys and we basically laid huddled on the floor and I told them not to bark, because the sharks could hear us breathing. They could smell us," Appel said.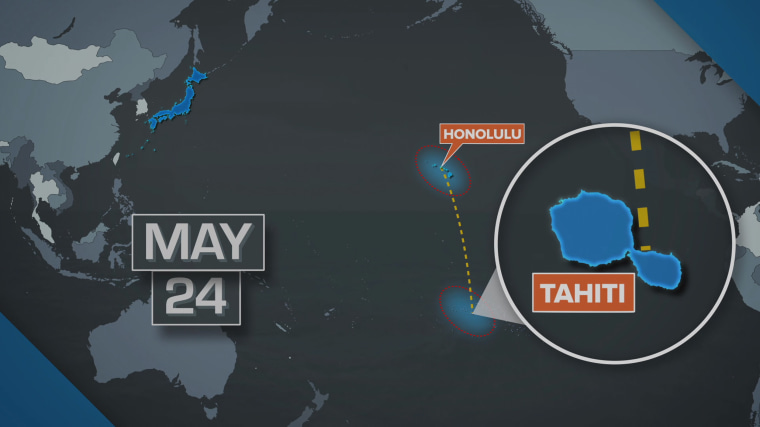 For months, the women sent distress signals but the calls were out of range. They also fired flares at passing ships.
Fuiava, who had night watch, described the disappointment she felt when she saw ships passing in the distance.
"I could see light and I could see vessels and I watched them get closer and we thought it would be close enough to do a call or, if it was pointed our way, we would shoot flairs and hail it on a VHF," she said. "When they would turn or keep going — yeah, it was kind of sad."
The women survived thanks to a water purifier and a year's worth of oatmeal, rice, and pasta — they had heeded expert advice to pack their boat with as much food as possible in case of an emergency. They also took comfort from their dogs until their rescue came, 176 days after they originally sailed off from Hawaii.
A Taiwanese fishing vessel eventually spotted the women's sailboat, about 900 miles southeast of Japan. The ship's crew contacted the Coast Guard in Guam and the USS Ashland, an amphibious dock landing ship, sped toward the area and reached the sailboat on Wednesday.
Today, both women are upbeat as they head back to port, but they expressed optimism over eventually returning back to sea for another adventure.