/ Source: The Orange County Register
Sarah Mattson bit into a cheeseburger, having just witnessed one of the most amazing things of her life: her older sister giving birth to a beautiful boy.
Mattson, 25, took photos of the birth at Saddleback Memorial Medical Center, then bawled in happiness in the corner of the delivery room.
Now she had an idea of what she would be experiencing in a couple of weeks, when her first baby was due.
"I can do this!" she told her sister, Rachel McDaniel, 26, as the new mother cradled Grayson William, born at 1:01 p.m. Monday at the Laguna Hills hospital. "You made it look easy. I hope it's that way for me."
A few minutes later, as Mattson ate lunch with her parents at an In-N-Out around the corner from the hospital, she felt some strong contractions.
Her mother, Rebekah Fernando, 54, told her she was going into labor.
Nah, Mattson thought. Can't be. I just saw my sister give birth. It's all in my head.
. . .
Growing up in Mission Viejo, the Fernando sisters — born 19 months apart — did pretty much everything together.
When older sister Rachel went on a pony ride, Sarah couldn't wait to be next.
When Rachel put on Water Wings to go swimming during family outings to Palm Springs, Sarah cried for her own pair.
At Sunday school, the sisters couldn't bear to be separated.
A move to San Clemente forced the sisters to graduate from different high schools — Rachel attended Trabuco Hills, and Sarah went to San Clemente High.
Still, their bond continued into early adulthood.
"They've always done everything together," says their father, Enoch, 56.
No one in the family was surprised when Rachel and Sarah got engaged within six months of each other.
And no one was surprised when the sisters got married within 11 months of each other.
And it's no surprise that the sisters live within two miles of each other, in Dana Point.
. . .
Rachel McDaniel and her husband, Andy, 30, celebrated the third anniversary of their marriage last August over dinner at the Chart House in Dana Point.
They decided from that night on to try, in earnest, to have children.
They wrote up a contract on the back of the menu and signed their names.
By October, they were pregnant. In November, they announced the happy news to everyone.
Meanwhile, Sarah and her husband, J.P., 28, were taking things as they came — not exactly planning a child, but not exactly taking steps to prevent a pregnancy.
When she learned that her sister was pregnant, Sarah was thrilled.
She couldn't wait to be an aunt.
Two weeks later, Sarah found out she was pregnant.
She and J.P. invited everyone over to their house to tell them the good news.
"I was in total shock," Rachel says.
She admits to having felt a slight tinge of sisterly rivalry — was Sarah trying to steal her thunder?
Still, Rachel was thrilled about the news of Sarah's pregnancy, and thought what she's often thought over the years:
OK, we're going to share this experience.
. . .
Rachel's baby was due July 16.
Sarah's baby was due July 30.
Rachel started feeling strong contractions Sunday night. She called her parents and sister.
Sarah was up all night, giddy with excitement.
Rachel and her husband arrived at the Women's Hospital at Saddleback Memorial at around 3:30 a.m. Monday.
Rachel's mother and sister and husband were in the room to see Grayson born.
Soon, an exhausted Rachel wanted some In-N-Out.
When Rachel's parents returned with the food a little later, she noticed someone was missing.
"Where's Sarah?" Rachel asked.
Her mother downplayed things a bit, telling her that Sarah was feeling contractions and getting things checked out.
Rachel knew otherwise.
Thought big sister: That figures!
. . .
Sarah sat in the waiting room, timing her contractions.
Every four minutes.
She checked herself into the hospital. A nurse who helped with Rachel's delivery thought Sarah was joking.
She wasn't.
The contractions were becoming more frequent.
Sarah called her husband and told him to get to the hospital.
"Here I was, anxious to meet my new nephew, and my wife tells me she's in labor," J.P. says.
. . .
Rachel was in recovery, her attention consumed by her new son, when, at around 9:30 p.m. Monday, she received a text message from J.P.
Sarah's getting an epidural.
"Oh my gosh," Rachel recalls thinking. "Is this for real?"
Shortly after midnight, a nurse tells Rachel the news.
"Your sister just delivered. She's going to be in the room next door to you."
Sarah named her daughter Sage Marie, who was born at 11:47 p.m. Monday.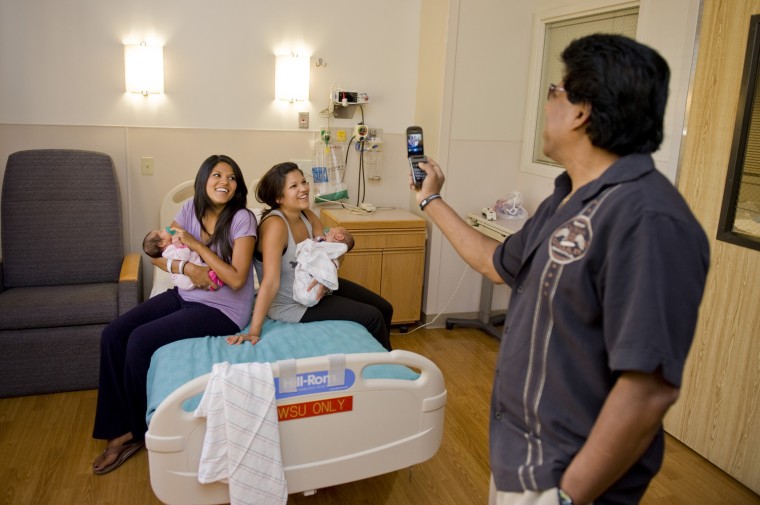 With just 13 minutes to spare, Sage shares the same birthday as her cousin Grayson.
. . .
About 3,000 babies are born at Saddleback Memorial in Laguna Hills each year. Veteran nurses there can't recall two sisters having their first child on the same day.
Wednesday morning, a couple of hours before their mothers were scheduled to be discharged from the hospital, the tiny cousins met for the first time.
Grayson, wearing a striped onesie and socks designed to look like sneakers, squirms on the bed next to Sage, wearing a pink onesie and ballet-slipper socks.
"Look," Rebekah Fernando says. "He wants to give her a hug."
Seconds later, Grayson's tiny hand clasps onto Sage's hand.
Fernando is beside herself with joy — a grandmother of two in one day.
"I'm overcome with happiness," she says.
Her husband, Enoch, jokes: "For the rest of (Grayson's) life, he's going to be saying he's 11 hours older than her."
"They're birthday buddies now," Rachel says. "This makes it that much more special."
Says Sarah: "They're pretty much twins — just with different moms."
To contact the writer: 714-704-3764 or