/ Source: TODAY contributor
It's common for twins the world over to report shared traits and unusual coincidences well into their adult lives. But these twins? WHOA.
Meet Alicia Teeples and Ari Ostler, identical twin sisters who live just outside Salt Lake City. After a lifetime of uncanny similarities, the pair experienced their biggest coincidence of all last Friday, when they both had babies on the same day.
On Oct. 7, Ostler gave birth to a baby boy named Oliver at 4:15 p.m. A mere 43 minutes later, Teeples gave birth to a baby girl named Penelope.
"They have the same nose!" Teeples said of the baby cousins. "They both have lots and lots of hair ... and they're both really mellow babies."
The same-day births seemed almost inevitable for Ostler and Teeples, who are incredibly close and always have been.
"We've been best friends all our lives," said Teeples, 27. "There are twins that hate dressing up like each other and want to be their own people. We wanted to be our own people, too, but we just always wanted to be together."
During their school years, Teeples and Ostler took the same classes and had the same friends. As adults, they've worked together for the past eight years as medical assistants for the same doctor. They're married to men who have been friends since junior high, and during their recent pregnancies, they endured the same complications and experienced the same symptoms.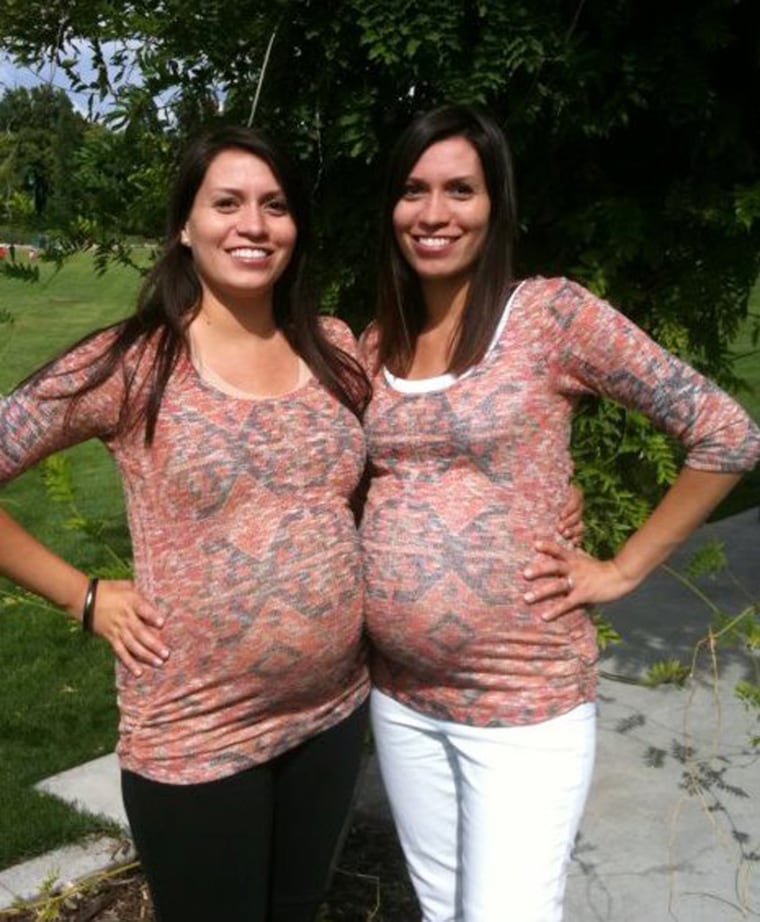 The sisters joke that their babies could be twins — and not just because of their physical similarities. While pregnant with Oliver and Penelope, Ostler and Teeples consistently had morning sickness on the same days and learned at dual doctor's appointments that they had the same due date.
Both sisters' bellies measured the same size throughout their pregnancies, and both had high levels of amniotic fluid. Their umbilical cords wrapped around their babies' necks at just about the same time — and the babies wiggled out of the cords at just about the same time.
The twins both exceeded their due date to such a point that they were both advised to have their labors induced on the same day for medical reasons. Ostler opted to have an epidural in her delivery room, while Teeples stuck with natural childbirth. Despite the different approaches, their labor progressed at just about the same pace throughout the day, and the babies arrived at close to the same time.
These are not Teeples' and Ostler's first babies; Teeples has one older son, and Ostler has two older sons. The sisters are thrilled that their kids can all grow up together — and they anticipate that Oliver and Penelope might enjoy a closeness that's similar to what they enjoy.
"You can't keep us apart, that's for sure," Teeples said. "We always have that connection there. I love it, it's so much fun."
Need a Coffey break? Friend TODAY.com writer Laura T. Coffey on , follow her on   or read more of her stories at .