Alaskan voters may think they're seeing double when they head to the polls for Tuesday's Republican primary elections and see the name Dan Sullivan on the ballot — twice.
Two men who go by that name are vying for different offices in the nation's largest state.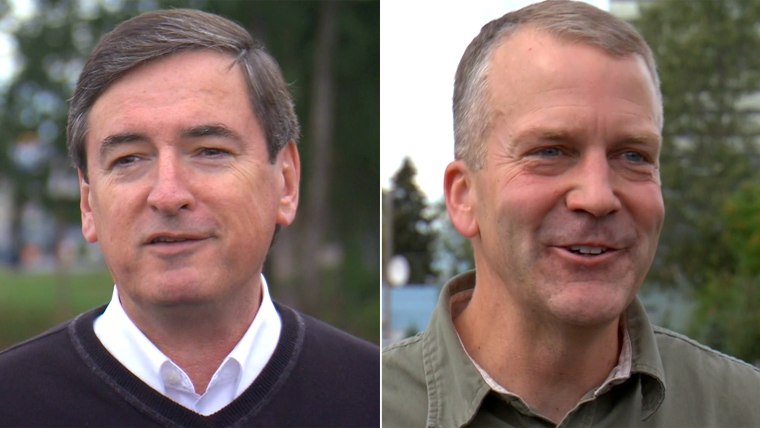 One of the candidates, the Anchorage mayor who jokes he's the "original Dan Sullivan," is seen as a shoo-in to become the party's pick for lieutenant governor.
But his name appears beneath another Dan Sullivan: Alaska's former attorney general, now running for senate.
If you're confused, you're not alone. Even they've had a tough time keeping track.
"My first fundraiser, when I introduced him, [I said], 'Hey, it's great to have the mayor,'" the senatorial candidate told TODAY. "He looked around, saying, 'What a minute, I thought this was my fundraiser!' And then he went for the bowl of checks!"
People not named Dan Sullivan are having an even tougher time keeping track, with concerns ranging from frustration to confusion. One voter said with a laugh, "I hope they have pictures next to them on the ballot."
The mayor told TODAY that even his friends are confused: "One of my employees, the other day, she said, 'Oh, I heard you on the debates last night.' Well, I'm not in any debates."
Middle initials would allow for some clarity (the mayor's is A, and the former attorney general's is S), but both candidates declined that option.
But the letter R — for Republican — holds greater weight in the big picture, since the party wants to take control of the U.S. Senate via mid-term elections in November. That's a possibility if the applicable Sullivan or another Republican wins a race against the incumbent senator, Democratic Sen. Mark Begich.
But is Alaska big enough for two Dan Sullivans? The senatorial candidate says, "Absolutely."
His counterpart, vying for lieutenant governor, is hoping the moniker is money in the bank in more ways than one: "We did send [the other Sullivan] an invoice for $100,000 for using my name for campaign purposes," he said. "Haven't seen a check yet, hoping it's coming soon."
Although it's not widely known if the two candidates are related, the mayor — who owns an Irish pub in Anchorage — is into genealogy, and told TODAY he'd consider returning to Ireland to do some research, as he put it, "pub by pub."
Follow TODAY.com writer Chris Serico on Twitter.