From "Mary Poppins" to "Night at the Museum" and his own long-running TV comedy, Dick Van Dyke has done it all during a show business career spanning seven decades.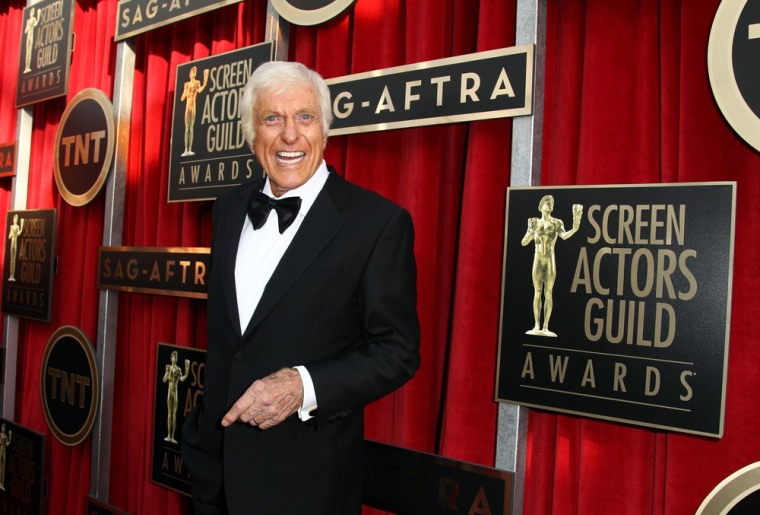 On Sunday, Van Dyke, 87, gets a lifetime achievement award from the Screen Actors Guild in Los Angeles, just a year after his 1960s "Dick Van Dyke Show" co-star Mary Tyler Moore received the same honor.
Reuters spoke to Van Dyke about his career, his thoughts on today's comedies and being a newlywed in his 80s.
Q: Was it really as much fun working on "The Dick Van Dyke Show" as it seemed?
A: "It was just absolutely wonderful. (Co-star) Morey Amsterdam used to say it was like going to a party every morning. It was the perfect improv group. I think it was the best five years of all of our lives."
Q: Do you have a favorite episode?
A: "'Coast-to-Coast Big Mouth,' where Mary gives away that Alan Brady, Dick's boss (played by show creator Carl Reiner) is bald, is one that comes to mind. I tend to like the ones that I had the most fun on, and I think the one I recall immediately is 'Where Did I Come From?,' the story of Richie's birth, and all the hijinks that happen with the nervous father. A lot of crazy things happened, a lot of slapstick, which, of course, I love to do. It was a farce, but I just had so much fun on that one."
Q: How have sitcoms changed since "The Dick Van Dyke Show's" run from 1961-66?
A: "I think the big change is that 10 minutes of every 30 are commercials. We had 28 minutes to tell our story. Today they get 20 minutes. It's just a one-line joke and a canned laughter, and a one-line joke and a canned laughter. I won't say it's bad, it's just that I have trouble understanding it.
"It seems to me that relationships are what's missing. I think back to 'All in the Family,' when you knew what those relationships were and the comedy that came out of that. Today it's just one line after another, and they seem to try to cover too much in the way of story in a short time. Then I think they signal when they're trying to be funny, and the minute I catch someone trying to be funny, then I won't laugh."
Q: What do you watch on television?
A: "I have to admit, I don't get the comedies today. Maybe it's just my vintage. Actually I stick pretty much with the news, and I love 'Jeopardy!' I watch Al Jazeera. They have news that you can't find anywhere else. They do great documentaries, too."
Q: Do children tend to recognize you from your earlier roles in film classics such as "Mary Poppins" (1964), or for your more recent work in the 2006 family film "Night at the Museum"?
A: "It's just thrilling. I get little kids who recognize me from 'Mary Poppins,' and it just delights me because it's our third generation. I was in the market the other day and a woman said to her daughter, 'Honey, that's the man who played Bert.' And she ran over to her little brother and said, 'I just met Bert's grandpa!' So to be recognized by kids is just wonderful. Kids have all seen 'Mary Poppins,' almost every family has a copy of it, and the children have come up and sung all the words from the songs of 'Mary Poppins' for me. It's amazing."
From his long-running TV comedy to his starring film roles, the veteran entertainer has done it all.
Q: You're a member of the barbershop quartet, Dick Van Dyke and the Vantastix. Where do you perform?
A: "We sing mostly at fundraisers and benefits. We also sing the opening theme song from "The Dick Van Dyke Show." Morey Amsterdam wrote the lyrics, but I don't think they've ever been published. I sing with guys half my age in the group, so they keep me young. A couple years ago we sang at Ford's Theater for the president, so that was a big thrill for us."
Q: You married makeup artist Arlene Silver last February. You two met at the SAG awards seven years ago. How's married life treating you?
A: "Absolutely wonderful! She sings and dances, so there is a lot of that going on around our house. She's a joy and she just lights up my life!"
Related content: