Speaking publicly for the first time since he shot and killed an unarmed man during a police raid earlier this month in Oklahoma, 73-year-old reserve deputy Robert Bates apologized to the family of his victim and dismissed reports that supervisors falsified his training records.
"First and foremost let me apologize to the family of Eric Harris," Bates told TODAY's Matt Lauer in an exclusive interview Friday on TODAY. "I still can't believe it happened."
Bates told authorities he meant to use his Taser when he instead fired his handgun during an April 2 sting operation that resulted in death of Harris. In a video of the encounter, Bates could be heard shouting "Taser!" and later saying, "I shot him. I'm sorry."
Bates initially called the shooting "the second worst thing that's ever happened to me. Or first." He then went on to describe how he was diagnosed with cancer.
"I rate this as number one on my list of things in my life that I regret," he said.
Asked to demonstrate where he kept the weapons on his body, Bates stood up and showed where his Taser was kept on the left side of his body, tucked beneath a protective vest. The gun was kept on his right hip. Bates said he's read about similar mistakes in media reports.
"I thought to myself after reading several cases, 'I don't understand how this can happen.' You must believe me, it can happen to anyone," he said.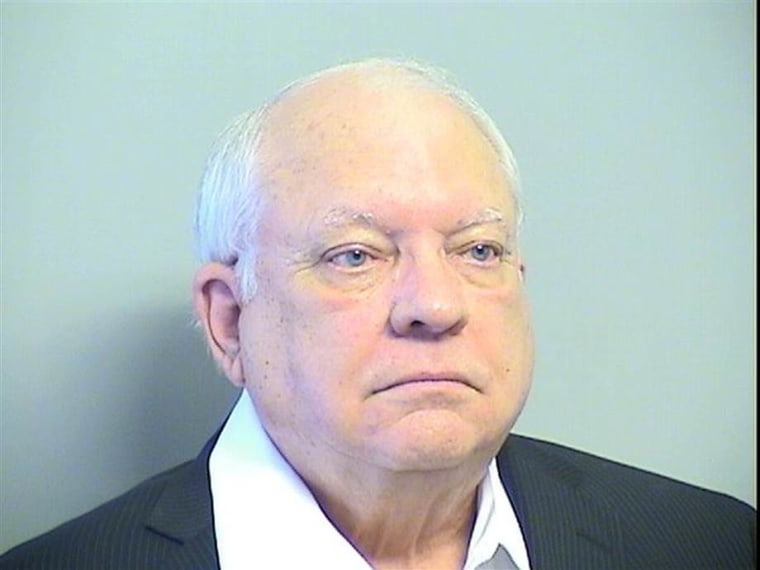 After hearing the gunfire, Bates realized the error and thought: "Oh my God. What has happened?"
He said each weapon he carries has a laser light that indicates the intended target.
"I saw the light and I squeezed the trigger, and then realized. I dropped the gun," he said. "This was not an intentional thing. I had no desire to ever take anyone's life."
Bates said he continues to be stunned that he took someone's life.
"I never considered the repercussions of what I had just done. It was shock. I can tell you it stayed with me for a number of days. I'm not at all sure it's not still with me today," he said. "Lack of sleep, inability to concentrate. All of those, plus more. I still can't believe it happened."
Bates said he typically has a behind-the-scenes role in operations. He initially was parked several blocks away from the sting operation involving Harris when it occurred. But when the suspect bolted from officers at the scene, he headed toward Bates.
"I've been involved in several hundreds of these (cases). I do clean up when they're done. I take notes. I take photographs. And that's my job," he explained.
Although state records showed Bates clocked nearly 300 hours of training since 2008, the Tulsa World reported Thursday that supervisors at the Tulsa County sheriff's office were told to falsify Bates' training records. Those who refused were reportedly transferred to other positions. The report has not been verified by NBC News.
"That is not correct," Bates said about the report, insisting he was certified to be on the streets in his position. "That is absolutely the truth. I have it in writing."
His attorney, Clark Brewster, dismissed the credibility of sources used by the Tulsa World. He said the report was based on documents provided by a sheriff's official who was terminated about seven years ago and has since been charged with first-degree murder.
Bates has been portrayed by critics as a wealthy and generous benefactor of the sheriff's department, as well as a close friend of the sheriff, who rewarded Bates for his financial support with a position on the reserves.
"That is unbelievably unfair," Bates said. "I have donated equipment as I saw fit" as well as helped with efforts to fight Tulsa's drug problem, he explained.
Bates has been charged with second-degree manslaughter in the case and is currently free on bail. He was scheduled to be arraigned next week and plans to plead not guilty.
Follow TODAY.com writer Eun Kyung Kim on Twitter.