Are bomb-sniffing dogs at airports doing their jobs to keep passengers safe?
An NBC News investigation, aired exclusively on TODAY, found that K-9 teams at some of the nation's busiest airports have failed tests designed to check how accurately they can sniff out bombs.
"You don't get a do-over in real life," aviation security expert Jeff Price told Scott Friedman, an investigative correspondent with NBC5, our station in Dallas. "If that team misses an explosive then that's a device that can end up on an airplane."
RELATED: Can the TSA find hidden weapons? Rossen Reports goes undercover
The Transportation Security Administration said some failures are normal when you set high standards.
But multiple failures at some of the nation's largest airports raised concerns over the training and preparation of some K-9 teams and their ability to protect against threats.
"Our canine teams are highly effective,'' the TSA said in a statement to NBC News. "If a team does not meet TSA's rigorous guidelines, it is decertified and restricted from working. The team must successfully meet certification standards before returning to search duties. Dog teams that are unable to return to TSA's high standards are subject to removal."
Records obtained by NBC News showed that more than 50 times, TSA-funded dog teams failed certification tests at ten large U.S. airports from January 2013 to June 2015.
NBC News has requested more recent records but has not received them yet.
The records showed teams failing to find explosives or creating false alarms that could cause unnecessary airport evacuations.
RELATED: 3 free apps aim to help you past long TSA lines at airports
Records at Washington Dulles Airport show teams failing tests ten times during that 2 1/2-year period, four times at Love Field in Dallas and 21 times at Los Angeles International Airport.
Officials at LAX told NBC News that trainers have made changes and all the teams passed more recent tests.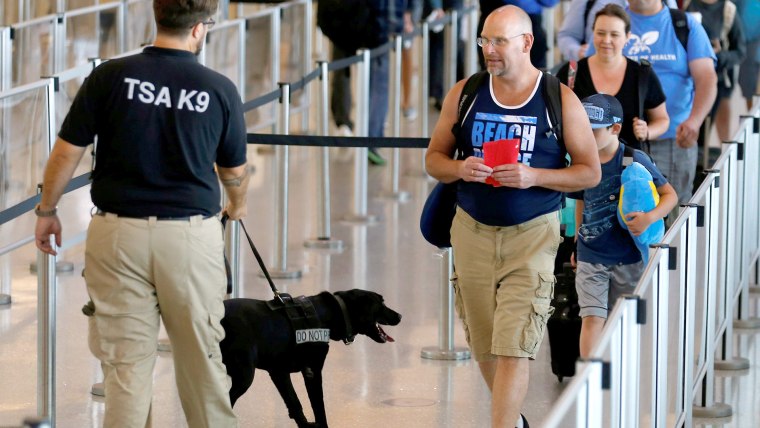 Training time is crucial when it comes to passing the tests, according to K-9 training expert John Pearce, who has previously advised the TSA.
Teams need to practice often with test explosives, or else the dogs may lose interest.
And without constant practice, K-9 handlers may not recognize the dog's cues, Pearce said.
"You need to convince that dog that there's a reason to work,'' he said. "Train, train, train — and train as you're going to work."
One success story has Hartsfield-Jackson Atlanta International Airport, the busiest in the nation, where records show K-9 teams passed 97 percent of their readiness tests, including all Atlanta Police Department K-9 teams.
"We train every single day,'' Atlanta police officer John Wowk told Friedman.
TSA told NBC News that this fall it is starting a new program to hold airports more accountable for training.
—With Scott Stump
Follow TODAY.com writer Scott Stump onTwitter.