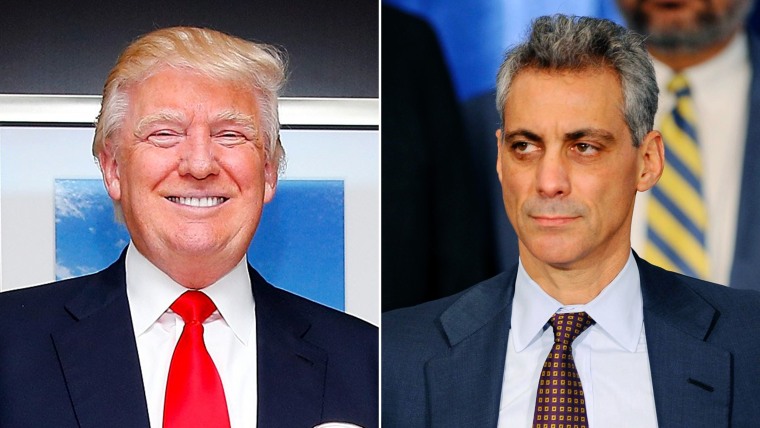 In a showdown between Donald Trump and Mayor Rahm Emanuel over a new sign that spells out Trump's last name on one of his buildings in downtown Chicago, the real estate mogul believes that people are siding with him.

"The fact is that people love it, and it's a very high-level sign,'' Trump told Matt Lauer when he called into TODAY Friday. "It's done in the highest level of taste, done by one of the great sign designers. So far, so good." 

Emanuel has made no secret of his displeasure over the sign on the side of the Trump International Hotel and Tower in the heart of downtown Chicago. The sign features 20-foot tall, illuminated, stainless steel letters that spell out "TRUMP"on the 96-story condo and hotel building, which is the second-tallest structure in the city. 
"Mayor Emanuel believes this is an architecturally tasteful building scarred by an architecturally tasteless sign," mayoral spokesperson Kelley Quinn told NBC Chicago. "The sign — which was already reduced in size and scope — does comply with the provisions of the planned development ordinance and the City Council sign order, but he has asked his staff to determine if there are any options available for further changes."

In a TODAY.com poll as of 8 a.m. ET, 57 percent of respondents said that the sign was fine by them, compared to 43 percent who said it's in poor taste. 
"Frankly, I will tell you that we're getting tweets and letters and phone calls,'' Trump said. "Everybody loves it. We have people that just love it. We are getting calls by the literally hundreds and thousands, including tweets on Twitter that people just love it." 
The building's architect, Adrian Smith, has also weighed in with his disapproval, telling TODAY in a statement that the sign "is in poor taste, it hurts the image of the building, [and] hurts the image of Chicago." He also questioned how city officials could allow the sign to be constructed. The letters were approved in the fall but are just being constructed now because of bad weather. 
"This is fully approved,'' Trump told Lauer. "Everyone knew about it. [Emanuel's] administration knew about it, the previous administration approved it, and this has been approved for a long period of time." 
Blair Kamin, the Pulitzer Prize-winning architecture critic for the Chicago Tribune, has also leveled the charge that the building is in poor taste. 
"It's the lack of subtlety, the brashness, the egotistical overstatement — all the things that we expected of Trump are coming to roost,'' Kamin told TODAY's John Yang on Friday. 
Trump was equally harsh with his words.
"This was started by a third-rate architectural critic for the Chicago Tribune, who I thought got fired,'' Trump said about Kamin. "He was gone for a long period of time. Most people thought he got fired. All of a sudden he re-emerges, and to get a little publicity, he started this campaign." (Editor's note: Kamin was not fired.)
Trump has other buildings in sections of downtown New York City and Las Vegas with signs that are not as prominent, but it depends on the specific situation as to how he chooses to make the sign. 

"I look at the building,'' he said. "It's very important architecturally to me. This has turned out to be a great piece of architecture, a great thing for Chicago. I do great buildings, and if I like the building, if I like what's going on, if it's the right and appropriate thing, and if it enhances the building, I will do that. The brand is very hot. We're probably the hottest brand there is. We're building all over the world, and cities love the brand." 
After the tower opened in 2008, Trump and lender Deutsche Bank AG each sued one another before the bank extended its loan to Trump. The real estate mogul invested $73 million of his own money in the 825-unit building and took on $640 million in construction debt, according to The Wall Street Journal. 
Follow TODAY.com writer Scott Stump on Twitter and Google+.