Donald Trump pleaded not guilty Tuesday to 34 counts of falsifying business records in the first degree related to his alleged role in hush money payments toward the end of his 2016 presidential campaign — the first time a former president has had to plead to criminal charges. 
The indictment was unsealed in a brief proceeding before Judge Juan Merchan. Trump was flanked by his lawyers inside the courtroom as prosecutors outlined their case against him, alleging he made covert and illegal payments in order to impact the 2016 election.
Trump, the statement of facts compiled by prosecutors in conjunction with the indictment said, "repeatedly and fraudulently falsified New York business records to conceal criminal conduct that hid damaging information from the voting public during the 2016 presidential election."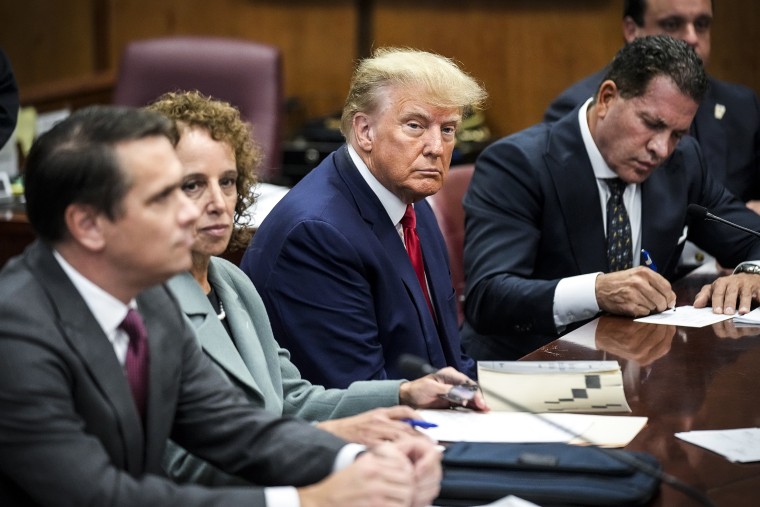 The statement of facts included information about hush money payments to adult film star Stormy Daniels, Playboy model Karen McDougal and a former Trump Tower doorman who'd claimed to have a story about a child Trump had out of wedlock.
Daniels was paid $130,000 by former Trump lawyer Michael Cohen, while McDougal and the doorman were paid $150,000 and $30,000 respectively by AMI, the publishers of the National Enquirer.
Asked for his plea, Trump answered, "Not guilty."
Prosecutor Chris Conroy also told the judge they were "very concerned" about Trump's inflammatory social media posts about Manhattan District Attorney Alvin Bragg, other prosecutors and the judge, saying they could have an impact on potential effects on jurors and witnesses.
Trump attorney Todd Blanche told the judge his client is "upset" and was simply exercising his First Amendment rights. The judge warned both sides against escalating their rhetoric, but did not issue any type of gag order. 
Trump arrived at the courthouse at 100 Centre St. in lower Manhattan in a presidential-style motorcade from Trump Tower in midtown, where he'd stayed overnight. He was informed he was under arrest, fingerprinted and processed ahead of his arraignment.
"Seems so SURREAL — WOW, they are going to ARREST ME. Can't believe this is happening in America," he said in a post on his social media platform Truth Social that published as he was arriving at the courthouse.
With a media circus outside, Trump was escorted out of the courthouse and back into his car afterwards. He's expected to address reporters about the charges in remarks at his Florida home Tuesday night.
Live updates: Trump pleads not guilty to 34 felony charges 
In a statement, Bragg said his office alleges Trump "repeatedly and fraudulently falsified New York business records to conceal crimes that hid damaging information from the voting public during the 2016 presidential election."
He said "the trail of money and lies exposes a pattern that, the People allege, violates one of New York's basic and fundamental business laws. As this office has done time and time again, we today uphold our solemn responsibility to ensure that everyone stands equal before the law." 
Trump lawyer Blanche called the charges "really disappointing." "It's sad and we're going to fight it hard," he said, saying the former president is "upset and frustrated and disappointed and mad that this happened." 
The legal troubles, media spectacle and porn-star-hush-money salaciousness at the heart of the case are a new chapter for the New York tycoon-turned-TV-star-turned-politician, whose career has careened from scandal to success for four decades. This time, unlike his bankrupted casinos or failed marriages, many of Trump's supporters and detractors argue that the fate of American democracy is hanging in the balance as the former president increasingly conflates any legal woes as an effort to illegitimately deny him a return to power.
With the failures of Jan. 6 U.S. Capitol riot still fresh in officials' minds, security was high in the courthouse and nearby areas as the police department, court officers and Secret Service braced for protests amid the unprecedented arraignment of a former president.
While police shut down streets and the sound of a helicopter buzzed overhead, news outlets from around the world set up cameras near long lines of spectators, some of whom had camped out overnight in the hopes of getting a coveted seat inside.
The judge barred TV cameras from inside the courtroom but decided to allow some photographers in, images that are likely to appear in election-season ads and in future history books.
"I think we're on the eve of destruction. It's just like surreal to me," Trump attorney Joe Tacopina said Monday on Fox News.
'Indict himself'
Trump last month called for "protests" in the event of his arrest, and he later ratcheted up his rhetoric, warning of "potential death and destruction" if he was charged. He continued to post overnight on Truth Social, leveling criticism at the prosecutor.
"[I]f he wants to really clean up his reputation, he will do the honorable thing and, as District Attorney, INDICT HIMSELF," Trump said of Manhattan DA Alvin Bragg, a Democrat, whom he accused of leaking details of the indictment to the media.
Trump, 76, has also used the indictment to raise money for his 2024 campaign, which announced Monday evening that it had raised $7 million since a grand jury voted to indict him last Thursday.
Hundreds of pro- and anti-Trump demonstrators gathered in a small park across from the courthouse ahead of his scheduled appearance, including Reps. George Santos, R-N.Y., and Jamaal Bowman, D-N.Y., and some of the exchanges between the competing camps grew heated.
The NYPD estimated there were about 300 pro-Trump demonstrators near the courthouse and 150 anti-Trump protesters.
A scheduled appearance by Rep. Marjorie Taylor Greene, R-Ga., a top Trump ally, was cut short after she was drowned out by whistles that had been handed out by another Trump supporter.
Mayor Eric Adams told reporters at a news conference Monday that the city was ready for unrest. "We are prepared," he said.
Shortly before noon, however, protesters were still outnumbered by the mass of international news media that descended on the area around the courthouse, including reporters from Brazil, Germany, France, Finland and Sweden.
The exact charges will be unsealed at the arraignment; two sources familiar with the matter have said Trump faces about 30 counts relating to allegations of document fraud connected to the hush money payments during the 2016 presidential campaign.
Under a 2019 New York state law that Trump as president criticized as being too soft on crime, the charges he's believed to face don't qualify for bail because they're nonviolent offenses. Legal experts said the judge could restrict Trump's travel but is unlikely to do so because he's running for president and isn't considered a flight risk.
Trump has denied any wrongdoing, calling the investigation by Bragg's office a "witch hunt" and accusing the DA of being a "racist."
Trump wrote Monday on Truth Social that he didn't believe he could get a fair trial in Manhattan, where he lived for decades and made his name before moving to Florida during his presidency. The actions at the center of the investigations took place in New York, where Trump's campaign was also headquartered at the time.
"The Corrupt D.A. has no case," he wrote. "What he does have is a venue where it is IMPOSSIBLE for me to get a Fair Trial (it must be changed!)"
He also called for a new judge to preside over the case, saying he believes Merchan is "Trump Hating." He "must be changed!" Trump wrote on his website. He has also said Merchan — who presided over last year's criminal trial against the Trump Organization and its former chief financial officer, which led to multiple convictions, was "hand-picked" by Bragg.
Court officials have said that Merchan was randomly assigned to oversee the grand jury investigation and that judges who supervise such probes generally try any cases that come out of the grand jury.
The last time Trump was in a Manhattan courthouse was for jury duty in 2015, when he praised the American legal system as a "great...system that works."
Hush money payments
The DA's investigation centered on the hush money payments made ahead of the 2016 election to two women who claimed to have had affairs with Trump. He has denied the affairs and any wrongdoing.
Michael Cohen, then Trump's lawyer, paid adult film star Stormy Daniels $130,000 in the closing days of the campaign. He has said he made the payment at Trump's direction, and Trump had acknowledged repaying Cohen through payments that were labeled as legal expenses.
Prosecutors also questioned witnesses about allegations that $150,000 in hush money had been previously paid to former Playboy playmate Karen McDougal, two sources familiar with the Manhattan grand jury's work have said.
Cohen — who testified before the grand jury — acknowledged he was involved in both payments in a guilty plea in Manhattan federal court in 2018.
The arraignment is just the beginning of a lengthy legal process in the case that could take months or years to resolve.
This story first appeared on NBCNews.com.