After winning a fight between life and death, it seemed only fitting that Christian Lopez received a proper salute from the U.S. Army.
Lopez, 13, was stunned when a group of soldiers showed up in parade formation at his home in Dorcester, Massachusetts, on Tuesday to honor his perseverance in beating stage 4 cancer.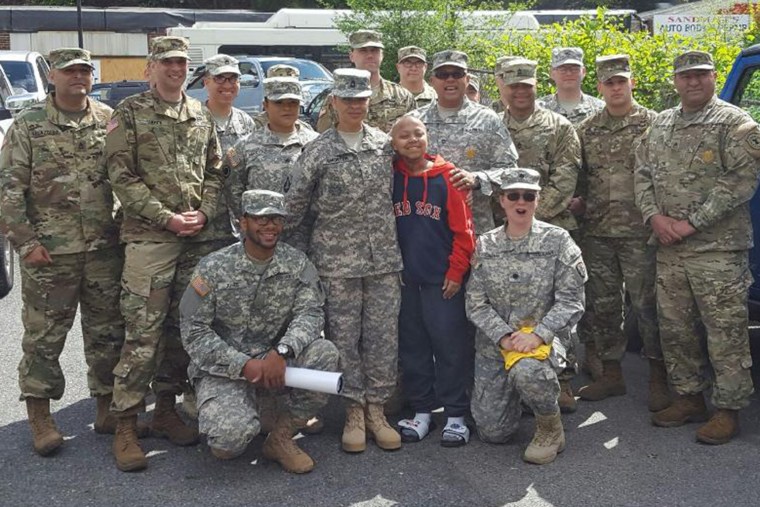 "All I could do was shed tears of joy,'' Christina Ribeiro, Christian's mother, told TODAY. "He's just been through so much and he's never given up no matter what."
Ribeiro had initially asked her sister, retired Master Sgt. Mariana Shorter, if she could make a video of some soldiers saluting Christian after a CT scan on May 10 found no evidence of any more tumors.
'Her last wish': Man fights to help his foster grandma, 104, keep her home
Shorter decided her nephew deserved much more than that.
"Chris is not your average 13-year-old. He has such a big heart, and he always puts other's needs above his own, and that is something the military strives for," Shorter told TODAY. "He is a true soldier."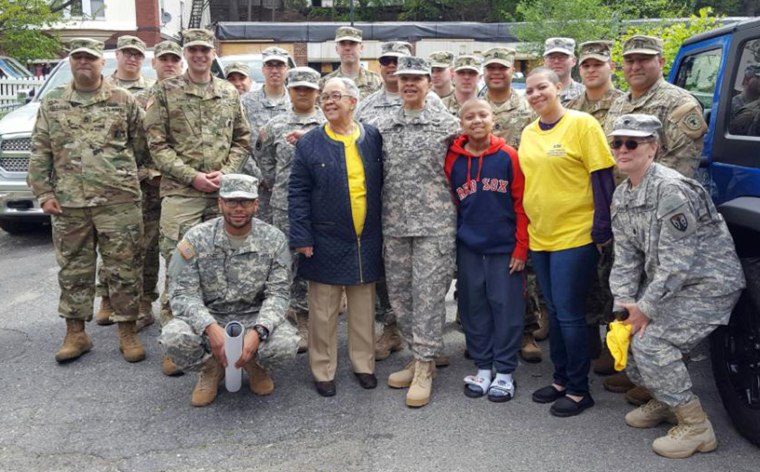 Shorter reached out to the Army's Boston Metro Recruiting Center.
Sgt. 1st Class Javier Velazquez, who leads the center, immediately said yes to Shorter's request for a group of soldiers to honor Christian.
Shorter flew in her son, Pfc. Latirius Jones, from his base in Hawaii to be a part of his cousin's special day.
She also borrowed a uniform — hers was reclaimed after she retired — so that she could take part in the parade as well.
Boy with cancer lives his dream thanks to NYC firemen
The troops marched down a nearby street and then down Lynville Terrace to the family's front door. Four soldiers carried a banner with Christian's picture on it.
It said, "It Came. We Fought. I Won."
One by one, they saluted him, and he saluted back. The display brought Shorter to tears.
"My sister said I was a crybaby,'' Shorter said. "I couldn't even speak because of the joy on his face and the way my sister's face lit up."
Another soldier was reduced to tears because the scene gave him hope for his own teenage grandson, who is fighting a brain tumor.
The troops gave Christian patches they had earned during their time in the military. They also presented him with his own uniform.
To top it off, Boston Mayor Marty Walsh declared March 16 to be "Christian Lopez Day" across the city.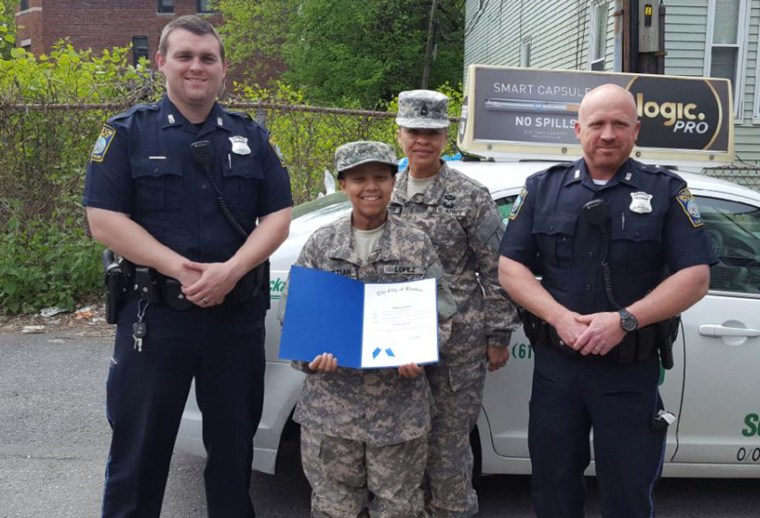 Christian was initially diagnosed with stage 4 alveolar rhabdomyosarcoma, a rare form of cancer, in his spleen on March 19, 2015.
"It's just been a really rough journey that we've been on,'' Ribeiro said. "When he first found out, he said he felt like he got hit by a train. Chris just couldn't wait until there was no more 'stabbing,' as he called it, for treatments."
There were some harrowing times during his treatment at Boston Children's Hospital and Dana-Farber Cancer Institute, including a five-day stretch in the intensive care unit.
Now, he's just like any other 13-year-old boy. He loves to watch WWE wrestling and hopes to one day meet his favorite basketball player, Golden State Warriors guard Klay Thompson.
"When you give up faith, you've lost the battle,'' Shorter said. "But Chris never gave up faith. I've been in combat, but Chris fought the worst battle ever."
Follow TODAY.com writer Scott Stump on Twitter.