Why do you love football? Share your story for a chance to win a trip to Super Bowl XLIX. 
A simple trip to an NFL game that Beth Steele wasn't originally supposed to attend ended up saving her life.
Steele, a mother of four from Missouri, went to a Patriots-Bengals game in Cincinnati on Oct. 6 of 2013 with her husband, T.J., after his friend couldn't make it. During the game she noticed the players wearing pink sneakers and pink towels for the annual Breast Cancer Awareness Month in October. 
"I thought of that as a marketing scheme,'' Steele said on TODAY Friday as part of the "Together We Make Football" series. "But something about all the pink, it did make me go home that night and do a self-breast exam."
Steele, 36, found a lump in her breast, then went in for her first mammogram. 

"The radiologist said, 'You have massive and aggressive breast cancer. You need to be seen immediately,''' she said. "I didn't even check out with the nursing staff, I just walked down three flights of stairs where T.J. was sitting in the minivan, walked around the car so the kids couldn't see me, and literally laid on the ground and just started sobbing." 
The surgeon found three tumors and two different types of breast cancer, but after undergoing treatment Steele's prognosis is now excellent. She and her husband recently returned to Boston for the wedding of T.J.'s friend who couldn't make it to the game that day. 

"If the Patriots had been in town a different month that year, I would not have found my breast cancer,'' she said. "I would not have survived."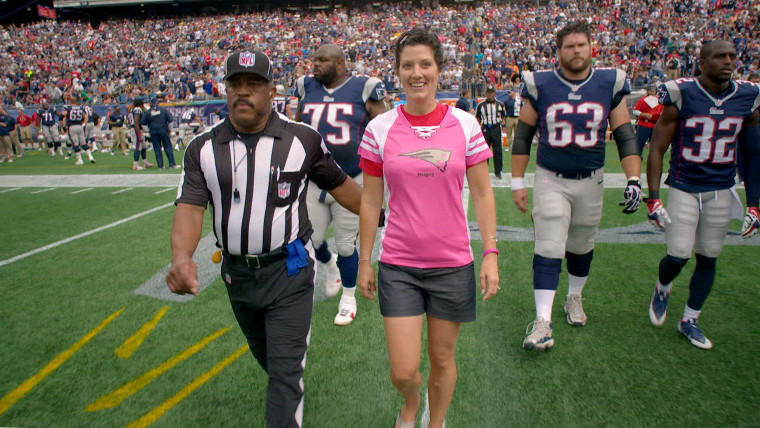 Steele, a diehard New England Patriots fan, was invited by owner Robert Kraft to serve as an honorary captain for the team and walk out for the pregame coin toss during their win at home over the Oakland Raiders on Sept. 21. She also hung out with actor Mark Wahlberg on the sideline before the game. 
"I never saw myself as a breast cancer advocate,'' Steele said. "But I also was given an opportunity to educate women of any age that they also have a risk."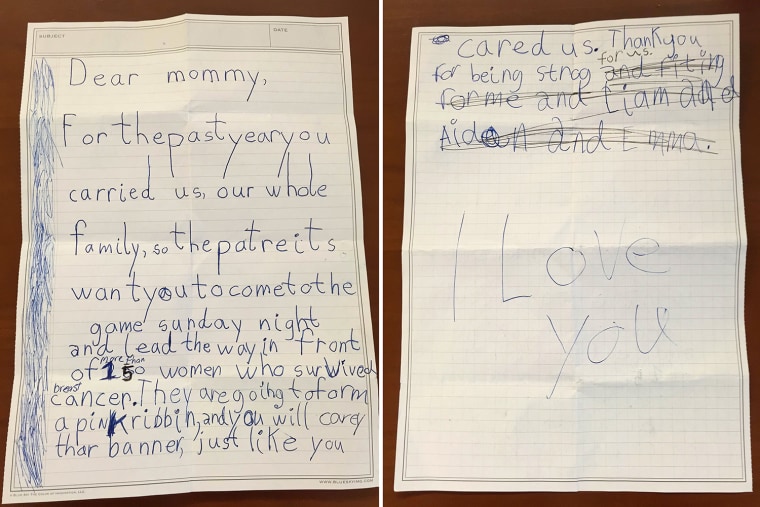 Steele was presented with a special pink game ball on TODAY that was signed by Patriots head coach Bill Belichick. Her daughter, Adelaide, also read her an adorable letter in her own hand-writing inviting Steele to come to the Patriots' game on Sunday night to lead a group of 150 breast cancer survivors in forming a pink ribbon on the field. 
Follow TODAY.com writer Scott Stump on Twitter and Google+.