A funeral procession for a fallen California firefighter covered 203 miles on Sunday, and not a single mile went by without citizens and fellow firefighters lined up to pay their respects.
Cory Iverson, 32, a Cal Fire Engineer from Escondido, died from smoke inhalation on Dec. 14 while battling a fire in Fillmore, leaving behind a pregnant wife and a 2-year-old daughter.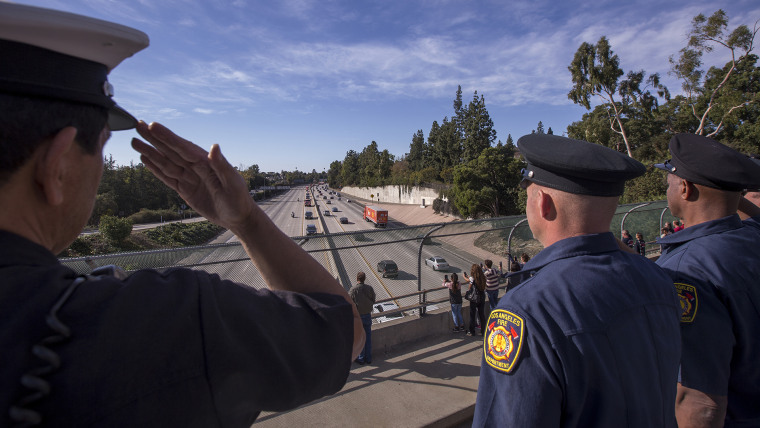 "We were never alone for 203 miles today," Cal Fire Chief Tony Mecham told NBC 7 in San Diego. "For 203 miles not a single overpass did not have multiple fire engines standing in salute."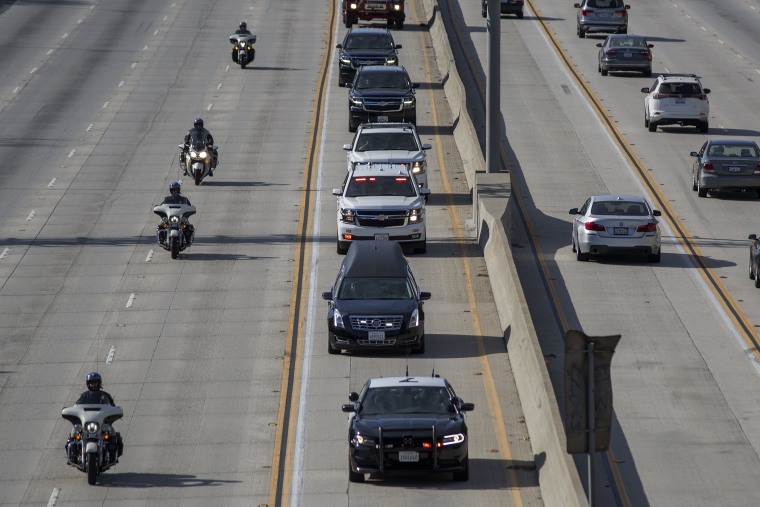 Iverson's funeral procession traveled from Ventura to San Diego County and lasted for more than three hours as thousands of firefighters and citizens waved flags and saluted from overpasses on three different highways.
"Today has been a day that I am struggling to find words to try and describe," Mecham told NBC 7. "Cory Iverson made a decision to seek a profession where he put others first and by doing that that comes at great consequence to his family."
Iverson, who had been with Cal Fire since 2009, was battling the 270,000-acre Thomas fire, which is now the third-largest in California history. He died as a result of thermal injuries and smoke inhalation from an accident that is being investigated by Cal Fire.
"My heart shattered when I learned what happened to him," San Diego Cal Fire spokesman Jon Heggie told the Los Angeles Times. "I can only imagine the pain his wife and his family are going through, and all of us in the fire service are feeling it for them."
A GoFundMe page set up by a friend of Iverson's wife to help support the family had raised more than $400,000 by Monday morning.
"There is so much love you have expressed to the Iverson family,'' friend Cecily Bauchmann wrote on the fundraising page. "It is immeasurable!"
Follow TODAY.com writer Scott Stump on Twitter.