What started as an attempt to prevent bird poop on postal trucks has resulted in potential federal charges for a tree trimmer.
Ernesto Pulido was hired last month to trim a ficus tree hanging over the parking lot of an Oakland, California, post office. Black-crowned night herons were leaving droppings on the mail trucks so the U.S. Postal Service hoped pruning back the tree would curb the problem.
But in the process, five baby herons fell from the nest and were injured. A witness called police and false reports that some of the birds were killed quickly spread, leading to threats against Pulido's family, he said. Now, the U.S. Fish and Wildlife Service is recommending that Pulido face misdemeanor charges for violating a law that protects nesting birds.
"I made a mistake. I faced the consequences, but I think it's way too far to go for that," Pulido told TODAY's Joe Fryer.
The baby birds are now "doing great" and will be released soon, said veterinarian Rebecca Duerr of International Bird Rescue, who treats a lot of animals she says are harmed by humans.
"Tree-trimming during inappropriate seasons is a big reason why we get animals," she told Fryer.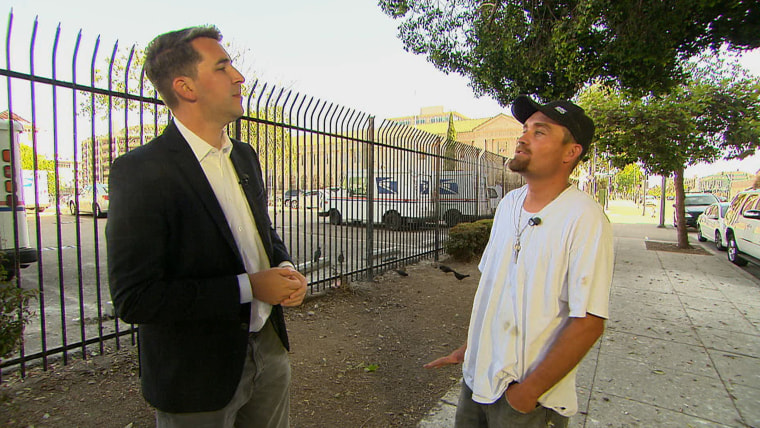 Pulido recently stopped by Duerr's clinic to see how the birds were doing and contributed $2,500 to help with their recovery. But federal wildlife officials still want him to face charges. That's led one California lawmaker to come to his defense. Rep. Darrell Issa, R-California, said the U.S. Fish and Wildlife Service needs to back off.
"Holding Ernesto responsible to take care of the damage done by his sawing down the limbs, that would make some sense, but doing a criminal referral is simply using their power to the extreme and that's bureaucratic bullying," he said.

But some nature groups said Pulido needs to be held accountable.
"I don't think it's bureaucratic bullying at all," said Cindy Margulis of the Golden Gate Audubon Society. "I think it's very important that the laws that are on the books be enforced."
A postal service spokesman has called the incident "unfortunate." Pulido, meanwhile, isn't pointing fingers.
"If you don't learn from your mistakes in life, you're not learning anything," he said.
Follow TODAY.com writer Eun Kyung Kim on Google+ or on Twitter.