This holiday season, the town of Silver Spring, Md., is putting a twist on the traditional idea of a Christmas tree display — and helping neighbors in need in the process.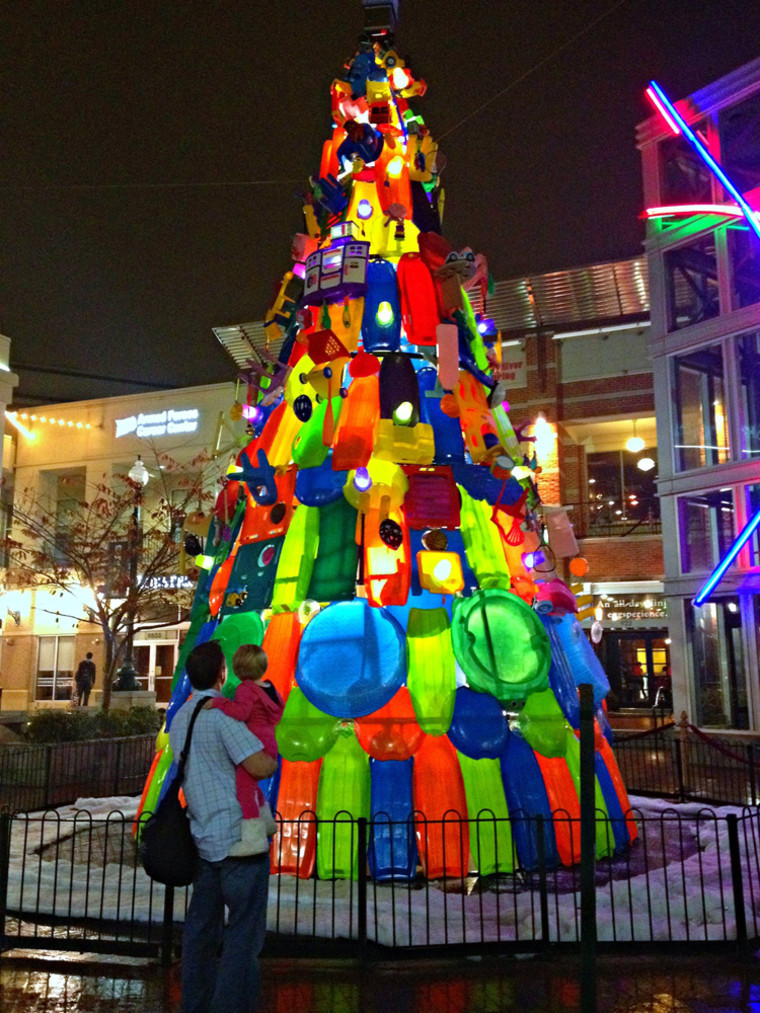 For the second year in a row, local shopping area Downtown Silver Spring and The Arts and Humanities Council of Montgomery County have come together to create a public art installation in the heart of the city, which Laurie Yankowski, Regional Marketing Director for Downtown Silver Spring, called "funky and diverse" and "the perfect backdrop for art installation."
This year's installation comes in the form of a Christmas tree built entirely out of toys and found objects.
Once the installation is dismantled in January all the components will be taken over to A Wider Circle, a local nonprofit dedicated to helping families in need.
"I've been hearing resoundingly how happy everyone is this holiday season to know most of the items were found objects -- mostly from the artist and others donated by Strosniders Hardware store," Yankowski said.

Among the many items are 58 disk sleds, 10 sports balls, 18 rackets, 19 chairs and stools, four play tables, five xylophones, three sit 'n spins, 89 tub sleds, 12 Helmets, seven Wiffle ball Bats, two crayon coin banks, two plastic brooms and several frisbees. The installation took one week to complete, and stands at 35 feet tall.
The "Playtime Jubilee" was created by Karl Unnasch, whose idea stood out among a national call for artists' proposals earlier this year, put out by Downtown Silver Spring and the Arts and Humanities council. "He really hit it out of the park," said Yankowski.
"I'm very happy with it," Unnasch told TODAY.com. "When I could finally take a breath and step back I realized you reach this point when you plan something out and it looks just like your vision. That's pretty rare."
Of the response to his work, he added: "One of the biggest treats was gauging reactions and finding out it did bring joy to people."

Yankowski confirms that the community loves Unnasch's creation. "The response has been incredible. I have so enjoyed seeing and hearing everyone's feedback. It's definitely been a topic of conversation. People have been coming from far and wide to see it."
Last year's iteration of this new tradition, dubbed "Reimagining the Holidays," was a sculpture called "Holiday Destination," made out of recycled bottles donated by members of the community, painted different colors to reflect different holiday plans.