A family vacation in Peru turned into a vicious nightmare for three Americans who say they were brutally attacked by residents of a countryside village. 
The Jackson, Wyo., residents were abducted while looking for a place to camp for the night. Eventually, they were freed after their captors forced them at gunpoint to sign a document blaming their injuries on a drunk-driving accident.
"We begged for mercy. We thought we were going to die for 11 hours," Jed Wolfrom recalled for NBC in a TODAY segment that aired Friday. 
Wolfrom and his wife, Meghan Doherty, had been celebrating the 30th birthday of Wolfrom's sister, Jennifer Wolfrom, on Dec. 29. The three had gone on a mountain hike and were settling for the evening in the village of Palca before heading to their next destination, Machu Picchu.
"We asked the first initial two people that came down, we asked, 'Do you think this would be okay if we camped here?' And they said, 'Yes, it should be fine,'" Jennifer Wolfrom said.
But then, the men started blowing whistles and using their cell phones to call people. Within minutes, the Americans were surrounded by villagers demanding their passports. The trio refused and got back in their car.
They tried to drive off, but the villagers had blocked the road. Jed Wolfrom tried to steer around a blockade of rocks they had created, but the truck tipped and rolled into a ditch.
"And that's when the big rocks start coming in. And the windows are starting to smash," he said.
His wife got hit in the back of the head with one of the rocks.
"At that point, we're yelling at each other, 'We have to run away. These people are trying to kill us,'" Meghan Dougherty said.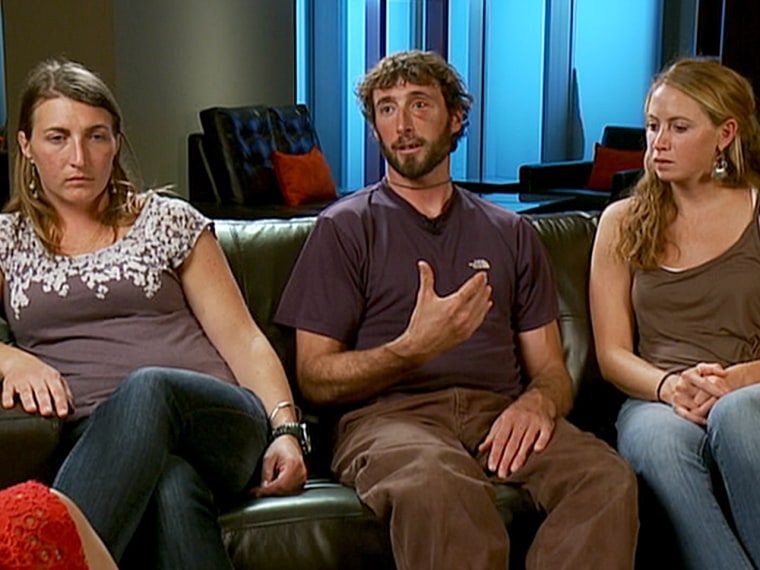 The group was stranded, surrounded by villagers who continued to stone them, as well as beat them with sticks.
"All of our clothing is covered in blood. It's just dripping off of us," Jennifer Wolfrom said.
The group was marched to the village center, where more residents appeared, shouting, beating and even whipping them.
"I was like, I'm going to see my sister and my wife probably get beaten to death with stones right in front of me right now,'" said Jed Wolfrom, who still bears a bruised left eye and busted teeth from the night of the attack.
Suddenly, some of the villagers began pointing guns at the tourists. Thinking they were about to die, the threesome turned to each other and "we just said we loved each other," Jennifer Wolfrom said.
But one of their captors instead fired a shot over their head and made some demands.
"They basically said, 'We'll let you go if you sign this document that says that you were drinking and you crashed the car into the ditch and that's why your car is so damaged and that's why you have these injuries,'" Jennifer Wolfrom said.
The group signed the document and were taken back to their ransacked vehicle. They eventually met up with police who took them in for medical treatment. The trio received more than 100 stitches between them.
Elizabeth Power, the consul general for the U.S. embassy in Lima, Peru, expressed surprise over the attack.
"We have not seen anything like this in Peru before. This appears to be a very isolated incident," she said.
The mayor who oversees the Peruvian village where the attack took place insisted to NBC that the events stem from a misunderstanding. He said the villagers thought the Americans were delinquents, but couldn't explain why the residents responded so violently. He said the event is being investigated.
Meanwhile, Peruvian tourism officials have met with the Wolfroms to apologize.
"We really sorry and surprised because this is not common at all here in Peru," said Andrea Martinez, the country's tourism deputy director. "We hope this won't happen again."
More: Prince Harry: Killing Taliban was a 'job that needed to be done' 
Rossen: Webcam hackers can spy on you in secret