/ Source: The Associated Press
Every year fashion offers up the good, the bad and the ugly. But what the industry is really built on — and consumers respond to — is buzz.
Here are the top moments of 2012 that made our heads turn:
The leg that peeked out of the high thigh-high slit of her Versace gown was the most exciting appearance on the red carpet. The gown fit perfectly into the sleek, simple, sexy mold that Jolie favors, but it was Jolie's picture-perfect pose to expose just enough thigh that launched a thousand memes. Her companion Brad Pitt gets an honorable mention for his scruffy appearance in a Chanel fragrance ad that left many scratching their heads.
The wives of the presidential candidates turned out to the second debate between Barack Obama and Mitt Romney in practically the same shade of hot pink. But they weren't by the same designer: Romney's was by Oscar de la Renta, and Obama's by Michael Kors. A potential matching prom dress-style embarrassment was chalked up to timing: October's breast cancer awareness month.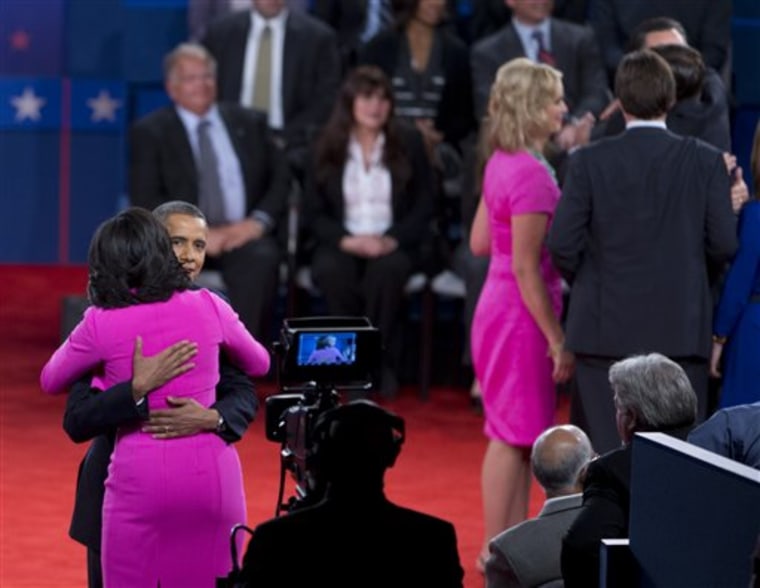 Marc Jacobs' Louis Vuitton showMany of the designer runways seemed more of the same — stark stages, thumping music and audiences distracted by their electronic gadgets — but the Louis Vuitton fall catwalk in Paris commanded attention. Models dressed in their very best traveling clothes stepped off a reconstructed retro steam train. Valets carried the vintage-inspired hat boxes and vanity cases. The trip seemed refreshingly refined and modern.
Two-tone Stella McCartney dressesMcCartney, no stranger to the red carpet, has created a style that celebrities can't get enough of. Her ultra-flattering "silhouette" dress has become almost ubiquitous. It features one color on the bodice and back, and a graphic opposite on the sides and sleeves. Kate Winslet has worn several versions, and Brooklyn Decker, Kate Moss, Edie Falco and Liv Tyler have, too. The best turn might have been Jane Fonda at the Cannes Film Festival.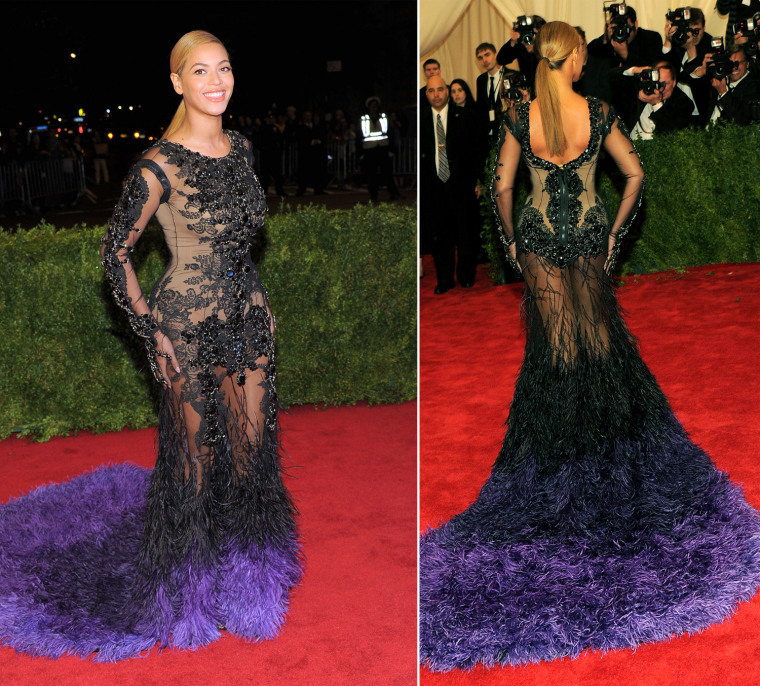 Some new mothers claim they feel sexier than ever. Beyonce was living proof at the Met Gala, the important industry event co-hosted by Vogue's Anna Wintour. Beyonce's skin-tight, largely sheer — save the bodice beading and feathered fish-tail train — gown by Givenchy announced that Ivy Blue Carter's mom wasn't going to hold back. An honorable mention goes to Jessica Simpson, who dieted her way to a Weight Watchers ad then wound up pregnant again.
007's slim suitsDaniel Craig's wardrobe in "Skyfall" is impeccably tailored — and quite tight. Unlike the James Bonds that came before him who all liked the traditional looser, longer cut of a Savile Row-style suit, Craig, whose wardrobe is created mostly by Tom Ford, takes his suits Euro style with tapered legs and shorter rises. There's no question Craig's super spy Bond will go down in history as one of the best, but it's fair to ask if he could pull off those impressive chases in clothes that tight.
Supermodel reunion at the London OlympicsGold was the new black at the closing ceremony with a parade of supermodels wearing gilded gowns in a tribute to British fashion. Kate Moss and Naomi Campbell both had on Alexander McQueen, Georgia May Jagger's was by Victoria Beckham, Karen Elson was in Burberry, and Stella Tennant donned a Christopher Kane Swarovski-crystal catsuit. The soundtrack — of course — was David Bowie's "Fashion."
Another supermodel reunion at New York Fashion WeekAlexander Wang's show has become must-see viewing, partly for influential hipster clothes, but also for the model line-up, a who's who of top catwalkers. It was a coup even for him, however, to get the likes of Gisele Bundchen, Carmen Kass, Frankie Rayder and Shalom Harlow, who all very rarely do shows, to walk in February. Start the wish list now of who he'll nab for his debut at Balenciaga next year.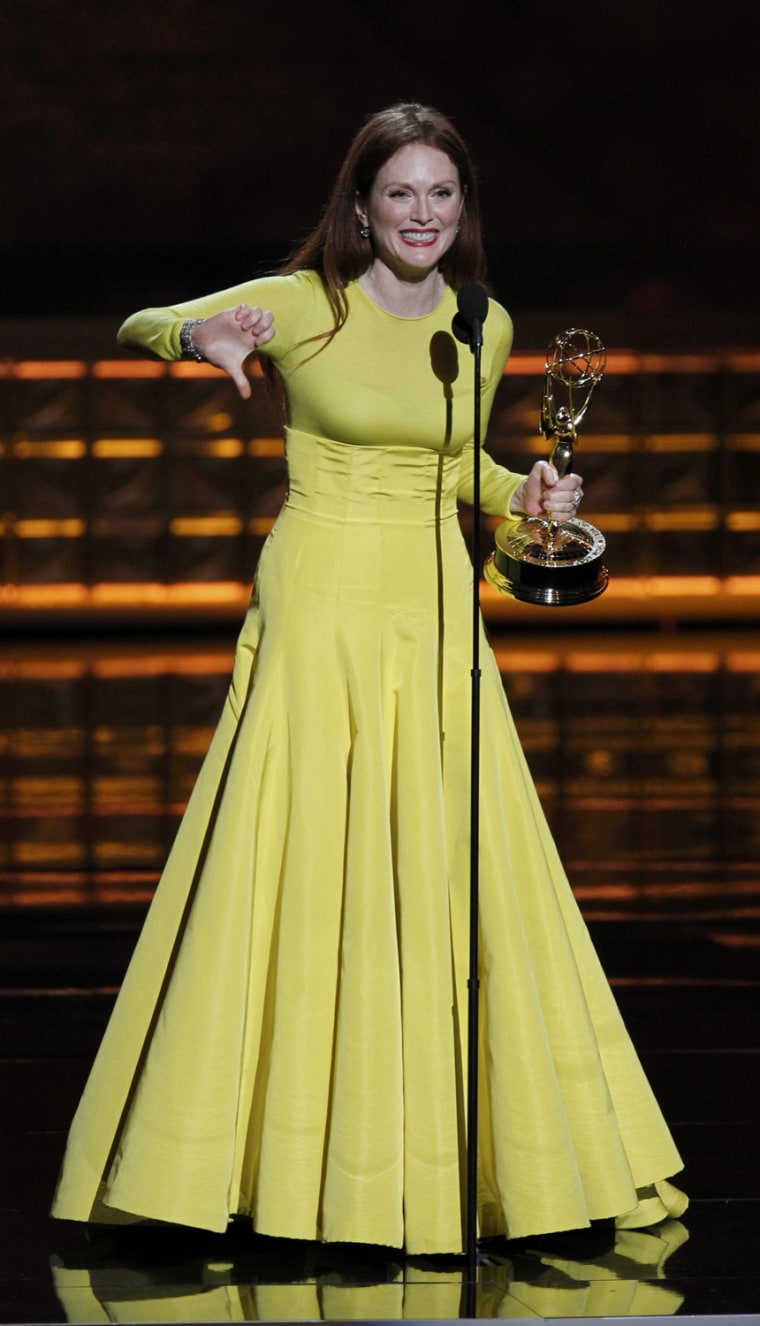 When Cyrus cut off the long hair her fans had become used to, she took some heat. She has said (and Tweeted) repeatedly, though, that she was pleased with the new punk-pixie look and was sticking with it. Short hair turned out to be a big trend, with Alicia Keys, Rihanna and Anne Hathaway all ending the year with much shorter locks than they started with.
Moore's neon-yellow Dior Haute Couture outfit (really a sweater and ball skirt) spawned a love-it-or-hate-it debate among armchair style critics. What was largely left out of that conversation, however, was that it was Raf Simons' big celebrity debut for Dior, which he took creative control of after the John Galliano scandal. At least Simons can claim the better reviews when it came to his showdown of next-gen designers at historic French houses against Hedi Slimane at Saint Laurent Paris.
More from TODAY: