His name is Pita Taufatofua, but you probably know him best as the shirtless, oiled Tongan flag bearer who lit up the opening ceremonies at both the 2016 Summer and 2018 Winter Olympics.
It was great seeing him again a few days ago, but we had to ask: As a man from an island paradise, wasn't he awfully cold in Pyongchang in February?
"I wasn't cold at all," he told TODAY Monday. "When you're from Polynesia, the warmth comes from inside-out, not outside-in."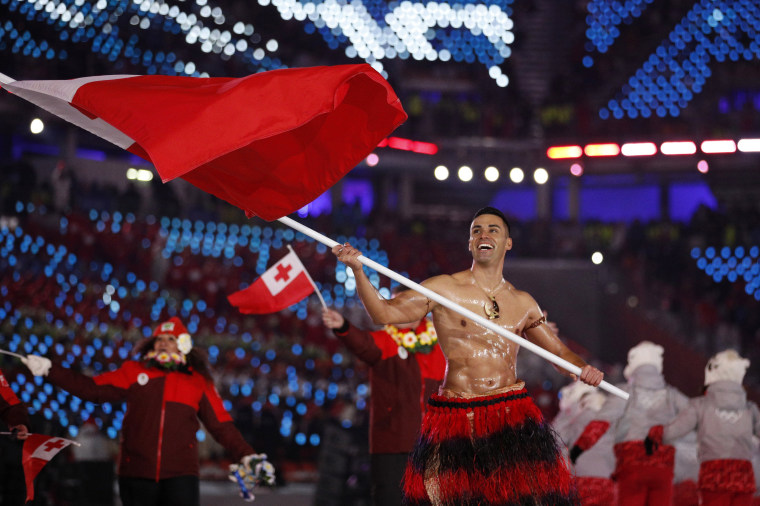 Aside from his memorable Olympic entrances Taufatofua, 34, is a taekwondo champ, which is what brought him to the Games in 2016. But taekwondo isn't on the Winter calendar, so what brings him back to delight us this time?
Turns out that in 2016 he decided to become a cross-country skier. And he managed to qualify for the Olympics in under a year after taking up the sport.
"I saw snow a year and a half before [starting to train] — but not in Tonga," he explained.
But there was more to it than just a personal challenge; Taufatofua said he wanted "to show people they can do something — there's nothing special about me — but to show they can also do something similar."
He's now the only athlete in Tonga's history to compete in the Winter and Summer Olympic Games, as well as being the first Olympic cross-country skier from the Polynesian archipelago.
Meanwhile, the Tokyo Summer Olympics are coming up in 2020. Can we expect to see Taufatofua there?
"I might go for the magic three," he grinned. "It hasn't been done before. Maybe three different sports."
We're marking our calendars right now!
Follow Randee Dawn on Twitter.